---
---
Chart Forum: Saving Images
Select File >> Save Chart As Image.
We recommend that you save the chart size as 651 x 395 pixels
Select a folder to save the chart image.
Save the chart as a PNG file.
Complete your post on the Chart Forum, leave a space below the last line and then select the Upload Attachment button:
Insert a short name for the chart (Eg. "BHP")
Use the Browse button to locate the chart file (Eg. "bhp_ax09Apr02_to_13Feb03.PNG")
Click the Upload button to upload the image
Select Preview/Post Message.

---
Trading Diary
July 30, 2003
These extracts from my daily trading diary are intended to illustrate the techniques used in short-term trading and should not be interpreted as investment advice. Full terms and conditions can be found at Terms of Use

.
USA
The Dow retreated slightly to close at 9200 on encouragingly low volume.
The intermediate trend is up. A decline below 9000 will signal a down-turn.
The primary trend is up.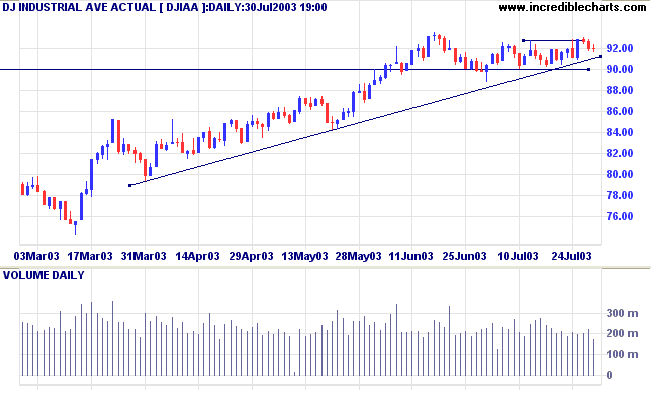 The S&P 500 lost 2 points to close at 987 on lower volume.
The intermediate trend is up. A fall below 976 will signal a down-turn.
The primary trend is up.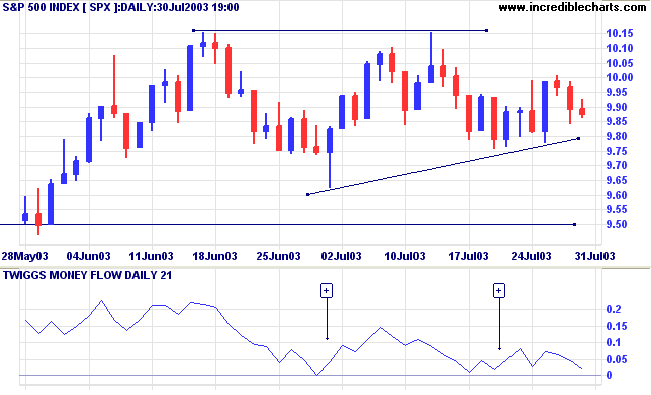 The Nasdaq Composite closed 10 points lower at 1721 but on lower volume.
The intermediate trend is up.
The primary trend is up.
Short-term:

Long

if the S&P 500 is above 993. Short if the index falls below 976.
Intermediate:

Long

if the S&P is above 1015. Short if below 962.
Long-term:

Long

if above 962.
Beige book "encouraging"
The Fed beige book reports signs of increased manufacturing activity.
(more)
Treasury yields
CBOE: The yield on 10-year notes retraced to 4.32%.
The intermediate trend is up; the primary trend has reversed upwards.
Gold
New York (20.10): Spot gold eased further, to $US 356.20.
On the five-year chart, gold is above the long-term upward trendline.
The All Ordinaries has started another short-term correction, closing down 16 points at 3077 on lower volume.
The intermediate trend is up. The break below support at 3089 shows weakness.
The primary trend is up.

MACD (26,12,9) is above its signal line; Slow Stochastic (20,3,3) has crossed to below; Twiggs Money Flow (21) signals accumulation.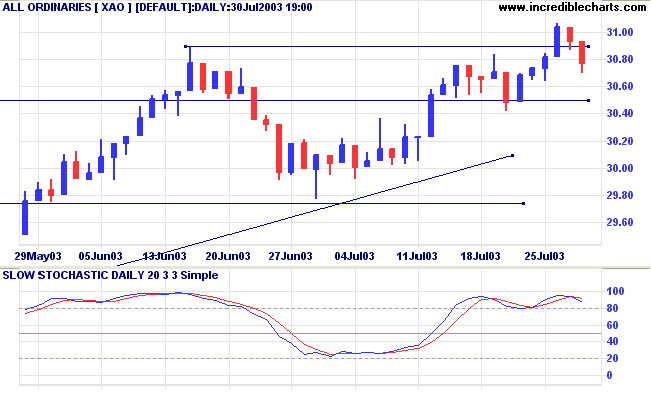 Short-term: Long if the All Ords is above 3093. Go short if below 2978.
Intermediate: The primary trend is up; Long if the All Ords is above 3093. Short if below 2978.
Long-term: Long if the index is above 2978.
Volatility and Volume
I mentioned on July 7, 2003 that I often combine Volatility Ratio (Schwager) and Volume Spike stock screens to highlight interesting movements in the market. Volatility Ratio uses true range, reflecting both gaps and wide ranging days:
Burns Philp [BPC]
Last mentioned on April 17, 2003.
After a strong correction BPC has climbed to a new 1-year high. Relative Strength (price ratio: xao) is strong, while Twiggs Money Flow (100) is rising but still below zero.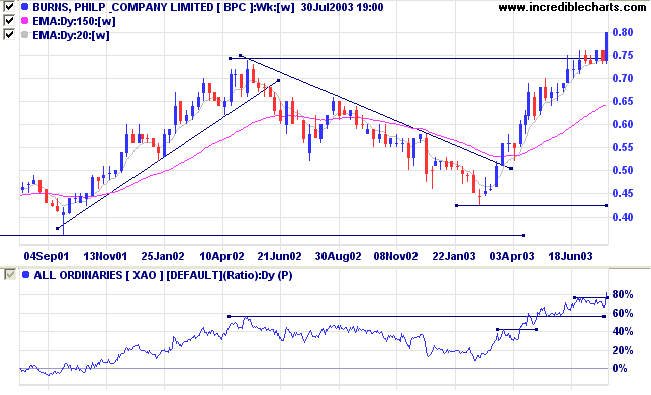 MACD has completed another bullish trough above zero, after a bearish divergence in June.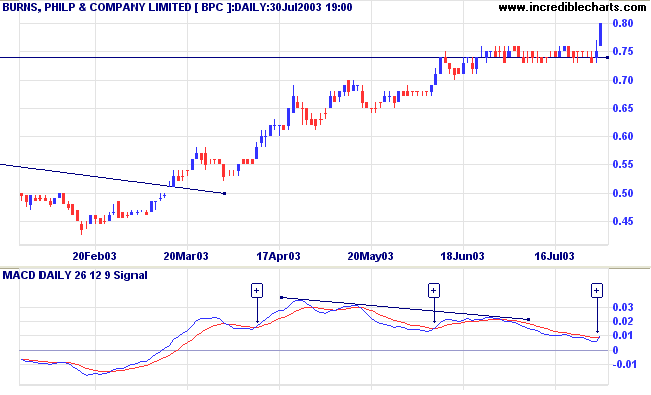 Price formed a narrow range after two failed attempts (at [1] and [2]) to break above the 0.74 resistance level. Volume dried up on the down-swings at [3] and [4], a bullish sign, and is then followed by a breakout at [5] on strong volume.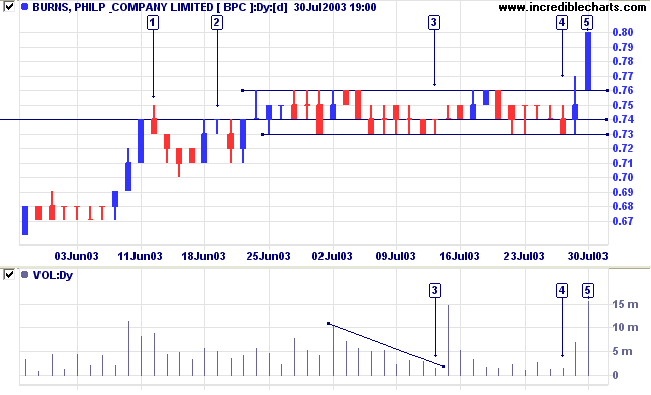 A pull-back to support at 0.76 may present further entry opportunities, if volume and volatility dry up and the down swing is of short duration.
Adelaide Brighton [ABC]
ABC has completed an ascending triangle with a breakout on exceptional volume. It now looks set to pull back to the new support line at 1.30.
Austal [ASB]
Austal shows a bullish divergence on Twiggs Money Flow (100) but the V-bottom may be unstable. The stock faces strong resistance at 0.90.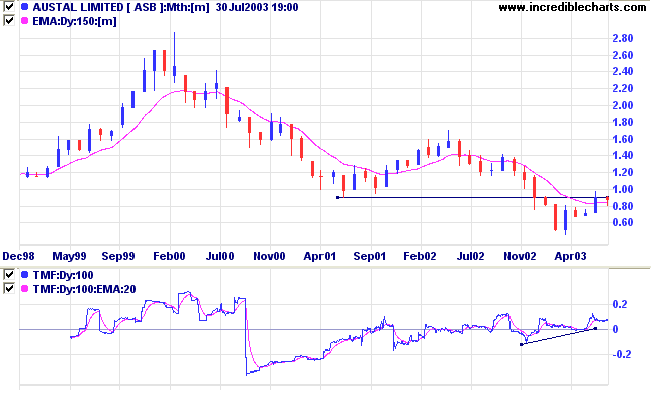 Henry Walker Eltin [HWE]
HWE has formed a broad base after the rally to [c] failed with a double top at [d]. We now see a bullish sign at [g], with a higher low on strong volume, after the new low at [e]. A break above 0.90 will complete a double bottom but the target of 1.20 may be affected by strong resistance at 1.05.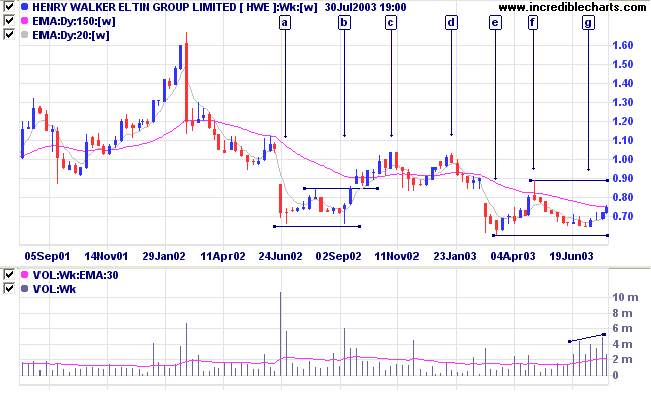 Smorgon Steel [SSX]
After a lengthy period of consolidation SSX has made a new 6-month high with reasonable volume. Entry opportunities may present themselves on a pull back to the new 1.22 support level.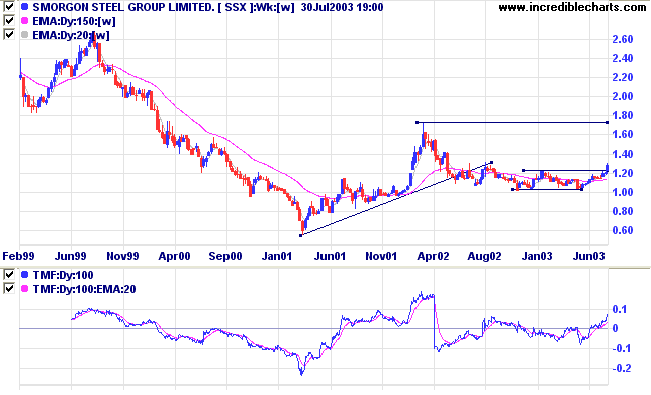 Rules Conditional # 1

It is better to "average up" than to "average down."
This opinion is contrary to the one often held and acted upon;
it being the practice to buy and on a decline buy more. This reduces the average.
Probably four times out of five this method will result in striking a reaction in the market that will prevent loss,
but the fifth time, meeting with a permanently declining market, the operator loses his head and closes out,
 making a heavy loss - a loss so great as to bring complete demoralization, often ruin.

~ S.A. Nelson: The ABC of Stock Speculation (1903).
---
Stock Screens: Trending Stocks
Directional movement can also be used to identify stocks that are in a valid up- or down-trend. To select stocks in an up-trend:

(1) Select ASX 200 from Indices and Watchlists and 200 as the Maximum Return;
(2) Open Directional Movement;
(3) Select DI+DI- (14) Crossovers: Bull signal within the last 9999 trading days; 
(4) Select ADX Value Filter: ADX (14) minimum of 25;
(5) Submit.

This will return stocks in an intermediate or long-term up-trend.
---
---
Back Issues
Access the Trading Diary Archives.
---