---
Widening Bank Margins Slow The Economy
By Colin Twiggs
August 21, 2008 5:00 a.m. ET (7:00 p.m. AET)
These extracts from my trading diary are for educational purposes and should not be interpreted as investment or trading advice. Full terms and conditions can be found at Terms of Use.
Crude oil is consolidating above support at $110/barrel and is likely to retrace to test the band of resistance between $120 and $122. Failure of support (or a clear breakout from the trend channel) would warn of a primary trend reversal — confirmed if the key psychological level of $100 is penetrated.
The Chinese economy is slowing according to recent reports on WSJ and AFP, raising hopes of a stimulus package. As mentioned in my last newsletter, a Chinese recession could lead to crude testing support at the 2007 low of $50/barrel.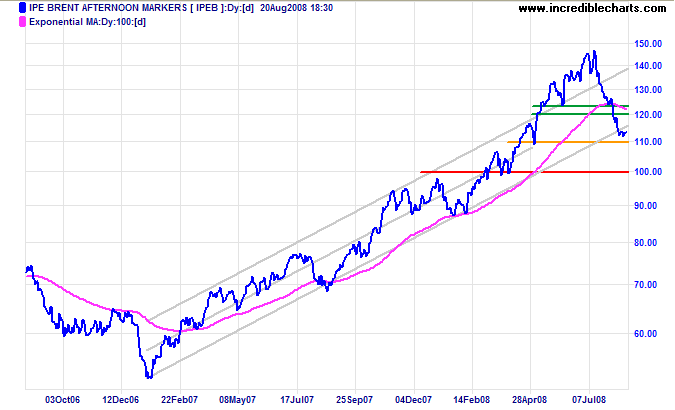 The Dow dipped below short-term support at 11400, warning of another test of 11000. Declining volume highlights a lack of buyer interest. Failure of 11000 would offer a target of 10000.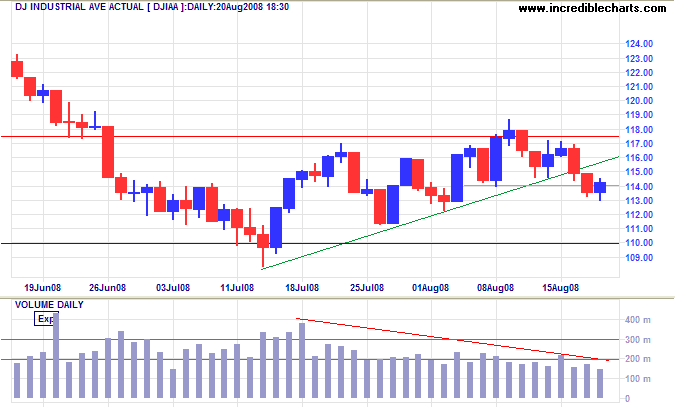 Ten-year treasury yields are testing support at 3.80 percent. The bearish lower high in July indicates that support is likely to fail — and test support at 3.30 percent. Yield differentials (with 13-week treasury bills) remain healthy at above 2.0 percent.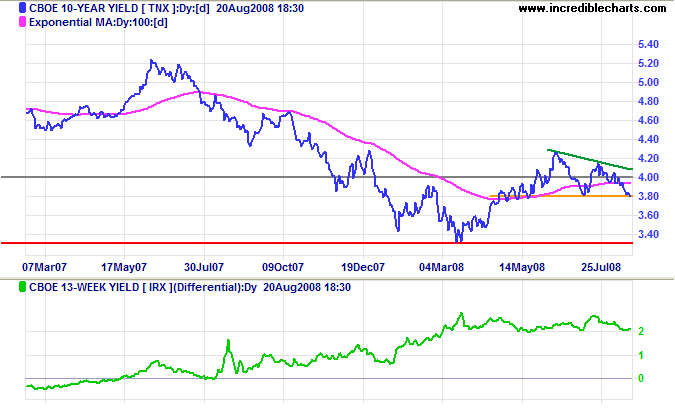 The spread between the fed funds rate and 3-month T-bills is close to zero, but I am suspicious as ten-year and TIPS yields are falling a lot faster than 3-month T-bills. And it is clear from recent activity that market tensions are heightened.
The producer price index is climbing steeply, posting the highest annual increase since 1981. And CPI is likely to follow. Normally this would pressure the Fed to raise interest rates, but banks are taking the heat off them — by widening their margins in order to re-build their balance sheets.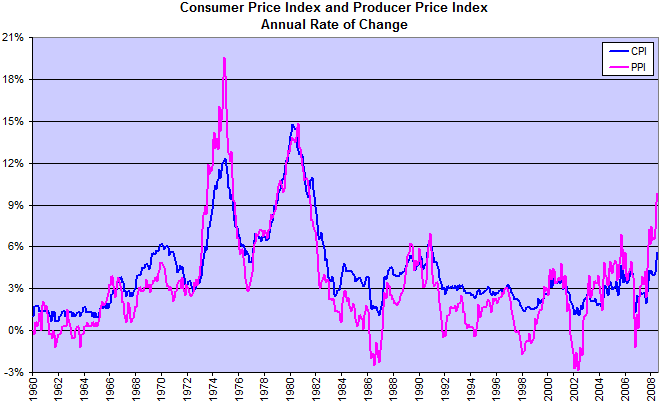 The spread between 10-year treasurys and the equivalent TIPS rate is falling even as the consumer price index rises. This does not give an accurate measure of inflation expectations as the flight to security is distorting the normal spread.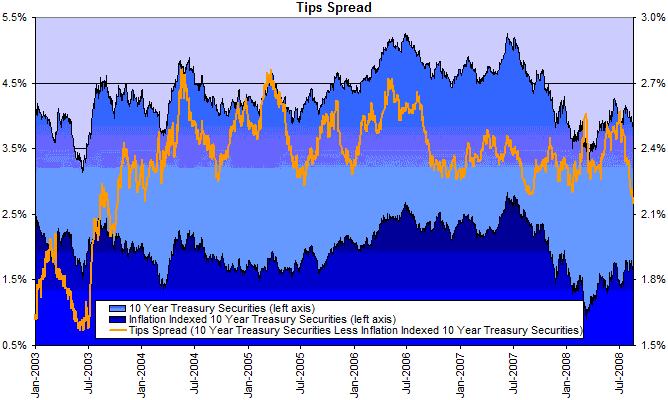 The spread between financial commercial paper and the fed funds target rate (2 percent) continues to widen — keeping pressure on institutions reliant on wholesale funding.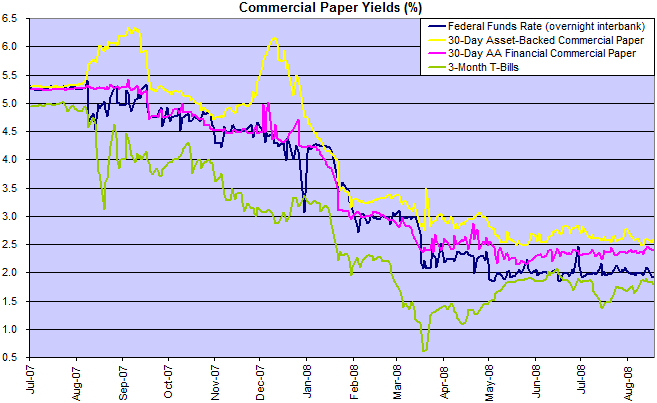 Expect total commercial paper in issue to continue falling.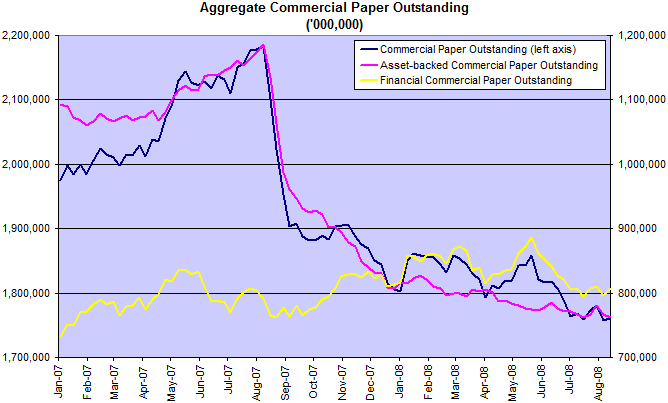 Corporate bond spreads are high in anticipation of rising defaults — and as lenders attempt to re-build their balance sheets.
Mortgage spreads are also widening as lenders attempt to re-build their balance sheets. Rising mortgage rates will further suppress housing demand and prolong the down-turn.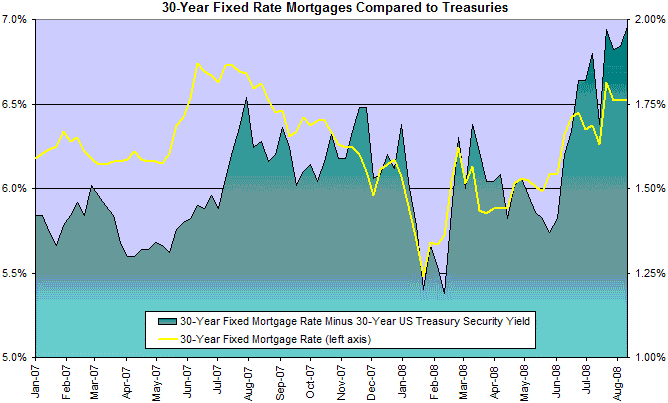 Credit growth continues to fall, but the real credit crunch is happening under the radar — off-balance sheet funding has dried up almost completely.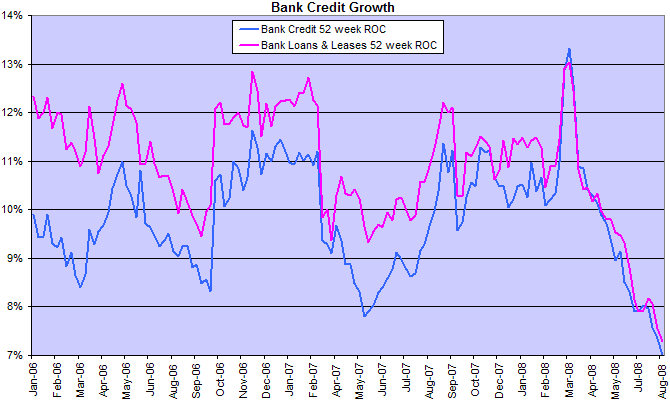 A significant reduction in the massive levels of Fed support for the financial system would signal that the market has bottomed — but it will be some time (years rather than months) before the financial sector will be strong enough to withstand this. The graph below does not even include the $29 billion Bear Stearns bailout.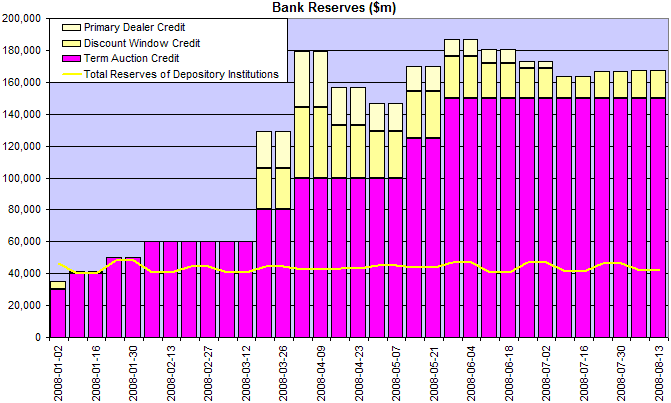 The BER normally only certify a recession when it is nearing an end. It seems that consumers are way ahead of them: three out of four respondents in the last CNN opinion poll believe that the economy is now in recession.
In every act observe the things which come first and those which follow.... If you do not, at first you will approach it with alacrity.... but afterward you will be ashamed. A man wishes to conquer the Olympic games.... But observe the things which come first and the things which follow.... You must do everything according to the rule: eat according to strict orders, abstain from delicacies, exercise yourself at appointed times, in heat and cold, you must not drink cold water, nor wine as you choose.... And sometimes you will strain the hand, put the ankle out of joint, swallow much dust, sometimes be flogged, and after all this be defeated. When you have considered all this, if you still choose, go to the contest. If you do not (consider) you will behave like children, who at one time play as wrestlers, another time as flute players.... but with your whole soul you will be nothing at all.

~ Epictetus: Enchiridion
To understand my approach, please read About The Trading Diary.