---
China's Growing Crude Oil Consumption
By Colin Twiggs
August 14, 2008 7:00 a.m. ET (9:00 p.m. AET)
These extracts from my trading diary are for educational purposes and should not be interpreted as investment or trading advice. Full terms and conditions can be found at Terms of Use.
Crude oil found support above $110/barrel before retracing to test the new resistance band at $120/$122. After a sharp drop the trend is unlikely to immediately reverse — and we can expect another test of support at $110.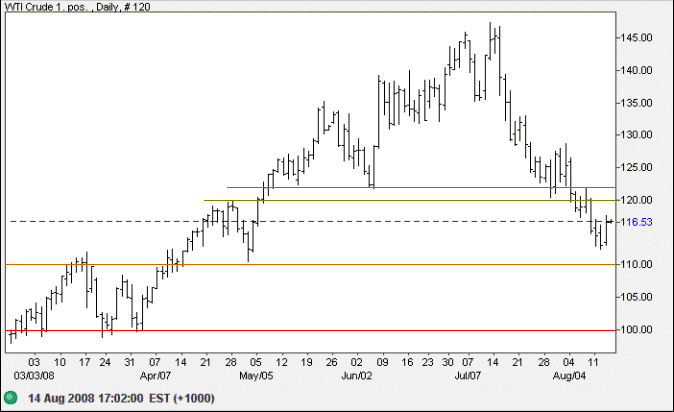 The long-term up-trend remains strong, however. Global oil production kept pace with world GDP since the early 1980s before leveling off below 75 million barrels/day in the last 4 years. A similar divergence occurred in the early 1990s, but if peak oil predictions are correct production will not recover — causing prices to rise.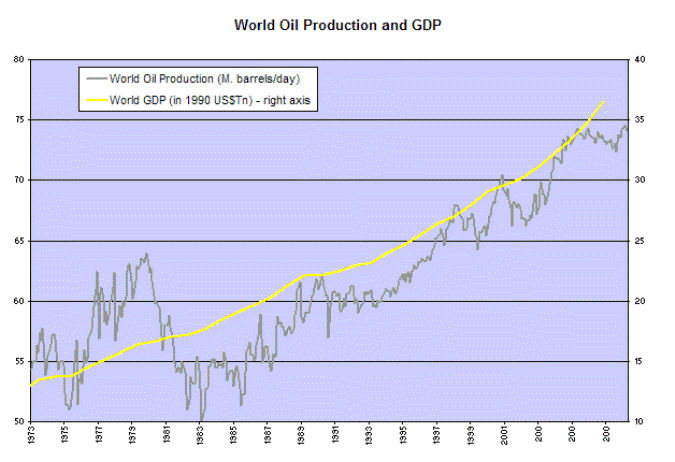 If we read the Interim Report on Crude Oil from the Interagency Task Force on Commodity Markets, however, the situation appears even worse. Oil consumption growth is heavily weighted towards China and is unlikely to slow as long as China's GDP grows at annual rates above 10 percent.
The Dow is moving opposite to crude oil, with retracement over the last two days testing support. Twiggs Money Flow oscillating above zero indicates continued short-term buying pressure. Expect support at 11400 to hold and stocks to rally until crude finds solid support — at around $100 per barrel.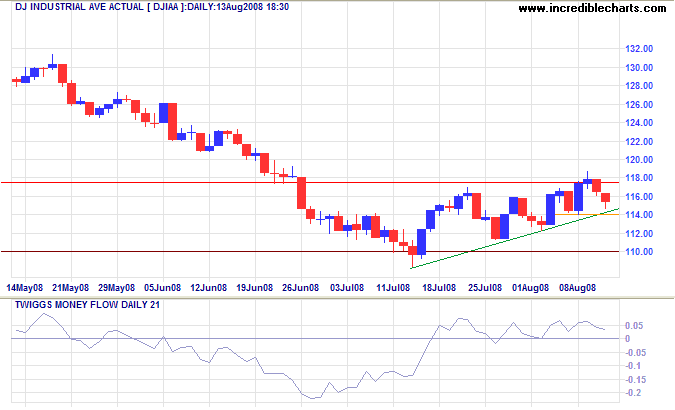 Ten-year treasury yields broke downwards from the recent triangle. Failure of support at 3.80 percent would signal a medium-term down-trend — to test support at 3.30 percent. Yield differentials (with 13-week treasury bills) remain healthy at above 2.0 percent.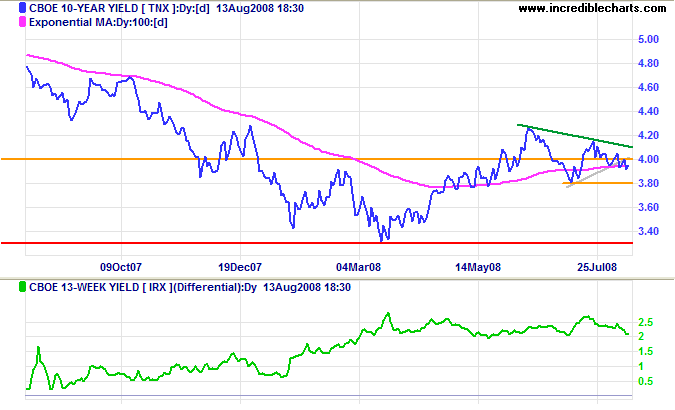 The spread between the fed funds rate and 3-month T-bills is close to zero, indicating financial market tensions have eased.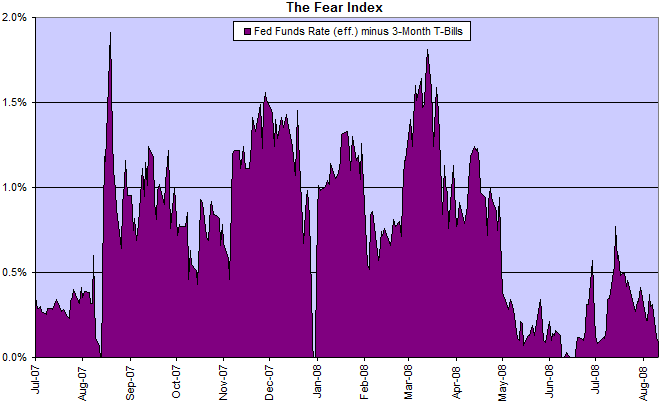 The spread between financial commercial paper and the fed funds target rate (2 percent) is maintaining at around 40 basis points — keeping pressure on institutions reliant on wholesale funding.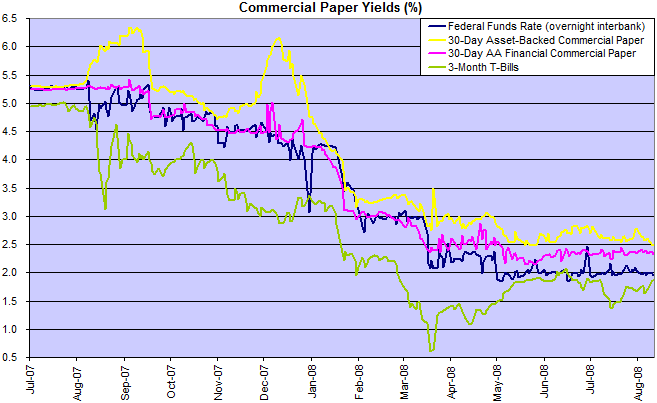 The down-trend in commercial paper continues.
Corporate bond spreads are high — in anticipation of rising defaults.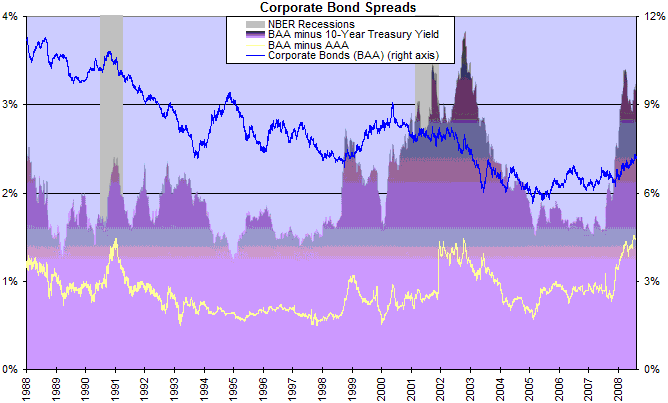 Mortgage spreads are also rising in anticipation of further defaults.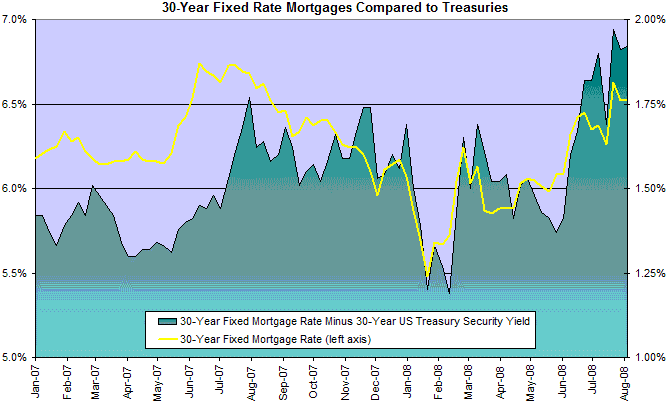 Credit growth has not fallen much compared to previous recessions, but the real credit crunch is happening under the radar: as off-balance sheet funding has dried up almost completely.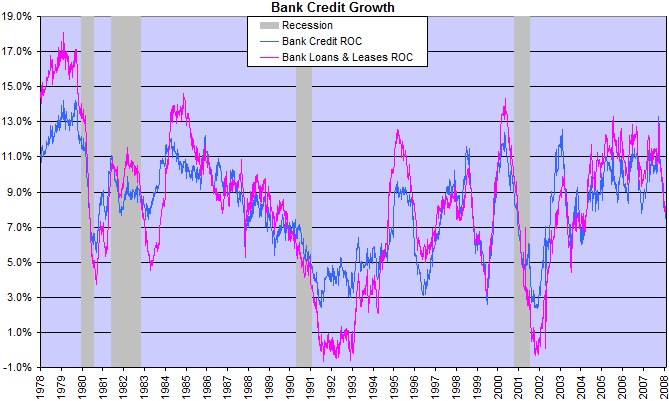 If they are too big to fail, make them smaller.

~ former Nixon Treasury Secretary George Shultz, supporting the split up of Fannie Mae and Freddie Mac into a number of smaller units ( Wall Street Journal ).
To understand my approach, please read About The Trading Diary.