---
Wall Street Hangover
By Colin Twiggs
July 24, 2008 7:00 a.m. ET (9:00 p.m. AET)
These extracts from my trading diary are for educational purposes and should not be interpreted as investment or trading advice. Full terms and conditions can be found at Terms of Use.
George Bush's quip that Wall street got drunk and now has a hangover understates the depth of the problem. It would be more apt to say that Wall Street has been on a 30-year credit binge and needs a long stint in rehab to wean it off its addiction.
The latest housing bill passed by Congress is no miracle cure and will not prevent further write-downs in the financial sector. There is some evidence, however, of renewed confidence in the mortgage sector — which should ease downward pressure on house prices. The latest rally of financial stocks is typical of a bear market dead cat bounce. The S&P Financial index displays a bearish shooting star candlestick pattern, warning of resistance, while Twiggs Money Flow oscillating below zero signals continuing selling pressure.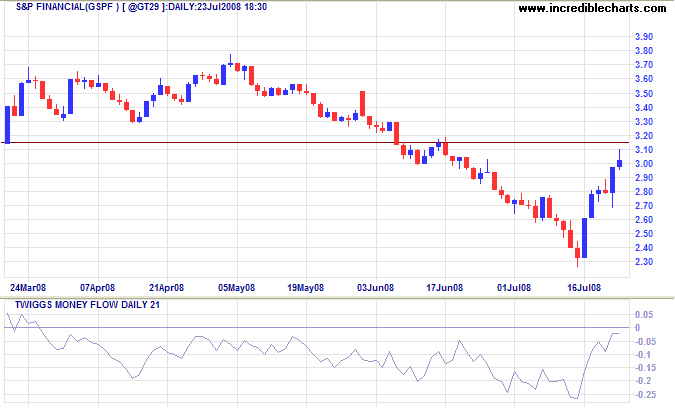 The Dow encountered resistance at 11750, the former primary support level, forming a doji star candlestick pattern. Reversal below 11500 would signal another test of 11000, while failure of support would warn of a decline to 10700.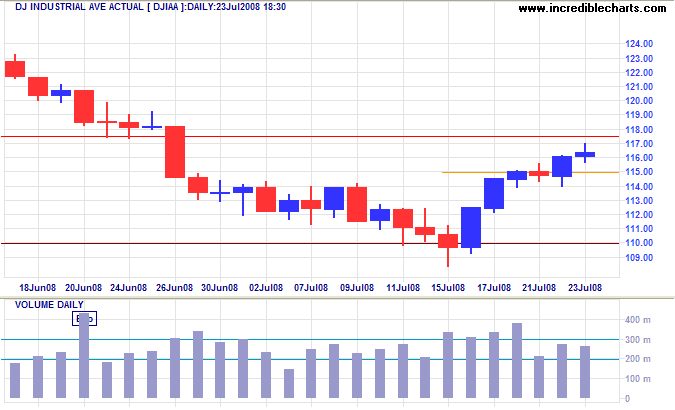 Crude oil remains in a primary up-trend: only a fall below $100 would signal a reversal.
West Texas Intermediate Crude below is undergoing a secondary correction. Expect strong support at $120/barrel (roughly a 60% retracement).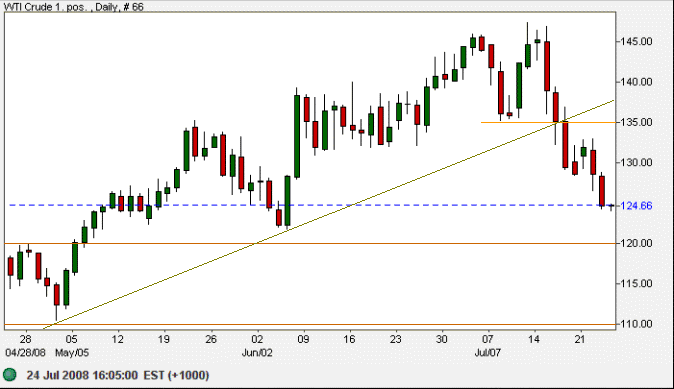 The spread between the fed funds rate and 3-month T-bills eased slightly, but the trend remains upwards.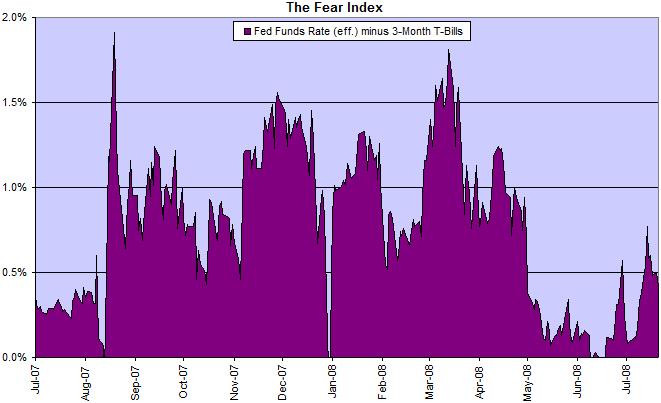 Ten-year treasury yields respected support at 3.75 percent and are now headed for a test of the previous high. Some writers have ascribed this to rising inflation fears, but the rise coincides with the recent rally in financial stocks which would have seen an outflow from bonds. A new high on TNX would confirm the up-trend. The yield differential (with 13-week treasury bills) remains healthy at above 2.0 percent.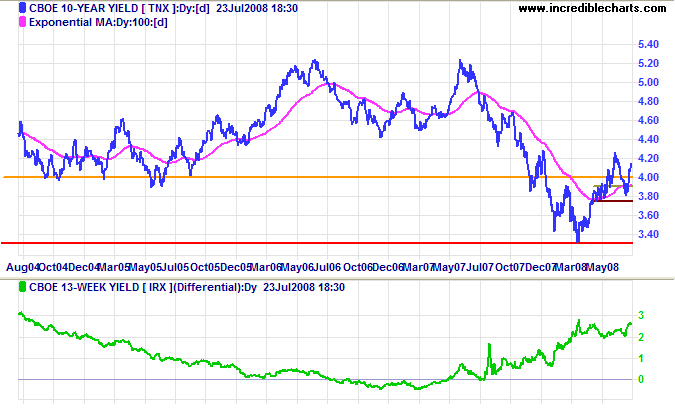 The spread between 10-year treasurys and the equivalent TIPS rate is edging upwards, but there is no breakout above 2008 highs to signal that inflation expectations are spiking upwards.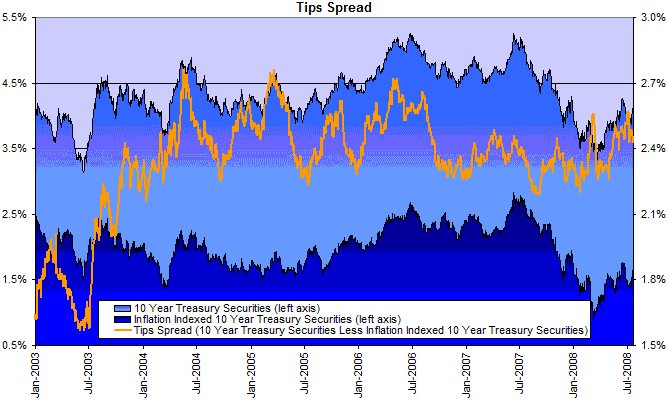 The rising spread between financial commercial paper and the 2 percent fed funds target rate warns that the credit squeeze is far from over.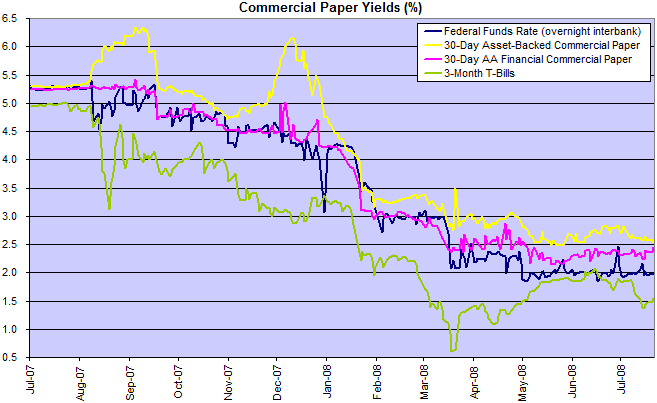 Expect commercial paper in issue to continue falling, adding further pressure on the financial sector — as off-balance sheet financing shrinks.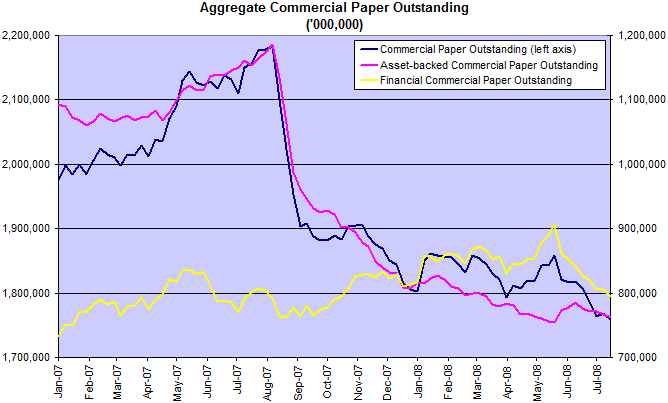 Corporate bond rates are rising in sympathy with treasury yields, slowing new investment.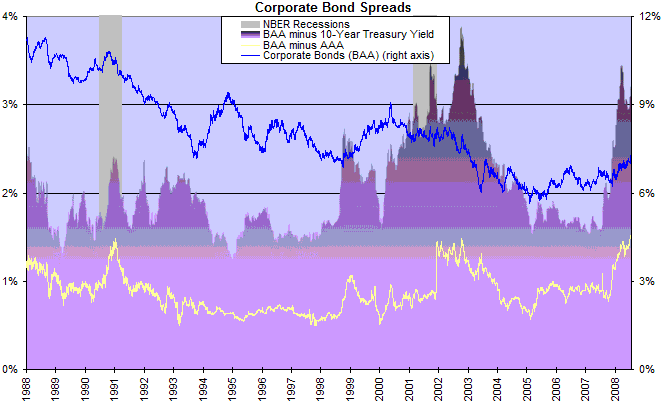 Fixed mortgage rates are falling despite rising treasury yields. Treasury action over Fannie Mae and Freddie Mac appears to have allayed lenders fears. A continued decline would ease falling house prices.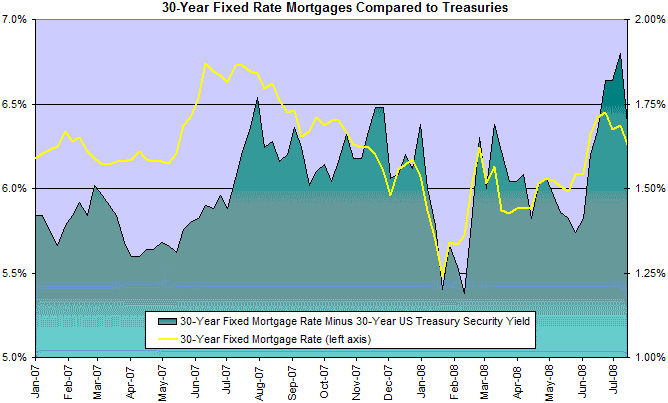 Credit growth continues to fall as banks shore up their balance sheets, slowing consumption and new investment.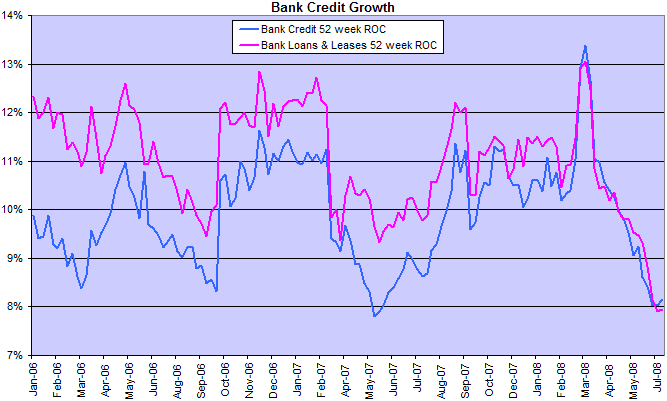 Unprecedented levels of Fed support for the financial system are likely to continue for the foreseeable future — until the credit squeeze has passed. Discount window credits and primary dealer credit facilities are declining, but term auction credit remains at $150 billion.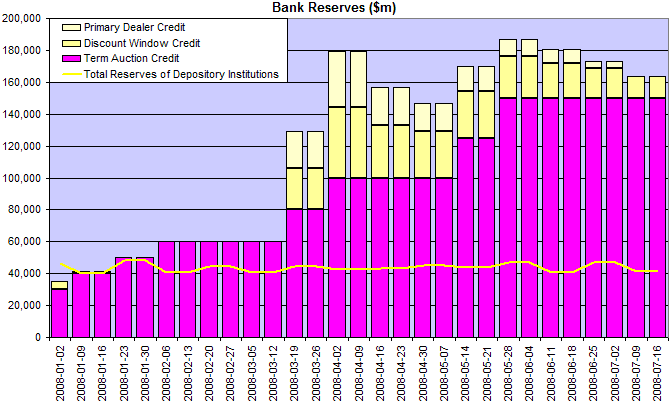 The above graph also does not reflect the $29 billion net holdings in the Bear Stearns bailout.
The sharp fall in consumer sentiment is likely to affect consumption patterns, slowing the economy.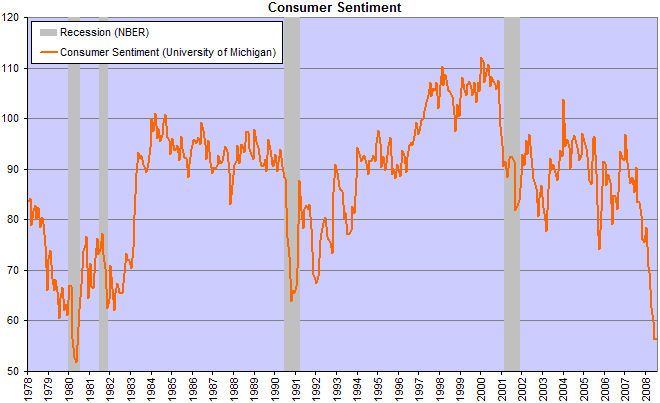 The mystery of government is not how Washington works
but how to make it stop.

~ P.J. O'Rourke
To understand my approach, please read About The Trading Diary.