---
Fannie Mae & Freddie Mac
By Colin Twiggs
July 10, 2008 4:00 a.m. ET (6:00 p.m. AET)
These extracts from my trading diary are for educational purposes and should not be interpreted as investment or trading advice. Full terms and conditions can be found at Terms of Use.
The S&P 500 respected the new resistance level at 1270, offering a target of 1100 [1270-(1430-1270)=1110]. Twiggs Money Flow below its January low signals strong selling pressure.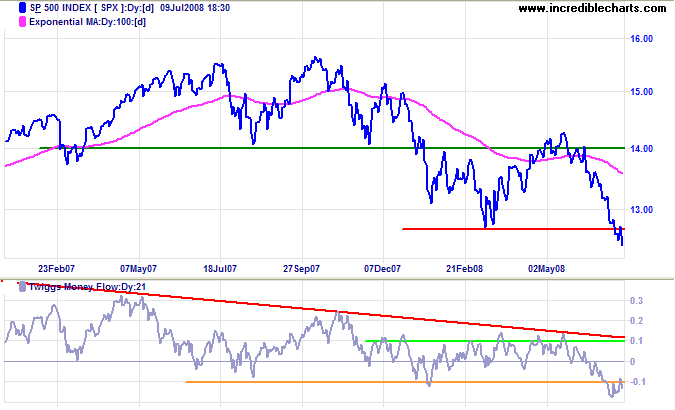 China: The Shanghai Composite Index retraced to test resistance at 3000, while Twiggs Money Flow (21-Day) broke out above its recent triangle to signal buying pressure. Confirmation by the 13-Week Twiggs Money Flow would be a bullish sign.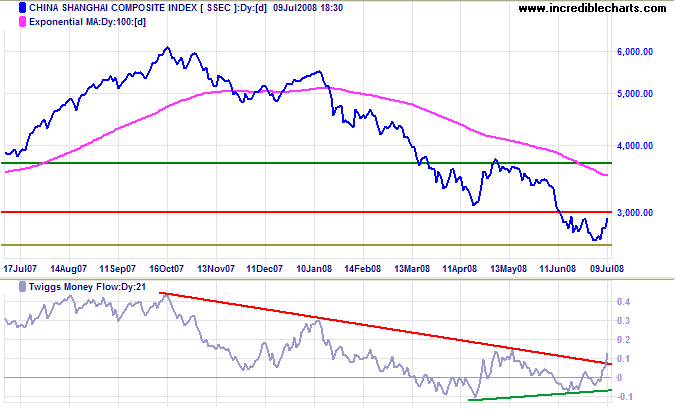 West Texas Intermediate Crude found short-term support at $135. Recovery above $140 would signal respect of the rising trendline, offering a target of $150. A fall below $130 would warn of a secondary correction. Primary support remains at $100.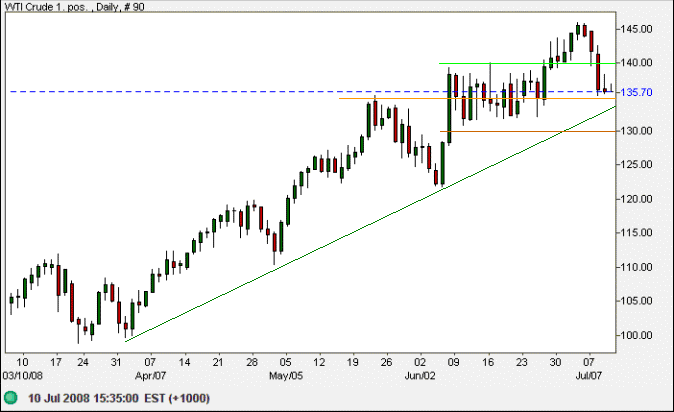 The spread between the fed funds rate and 3-month T-bills remains in the green zone: below 0.5 percent. The gap widens when investors seek the safety of treasury-bills.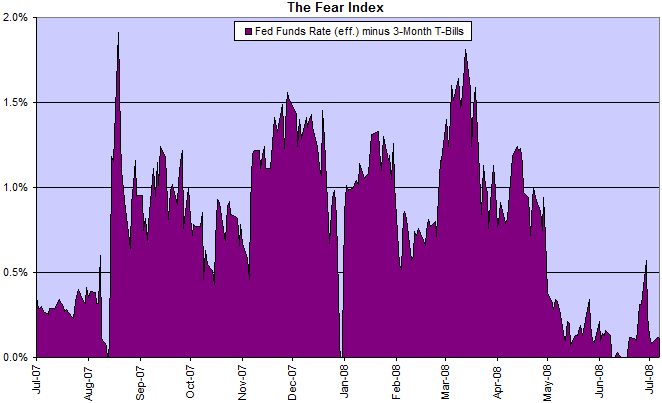 Ten-year treasury yields broke through short-term support at 3.90 percent, warning of a test of primary support at 3.30 percent. A fall below 3.75 percent would confirm. The yield differential (with 13-week treasury bills) remains relatively healthy at above 2.0 percent.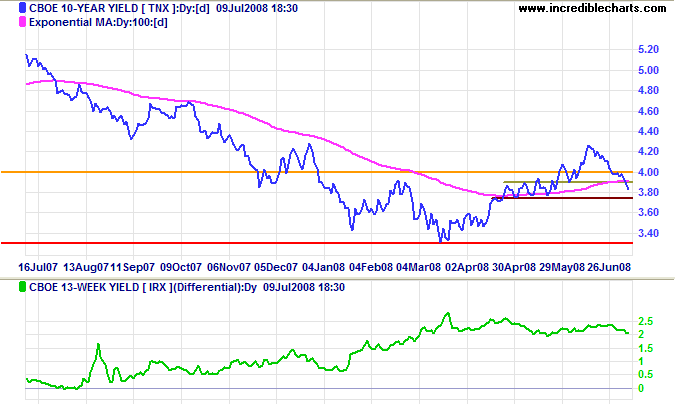 The spread between 10-year treasurys and the equivalent TIPS rate is testing 2.50 percent. Breakout would indicate that inflation expectations are rising.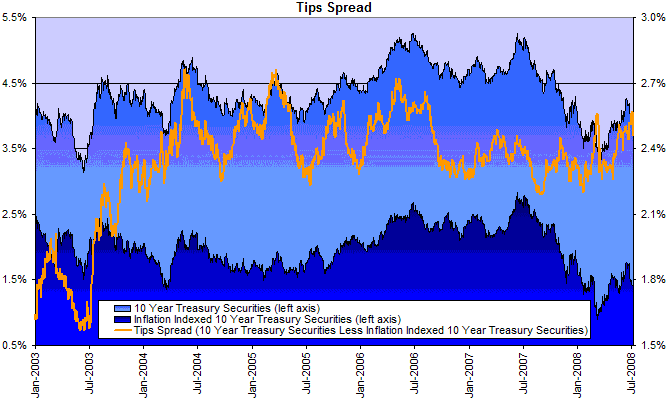 Increasing spreads between commercial paper and the effective fed funds rate reflect investors concerns about financial markets — and pressure banks to reduce off-balance sheet funding.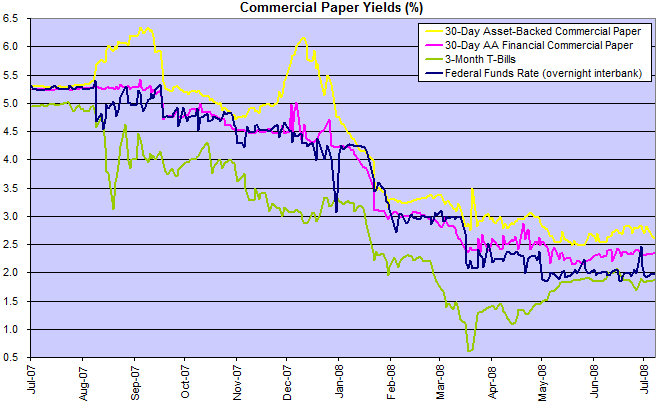 Commercial paper in issue is declining, maintaining the credit squeeze.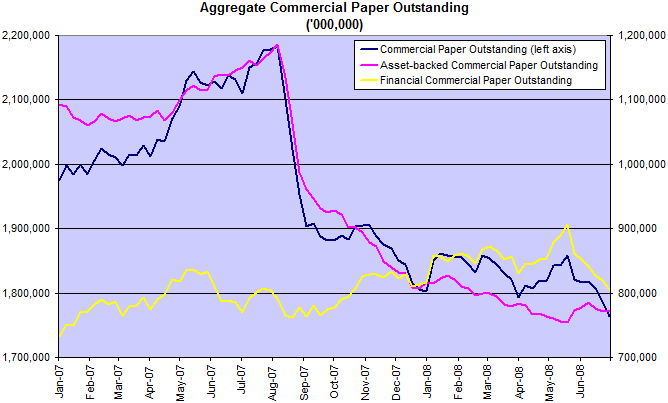 Corporate bond yields continue to rise, despite the fall in treasury yields, slowing new investment.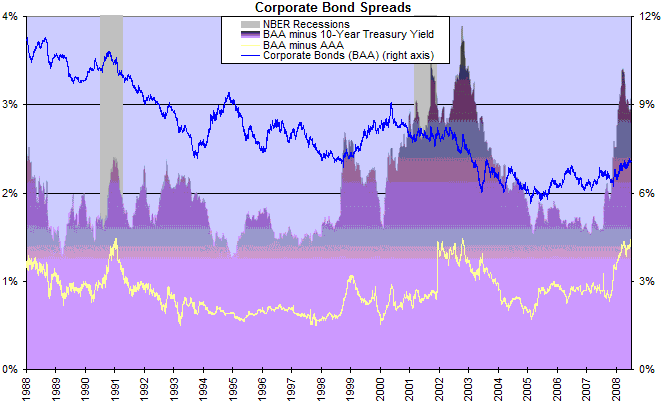 Fixed mortgage rates eased slightly, in sympathy with falling treasury yields, but the trend remains upwards — placing downward pressure on the housing market.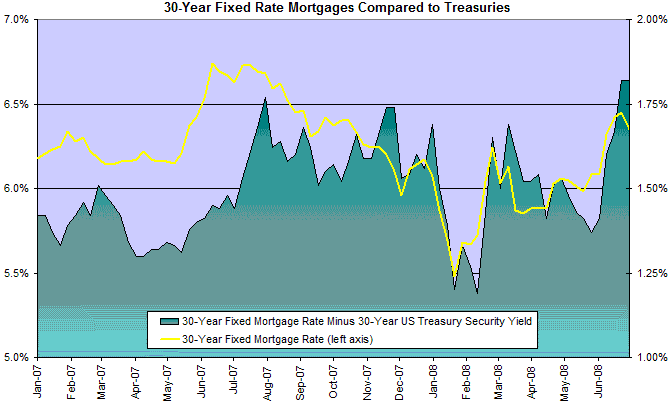 With their shares falling, credit default swaps rising, and investors demanding higher spreads on new bond issues, Fannie Mae and Freddie Mac are the latest threat to stability of the financial system. Former St. Louis Fed President William Poole says that Freddie Mac owes $5.2 billion more than the fair value of its assets — and Fannie Mae may be negative by next quarter. (Bloomberg).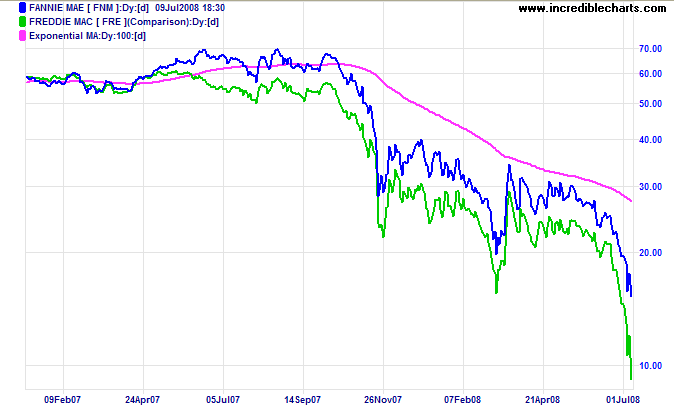 Credit growth continues to fall as banks shore up their balance sheets. This will in turn affect consumption and new investment, slowing the economy.
Discount window credits are declining but Fed term auction credit remains at $150 billion — and it may be some time before these record levels of Fed funding are reduced.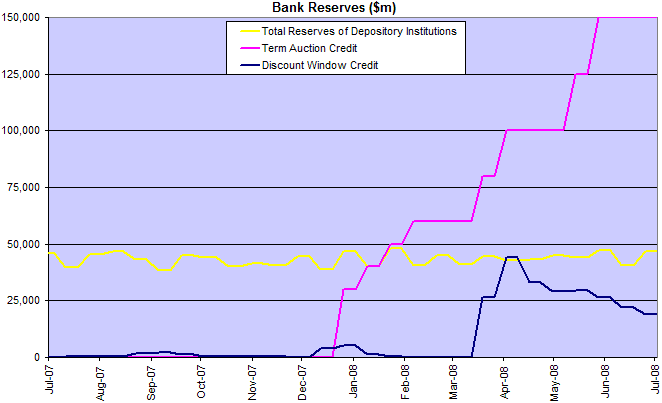 Unemployment is trending upwards, but remains below its 2003 peak.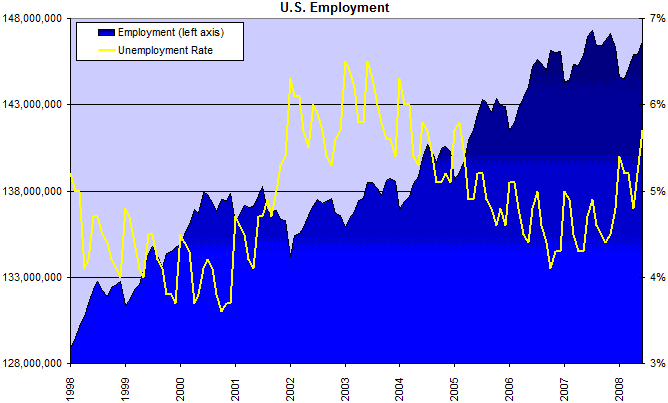 The jobless rate, which includes those not actively seeking work, shows a disturbing long-term up-trend.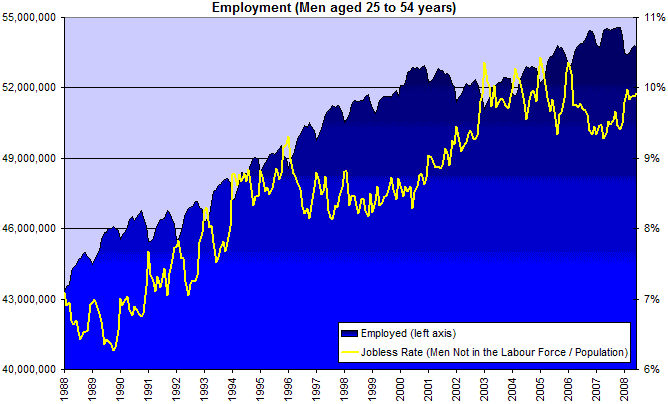 Jonathan Wright's recession prediction model remains at zero. The model looks four quarters ahead and does not reflect that we are currently in (or about to enter) a recession.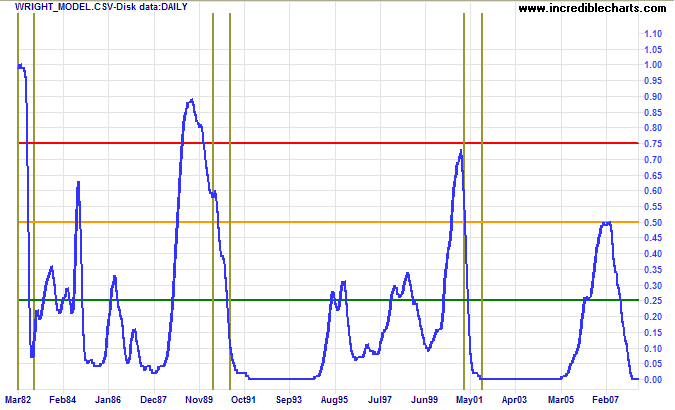 I think character is permanent, and issues are transient...........
the determining factor in electoral success should be a proven character.

~ Vice Admiral Jim Stockdale (1923 - 2005).
To understand my approach, please read About The Trading Diary.