---
---
---
Trading Diary
February 26, 2005
These extracts from my daily trading diary are for educational purposes and should not be interpreted as investment advice. Full terms and conditions can be found at
Terms of Use
.
USA
The
Dow Industrial Average
has had a turbulent week. Stocks fell sharply on Tuesday, with a large red candle and strong volume. Support then held at 10600, with a 3-day rally testing resistance at 10850 to 10860. Lighter volume on the rally indicates that resistance may hold and we could see further consolidation between 10860 and 10600.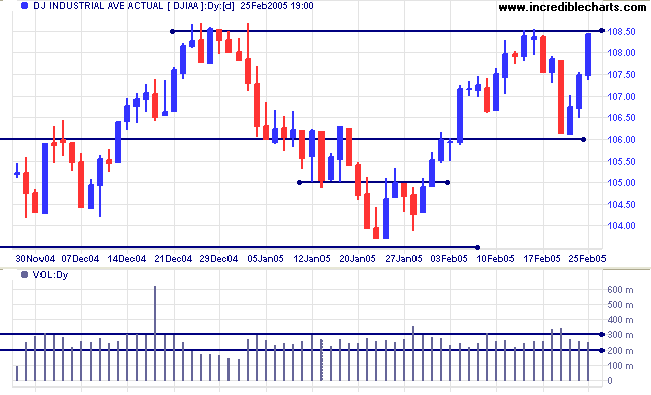 A rise above 10860 would signal that further gains (and a test of resistance at 11400) can be expected.
Twiggs Money Flow
has strengthened: the last pull-back respected the signal line and the indicator appears about to complete a broad double bottom.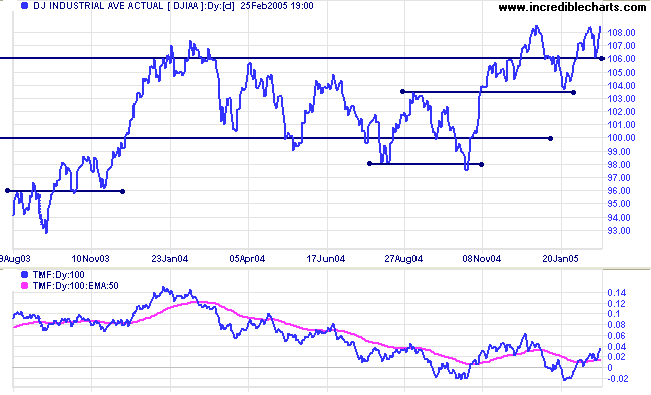 The Nasdaq Composite is headed for a third test of resistance at 2100, after failed attempts at [b] and [c]. With successive lower lows at [c] and [e], and fairly light volume on Friday, we may see further consolidation between 2000 and 2100.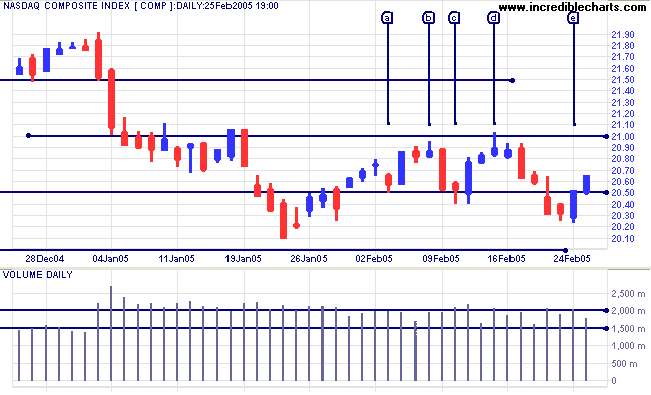 A fall below 2000 would signal a re-test of support at 1750, while a rise above 2150 would signal an upward breakout.

Twiggs Money Flow
(21-day) is weaker than the Dow or S&P 500, lingering below the zero line.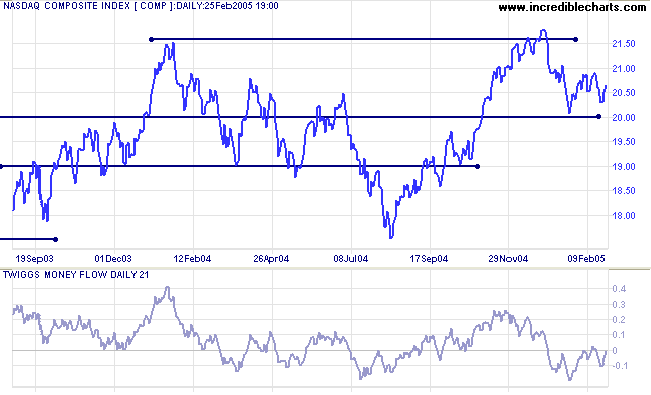 The
S&P 500
fell through support with a strong red candle on Tuesday [2]. The index then recovered, with a 3-day rally returning the index back above 1200. 
A pull-back that respects support at 1200 would be a bull signal, while another fall below 1200 would signal weakness.
Twiggs Money Flow
has completed a second bullish trough above the zero line, favoring an upside breakout.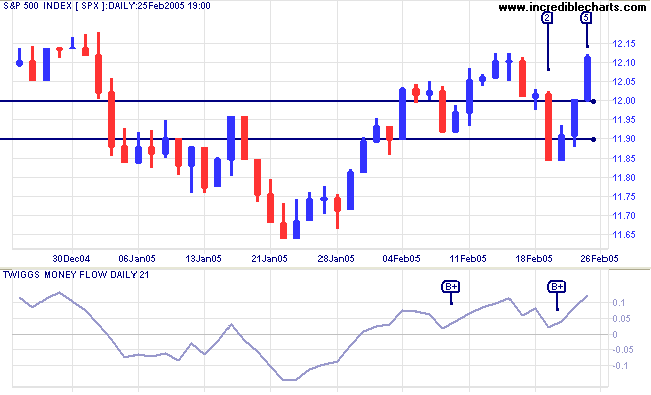 On the longer-term chart we can see the significance of support at 1150/1160. The market has a positive outlook as long as the index stays north of this line.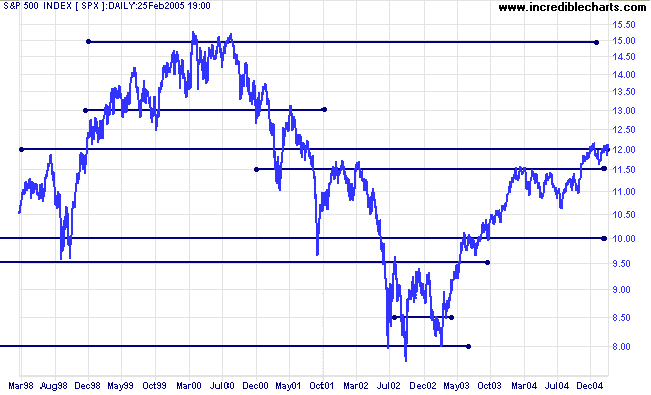 Treasury yields
Last week's jump in the core PPI gave long-term yields a boost, with the yield on 10-year treasury notes back above 4.25%.
The
yield differential
(10-year T-notes minus 13-week T-bills) continues to weaken: back at 1.6% this week. 
Below 1.0% would be a (long-term)
bear signal
for equity markets.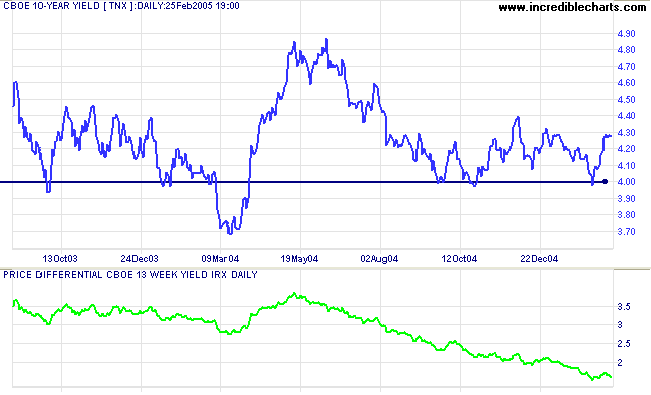 Gold

New York: Spot gold has broken above resistance at $430 (upper border of the recent consolidation) with Friday closing at $434.70.
If this holds, we are likely to see a test of resistance at $450. Look for a pull-back that respects the new support level at $430.
---

Incredible Charts - now with US Data

AMEX, NASDAQ and NYSE data
OTC BB and Pink Sheet stocks
more than 500 market and sector indices

---
ASX Australia
After a brief consolidation the
All Ordinaries
fell sharply on strong volume at [3]. The attempted rally [4] at the first line of support quickly faded, ending in further losses; but buyers were able to gain control on Friday [5], with a tall blue candle on strong volume. 
Expect a test of the initial resistance level at 4130. If this holds, there is likely to be another strong down-swing. 
A fall below the low of [5] would signal that a test of support at 4030 is imminent.
A rise above 4160 would signal that the intermediate trend has reversed upwards.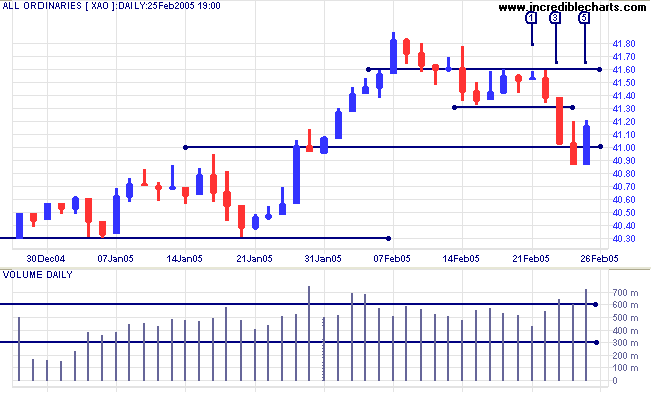 Twiggs Money Flow
displays a strong bear signal, with a peak below the signal line, followed by a fall below preceding lows. A recovery that fails to break above the resistance line would add further confirmation.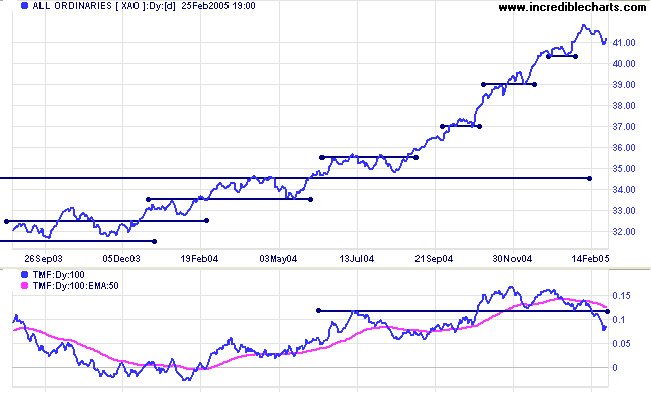 Weekly reminder:
Bear in mind that at some point there is likely to be a correction back to 3450. This is based on observation of the
All Ords
over the past 25 years, where the index has regularly tested support at previous long-term highs during an up-trend.
Colin Twiggs
A disciplined mind is a free mind.
Gain control over your thoughts and you maintain control over your life.
Retrain your mind and you regain your freedom.
~ Andrew Pacholyk:
Peaceful Mind
---
Back Issues
Access the Trading Diary Archives.
---