---
---
Incredible Charts version 4.0.2.300
The new version will be released this week. Changes include a revised watchlist and securities menu, enabling the addition of ETOs, warrants and US stocks, and a new printer module, with greater printer compatibility and functionality.
---
Trading Diary
August 14, 2003
These extracts from my daily trading diary are intended to illustrate the techniques used in short-term trading and should not be interpreted as investment advice. Full terms and conditions can be found at Terms of Use

.
The Dow regained lost ground, closing at 9311 on low volume. Continued low volume signals a lack of commitment from buyers.
The intermediate trend is up. The index is consolidating between 9000 and 9300.
The primary trend is up.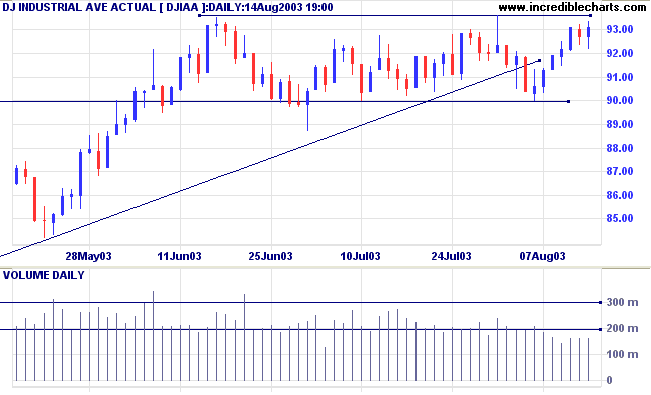 The Nasdaq Composite gained 13 points to close at 1700 on lower volume.
The intermediate trend is down.
The primary trend is up.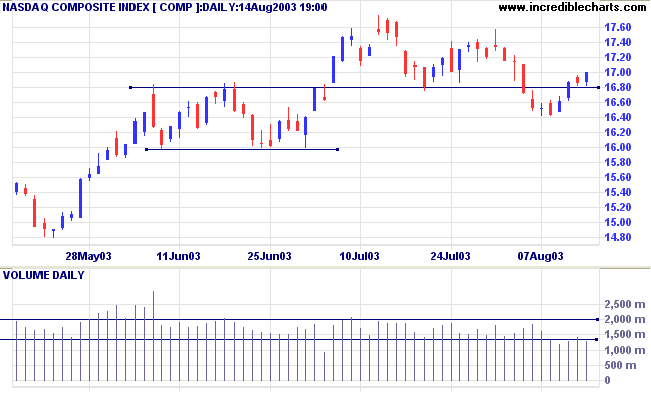 The S&P 500 gained 7 points to close at 991 on lower volume.
The intermediate trend is down.
The primary trend is up.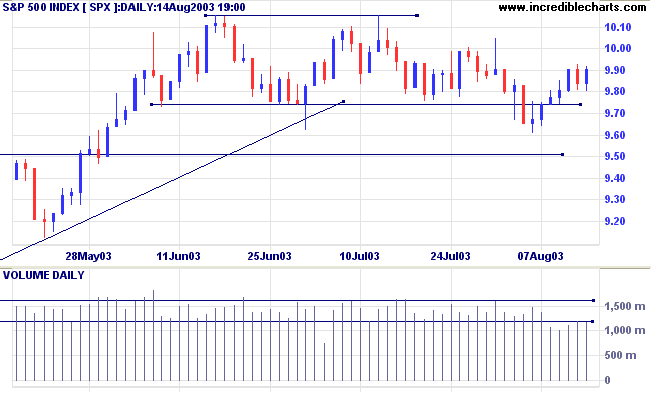 Market Strategy
Short-term: Long if the S&P500 is above 1000. Short if below 980.
Intermediate: Long if S&P 500 is above 1015. Short if below 980.
Long-term: Long is the index is above 950.
Spare capacity drags recovery
Spare capacity means that increased production will not immediately kick-start the much-awaited recovery, with increased employment and higher prices.
(more)
Jobless claims higher
New unemployment claims reached a higher-than-expected 398,000 last week.
(more)
Treasury yields
The yield on 10-year treasury notes continues to strengthen, reaching 4.59%.
The intermediate and primary trends are up.
Gold
New York (16.56): Spot gold rallied to $365.00.
The primary trend is still upwards.
The All Ordinaries retreated 7 points to 3143 on higher volume, signaling trend weakness.
The intermediate trend is up.
The primary trend is up.

Slow Stochastic (20,3,3) is above its signal line; MACD (26,12,9) is above; Twiggs Money Flow shows a bearish divergence but still signals accumulation.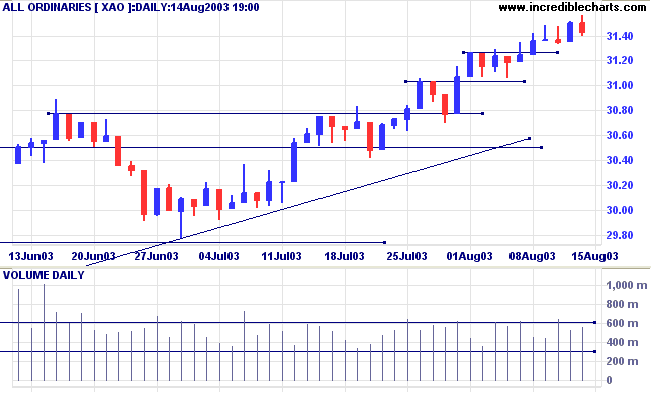 Market Strategy
Short-term: Long if the All Ords is above 3150. Short if the intermediate trend turns down.
Intermediate: Long if the index is above 3150. 
Long-term: Long if the index is above 2978 .
Tabcorp Holdings [TAH]
Last covered on
May 15, 2003
.
After a double top in 2002 TAH entered a stage 4 decline before leveling out into a stage 1 base in 2003. The base has formed a large bullish ascending triangle with resistance at 11.00.
Twiggs Money Flow (100) is below zero but rising.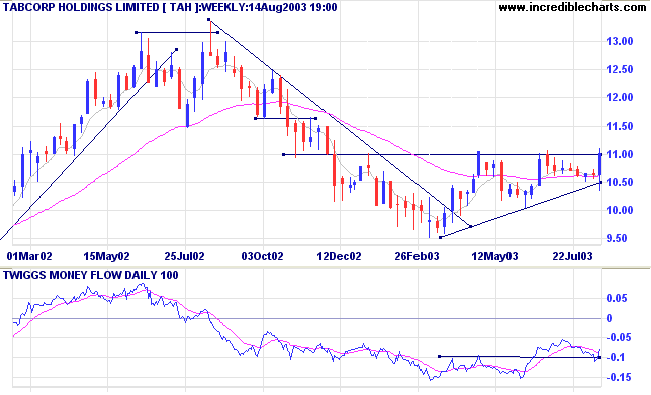 Relative Strength does not reflect a breakout from its current range.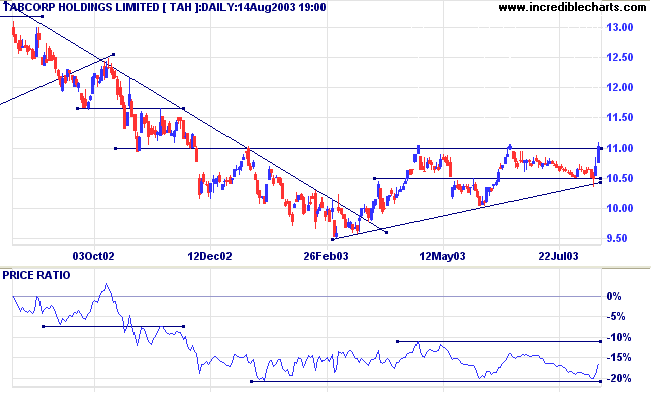 The daily volume chart shows selling pressure when price rises to the resistance level at [1].
The peak at [3] displays a fall-off in buying pressure; a bearish sign.
Support then forms at 10.50, with high volume on the low at [4] and again at the false break at [5]. 
The subsequent rise to [6] is accompanied by strong volume. The speed of the rally may exhaust short-term buying pressure and we may observe a short pull-back before the breakout.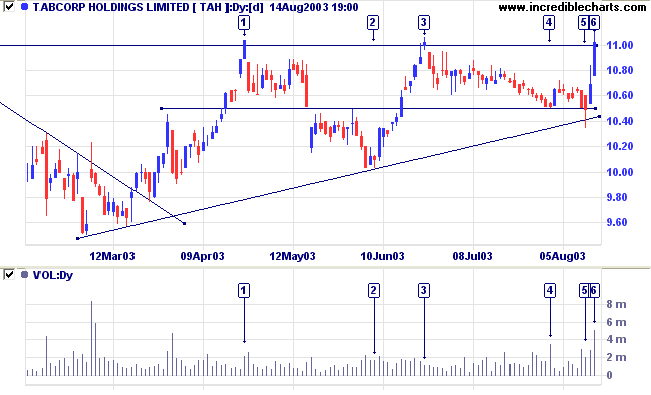 Ansell [ANN]
Ansell fell sharply after forming a small double top at [a] and [b], before rallying strongly to create a V-bottom. As is often the case the "V" retreated to re-test support levels. In this case price found support around the 5.60 level and ANN has now formed a bullish ascending triangle.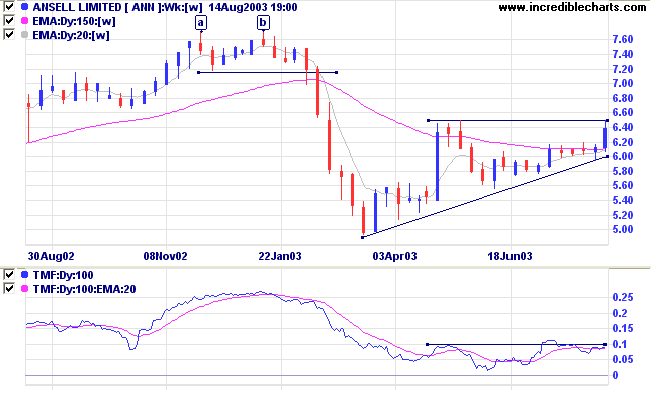 Relative strength has yet to break out of its present range and it is premature to predict an early breakout.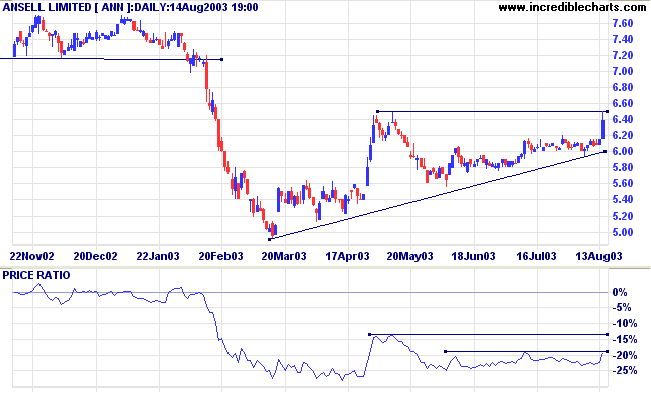 Colin Twiggs
At what point shall we expect the approach of danger?
By what means shall we fortify against it?
Shall we expect some transatlantic military giant, to step the Ocean, and crush us at a blow? Never!
All the armies of Europe, Asia and Africa combined, with all the treasure of the earth (our own excepted) in their military chest;
with a Bonaparte for a commander, could not by force, take a drink from the Ohio,
or make a track on the Blue Ridge, in a trial of a thousand years.
At what point, then, is the approach of danger to be expected?
I answer, if it ever reach us it must spring up amongst us. It cannot come from abroad.
If destruction be our lot, we must ourselves be its author and finisher.

~ Abraham Lincoln.
---
Stock Screening: Breakouts
The % Of Price High filter is excellent for identifying breakouts, but it also returns stocks that are already in well-established up-trends. To narrow the field:

(1) Set 3-month % Of Price High to Minimum 100%;
(2) Set Directional Movement: ADX (14) Value Filter to Maximum 30; 
(3) Submit.

Combining the two filters should limit the return to recent breakouts. 
---
---
Back Issues
Access the Trading Diary Archives.
---