---
---
Searching the Trading Diary Archives
Use the normal Search function at the top of the website page:
Search for the name rather than the code 
(eg. ALL will include the All Ordinaries and Small Caps Index, whereas Aristocrat is more specific).
Include a + sign before each required field.
Include +"back issues" to narrow the search to the Trading Diary.
EXAMPLE
To search for Aristocrat, enter +aristocrat  +"back issues" in the search field.
---
Trading Diary
July 23, 2003
These extracts from my daily trading diary are intended to illustrate the techniques used in short-term trading and should not be interpreted as investment advice. Full terms and conditions can be found at Terms of Use

.
The Dow continues to form an ascending triangle, closing up 0.4% at 9194 on lower volume.
The intermediate trend is up. A fall below 8871 will signal a reversal.
The primary trend is up.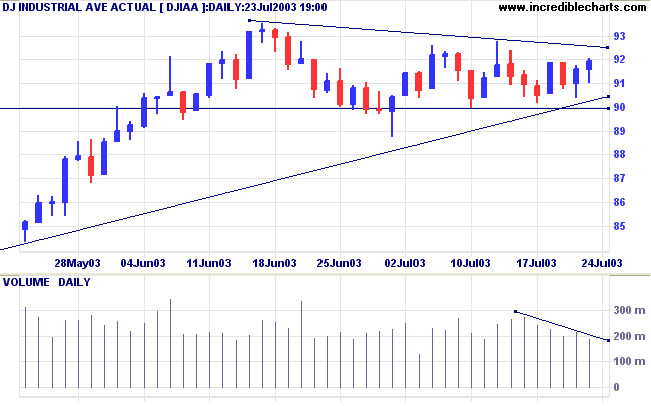 The S&P 500 formed another inside day, with a high close, 1 point up at 989, but average volume.
The intermediate trend has turned down. MACD shows a bearish divergence but Twiggs Money Flow (21) completed a bullish trough above zero.
The primary trend is up.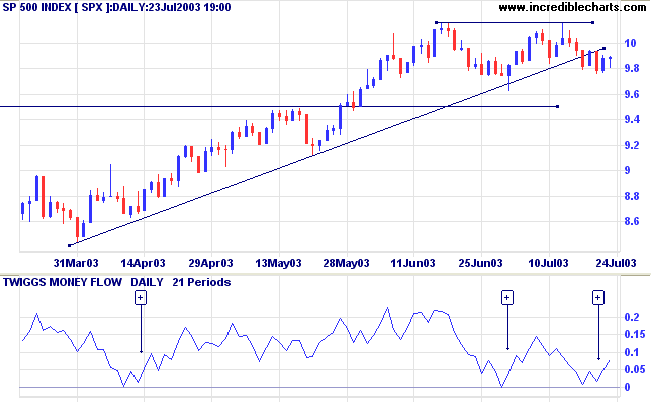 The Nasdaq Composite closed up 13 points at 1719 on higher volume.
The intermediate trend is up. Price has respected support at 1680, signalling trend strength. 
The primary trend is up.
Market Strategy
Short-term: Long if the S&P500 is above 994. Short if below 975.
Intermediate: Long if S&P 500 is above 1015. Short if below 962.
Long-term: Long.
AOL
AOL reports higher results but investors are uneasy with the media group's accounting problems.
(more)
Treasury yields
The yield on 10-year notes [TNX] is almost unchanged at 4.11%.
The intermediate trend is up; the primary trend is down.
Gold
New York (17.16): Spot gold has rallied strongly to $359.30.
The primary trend is up.
The All Ordinaries formed a hook reversal, rallying 20 points to close at 3068 on higher volume. The break below support at 3050 appears to have been a false break. The two equal highs over the last month form a bullish ascending triangle.
The intermediate trend is up. A fall below support at 2979 would signal a reversal.
The primary trend is up (marginally).

Slow Stochastic (20,3,3) is below its signal line; MACD (26,12,9) is above; Twiggs Money Flow signals accumulation.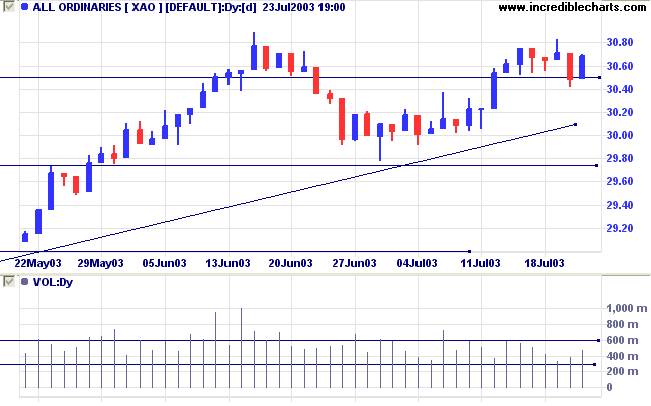 Market Strategy
Short-term: Long if the All Ords is above 3071; short if below 3041.
Intermediate: Long if the index is above 3083; short if below 2979.
Long-term: Long if above 2979.
Sons of Gwalia [SGW]
Last covered on
October 14, 2002
. 
SGW ended a lengthy stage 4 down-trend with successive shakeouts (downward spikes) at [a] and [b], accompanied by exceptional volume. Price has since rallied to test resistance at 3.00.
The stock formed a new 3-month high at [c], mirrored by a 3-month high of Relative Strength (price ratio: xao).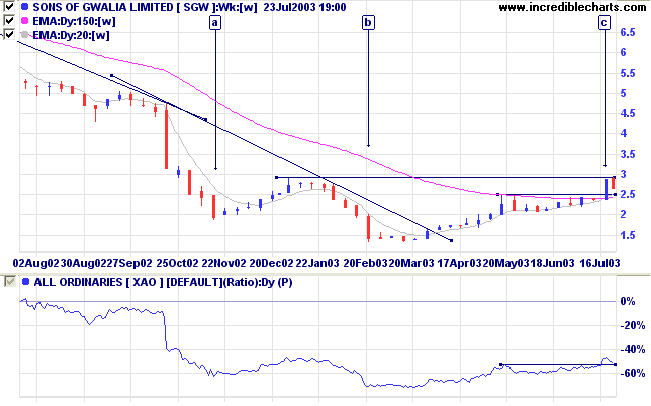 MACD displays a bullish divergence at [0], followed by a bullish trough above zero [+].
A healthy intermediate up-trend has formed on the daily chart.
Note three reversal signals in close succession in May: a strong
gravestone
reversal at [1], after an upward gap and strong volume; a
hanging man
with low volume at [2]; and finally, a
key reversal
at [3], again with volume confirmation.
An entry opportunity presented itself at [4] with a dry-up of volume, and volatility, close to the supporting trendline.
The ascending triangle, with equal highs at [5] and [6], is a bullish continuation pattern.
Another short-term entry opportunity presented at [7]. This was followed by a strong rally before a key reversal at [8].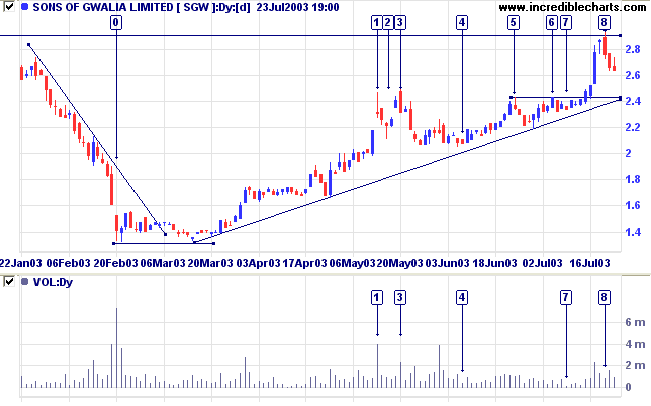 SGW is still in a stage 1 base and long-term opportunities will only present themselves on a breakout above 3.00, and on subsequent pull-backs. Traders with a shorter time frame may be riding the present up-trend. The reversal signal [8] is likely to respect the supporting trendline. If price respects support at 2.43, the high of [5] and [6], this will signal continued up-trend momentum.
A break below the supporting trendline would be bearish; and a fall below 2.20 will signal a likely test of support at 1.40.
Colin Twiggs
It did not really matter what we expected from life,
but rather what life expected from us.
We needed to stop asking about the meaning of life, and instead to think of ourselves
as those who were being questioned by life - daily and hourly.
Our answer must consist, not in talk and meditation, but in right action and in right conduct.
Life ultimately means taking the responsibility to find the right answer to its problems
and to fulfill the tasks which it constantly sets for each individual.

~ Viktor Frankl: Man's Search For Meaning (1963).
---
Scroll Time Period


You can adjust the scroll speed by selecting a larger or smaller scroll period at View>>Scroll Period.
---
---
Back Issues
Access the Trading Diary Archives.
---