---
---
The reduced subscription to existing members will run for at least 4 weeks
after all the data is in place and the free trial commences.
Subscription/Registration forms will be available from the start of the free trial period.

We will keep you informed of progress.
---
Trading Diary
January 20, 2003
These extracts from my daily trading diary are intended to illustrate the techniques used in short-term trading and should not be interpreted as investment advice. Full terms and conditions can be found at Terms of Use

.
US markets are closed Monday for Martin Luther King Day.

The Chartcraft NYSE Bullish % Indicator increased to 54% (January 17).



US Dollar weakens
The euro rose to a three-year high against the dollar, reaching $1.068 in thin trading.



Gold
New York: Spot gold eased 50 cents to $US 355.80
The All Ordinaries completed a short-term double top, breaking below 3023 before rallying back to close at 3028 on average volume.
The index ranges between 2915 and 3050, forming a base.
Slow Stochastic (20,3,3) is below its signal line; MACD (26,12,9) has crossed below its signal line; Twiggs Money Flow is neutral.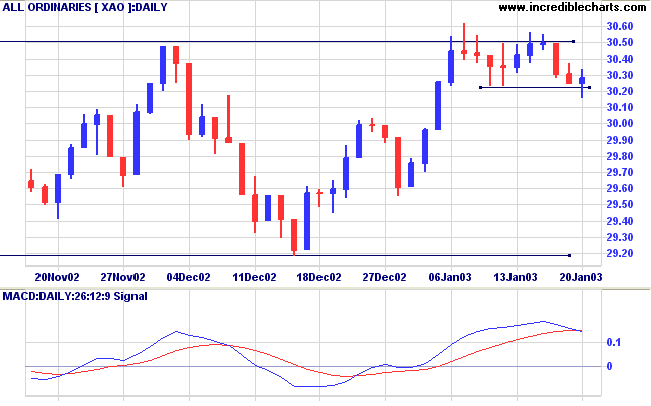 Australia & NZ Bank [ANZ]
Last covered on November 08, 2002.
After a long stage 2 up-trend ANZ formed a stage 3 top in the form of a descending triangle (Note the double bottoms [W] - strong bull signals in an up-trend - and the false breaks of the trend channel at [f]). The bearish triangle pattern was confirmed when price respected the lower trendline at 5.

The stock has, so far, held above support at 17.00. If Twiggs Money Flow breaks below the triangle on the indicator slot, this will signal weakness and that a break below 17.00 may be imminent.

Relative Strength (price ratio: xao) and MACD are both weakening.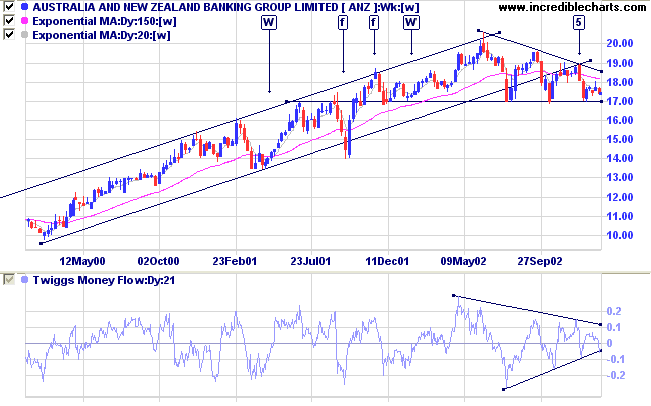 The Equivolume chart shows stronger volume when price is falling than on the rallies.
Apart from false breaks at [2], [4] and [7], price has respected the 17.00 support level (Note that the double bottoms are not as reliable in a top or in a down-trend).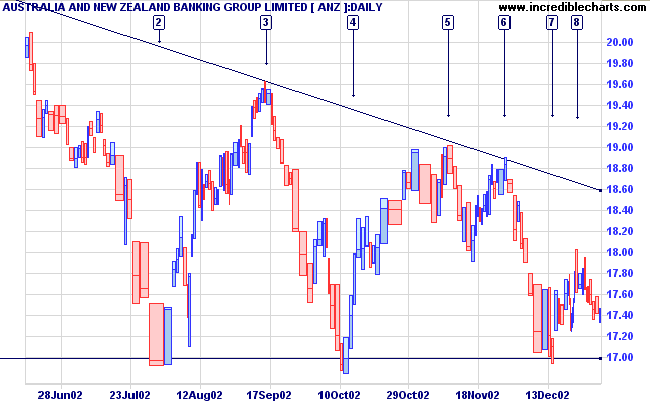 Because of the false breaks it will be safer to wait, if ANZ again breaks below 17.00, and enter short when price respects the level from below.
Watch for a dry-up of volume, and daily range, on a short duration counter-rally.
Short-term: Short if the All Ords is below 3023. The Slow Stochastic and MACD are below their respective signal lines.
Medium-term: Avoid new entries.
Colin Twiggs
Man is man because he is free to operate within the framework of his destiny. He is free to deliberate,
to make decisions, and tochoose between alternatives. He is distinguished from animals by his freedom
to do evil or to do good and to walk the high road of beauty or tread the low road of ugly degeneracy.


- Martin Luther King Jr. : The Measures of Man, 1959.
---
Back Issues
Access the Trading Diary Archives.
---