---
---
Understanding the Trading Diary
---
Trading Diary
November 12, 2002
These extracts from my daily trading diary are intended to illustrate the techniques used in short-term trading and should not be interpreted as investment advice. Full terms and conditions can be found at Terms of Use

.
USA
The Dow formed an inside day, rallying to 8500 before encountering selling pressure at the close. The average was up slightly at 8386 but the weak close and higher volume signal that sellers are in control. The primary trend will reverse if the index rises above 9130.
The Nasdaq Composite Index fared better, gaining 2.3% to close at 1349. The primary trend will reverse (up) if the index breaks above 1426.
The S&P 500 had a similar day to the Dow, closing up 6 points at 882. The primary trend will complete a
double bottom
reversal if it rises above 965.
The
Chartcraft NYSE Bullish % Indicator
signals a
bull alert
at 40% (November 11).
Philip Morris
The tobacco company warns that it is unlikely to meet next year's earnings forecasts.
(more)
Gold
New York: Spot gold is up 280 cents at $US 323.90.
The All Ordinaries index held above support at 2909, rallying in the afternoon to close at 2943 on strong volume. Buyers are in control. The primary trend will reverse if the index rises above 3150.
The MACD (26,12,9) has crossed below its signal line, Slow Stochastic (20,3,3) is already below its signal line, while Twiggs money flow is rising.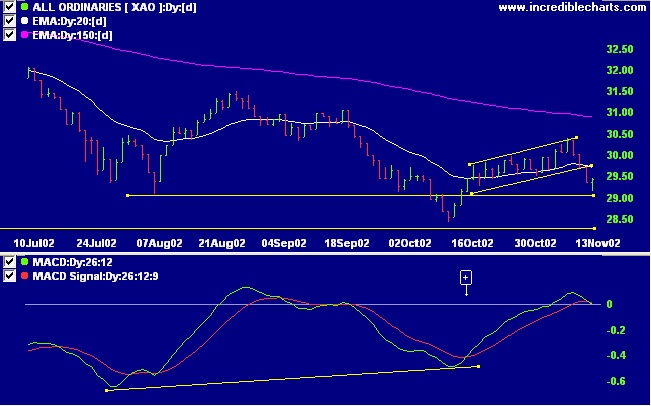 News Corporation [NCP]
Last covered on
October 28
.
NCP completed a double bottom reversal accompanied by a bullish divergence on MACD [+]. The breakout has been followed by a pull-back to the support line. Relative strength (price ratio: xao) is rising and Twiggs money flow signals accumulation.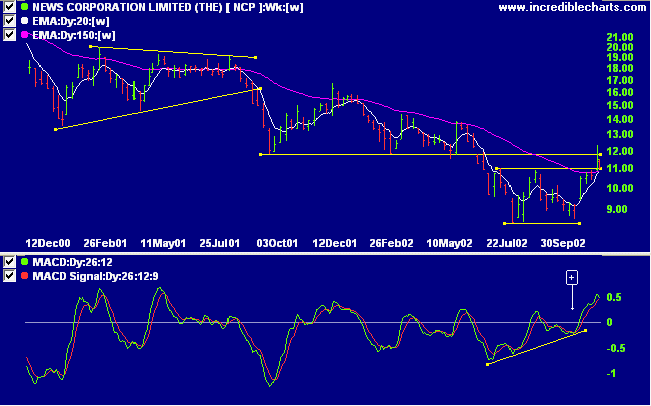 After equal highs at [1], [2] and [4], NCP broke above resistance at [5] on good volume. The rally culminated at [6] after the third successive upwards gap and increased volume. The pull-back over the next 4 days has been on weaker volume and the long shadow at [7] indicates increased buying support.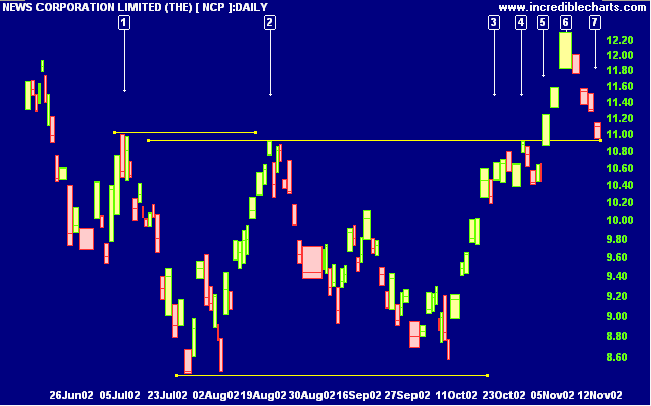 A rise above the high of day [7] will be a bullish entry signal; closing of the gap to 11.27, even stronger.
A break below support at 10.92 would be a bearish signal; a break below the low of 10.37 at [4] would be even stronger.
Short-term: Avoid new trades unless there is a break below support at 2909: The Slow Stochastic and MACD are below their respective signal lines but buyers were in control at the close.
Medium-term: Avoid new entries. Use stop losses to protect yourself against a sudden reversal.
Colin Twiggs
Plan your work
and work your plan
.
-
Stephen Covey
---
Back Issues
Access the Trading Diary Archives.
---