---
---
Incredible Charts 4.0.0.8
The new version is now available. See What's New? for details.

Incredible Charts will automatically update to the new version when you log in.
To check that you have the latest version, select Help >> About on Incredible Charts menu.

---
Trading Diary
November 11, 2002
These extracts from my daily trading diary are intended to illustrate the techniques used in short-term trading and should not be interpreted as investment advice. Full terms and conditions can be found at Terms of Use

.
USA
The Dow experienced increased selling pressure in the last hour of trading, falling 2% to 8358. The third day of the correction was on reassuringly lower volume. The primary trend will reverse if the index rises above 9130.
The Nasdaq Composite Index was down 3% at 1319. The primary trend will reverse (up) if the index breaks above 1426.
The S&P 500 lost 18 points to close at 876. The primary trend will complete a
double bottom
reversal if it rises above 965.
The
Chartcraft NYSE Bullish % Indicator
signals a
bull alert
at 40% (November 08).
Capellas to leave HP
Former Compaq CEO Michael Capellas is to depart from Hewlett-Packard, and possibly join WorldCom.
(more)
General Electric buffetted
Warren Buffett's Berkshire Hathaway is reported to be considering a bid for GE's reinsurance unit.
(more)
Gold
New York: Spot gold is up 10 cents at $US 321.10.
The All Ordinaries index made a bearish break below the upward flag pattern, closing 36 points down at 2937 on lower volume. The index appears set on testing the October low of 2843. The primary trend will reverse if the index rises above 3150.
The Slow Stochastic (20,3,3) is below its signal line, MACD (26,12,9) is above, while Twiggs money flow signals distribution.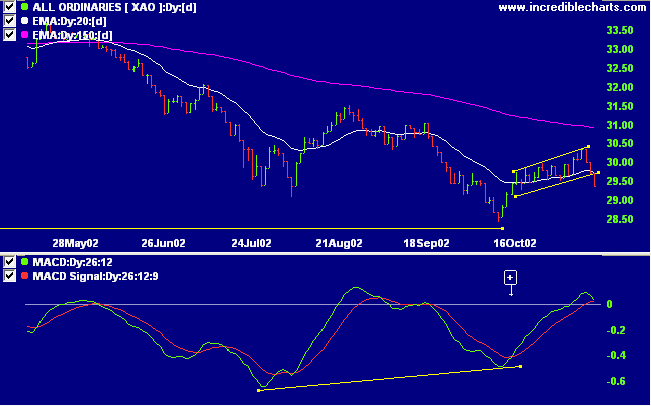 Qantas [QAN]
Last covered on
September 30
.
After two equal highs in May and August, QAN completed a double top reversal and entered a steep dive. In October the stock rose off its lows to form a bullish ascending triangle. Relative strength (price ratio: xao) is rising.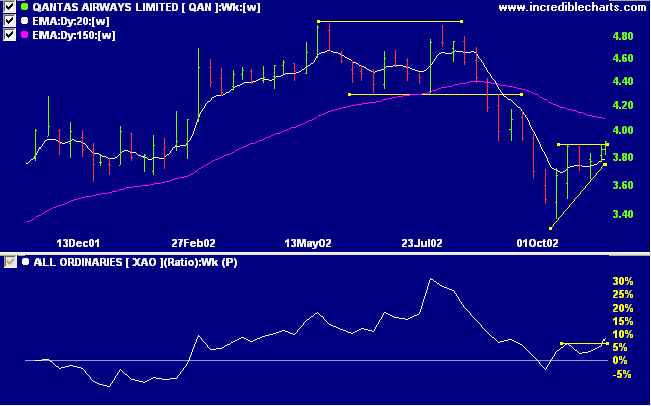 Twiggs money flow showed bullish divergences at [+] and is now rising strongly. Equal highs at [1] and [2] formed an ascending triangle, followed by a breakout at [3].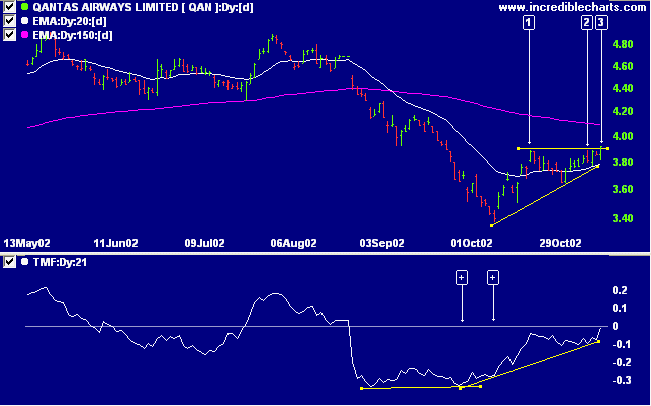 The equivolume chart shows the equal highs at [1], [3] and [4]: the broad bar at [1] signaled strong resistance; again, the weak close at [3] signaled selling pressure; while [4] showed buyers had gained ascendancy with a strong close. The inside day at [5] signaled uncertainty, but this was of very short duration and day [6] witnessed a bullish break above the resistance line, confirmed by strong volume.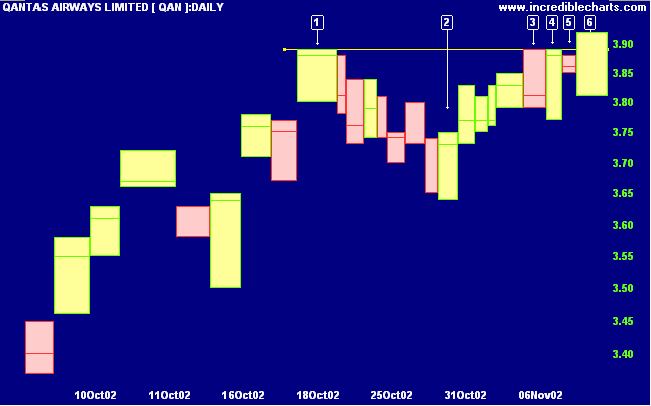 The target for the breakout is 4.29 (3.89 + 3.89 -3.49). Further opportunities to go long may present themselves if QAN pulls back to the resistance line before another rally.

A break below the low of [6] at 3.81 would be a bearish signal.
Short-term: Avoid new trades: The Slow Stochastic and MACD are on opposite sides of their respective signal lines.
Medium-term: Avoid new entries. Use stop losses to protect yourself against a sudden reversal.
Colin Twiggs
He who thinks that he knows, doesn't know.
He who knows that he doesn't know, knows.
- Lao Tse.
---
Back Issues
Access the Trading Diary Archives.
---