---
---
Some tips for registering and logging in on the Chart Forum:
Registration
Only fields with an * are required fields. The rest are optional.
The username uses only lowercase - no CAPITALS.

Logging in
Automatic Login is a time-saving feature that recognizes you when you visit the forum. If activated, there is no Login field displayed. Instead, you will see a message: "Logged in as username", in the forum header.
The auto login can be turned on/off under Profile.
---
Trading Diary
September 30, 2002
These extracts from my daily trading diary are intended to illustrate the techniques used in short-term trading and should not be interpreted as investment advice. Full terms and conditions can be found at Terms of Use

.
USA
The Dow tested support at 7500 before closing at 7591 on strong volume; down 1.4%.
The primary cycle trends down.
The Nasdaq Composite Index closed down 2.3% at 1172.
The primary trend is down.
The S&P 500 lost 12 points to close at 815. Support is at 780 to 795.
The primary trend is down.
The
Chartcraft NYSE Bullish % Indicator
reflects a bear confirmed signal at 34% (September 27).
Further rate cuts expected
Two-year treasury bond yields are below the federal funds rate, implying further rate cuts.
(more)
Retailers cut sales forecasts
Wal-Mart led several retailers in lowering sales forecasts for the fall quarter.



Gold
New York: The spot gold price rallied to close 390 cents up at $US 323.80.
The All Ordinaries tested the lower support level at 2909 before closing at 2928 on strong volume.
The Slow Stochastic (20,3,3) is above its signal line. Twiggs money flow signals distribution.
The primary trend is down.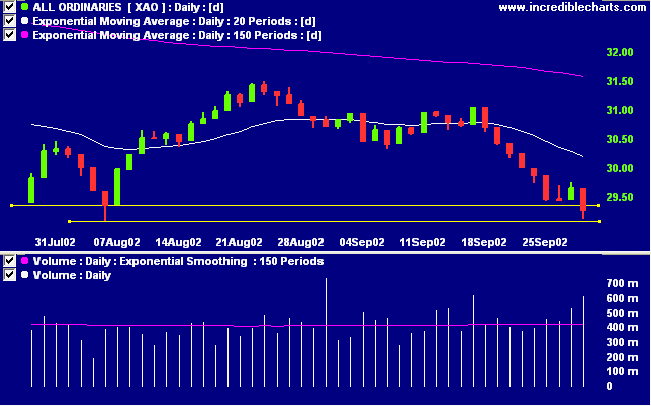 Qantas [QAN]
Earlier in the year, the airline formed a double top with a target of 3.68, very close to the 3.65 - 3.62 support level from December 2001.
Price has now gapped below the support level while Twiggs money flow signals strong distribution.
The downward gap can be more clearly seen on the daily chart. MACD is negative while relative strength (price ratio: xao) is positive but falling.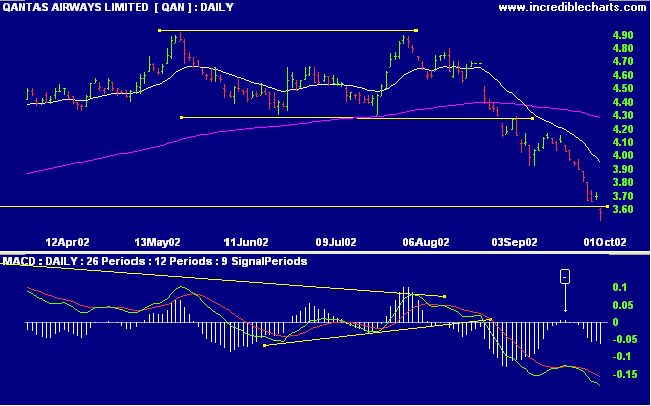 Lihir Gold [LHG]
I mentioned in my last diary that LHG had broken down from an upward trend channel while Twiggs money flow had also broken a long term trendline. In response to a query on the chart forum: These signals are more of the "monitor closely" variety than a "strong sell". The stock is still holding above support at 1.25; a break below this would likely reach the 1.02 - 1.06 support level. But a rally above 1.37 would signal resumption of the up-trend.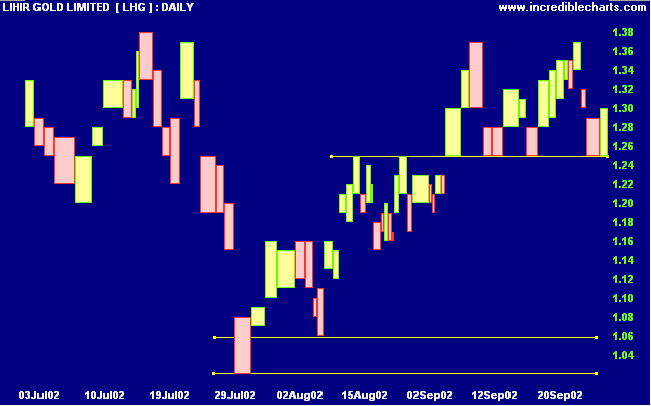 Conclusion
Short-term: Avoid new entries. The Slow Stochastic and MACD are on opposite sides of their respective signal lines.
Medium-term: Wait for the All Ords to signal a reversal.
Long-term: Wait for a bull-trend on the Nasdaq or S&P 500 (primary cycle).
Colin Twiggs
Thought for the Day:

I am yelling and screaming less because,
if I have an inkling that I might be on the wrong side of a stock, I just get out.

- Michael Freisen.

---
Back Issues
Access the Trading Diary Archives.
---