---
---
Stock screens: Watchlists
The next version of Incredible Charts will enable users to screen their own watchlists.
---
Trading Diary
October 30, 2002
These extracts from my daily trading diary are intended to illustrate the techniques used in short-term trading and should not be interpreted as investment advice. Full terms and conditions can be found at Terms of Use

.
The Dow traded in a narrow range, closing up 0.7% at 8427 on higher volume. The market is moving sideways, signaling uncertainty. A break above 8600 will be bullish and below 8200 bearish. A primary trend reversal will be signaled if the index rises above 9130.

The Nasdaq Composite Index gained 2% to close at 1326. The primary trend will reverse if the index breaks above 1426.

The S&P 500 is also ranging, gaining 8 points to close at 890. The primary trend is down. The index will complete a double bottom reversal if it rises above 965.

The Chartcraft NYSE Bullish % Indicator has swung to a bull alert signal at 36% (October 29).
EDS slide
IT services company EDS posted a slight drop in revenue but a 59% fall in third-quarter profits. (more)




Gold
New York: Spot gold was last down 80 cents at $US 315.90.
The All Ordinaries closed down a further 7 points at 2960 on higher volume. The index is moving sideways, signaling uncertainty. A rise above 3150 will signal a primary trend reversal.
The Slow Stochastic (20,3,3) is below its signal line, MACD is above, while Twiggs money whipsaws around the zero line.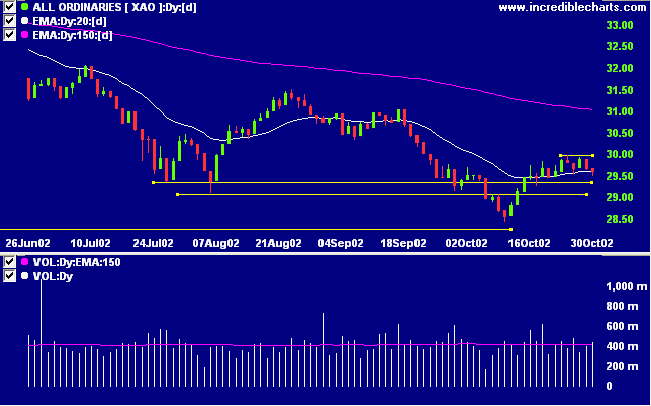 QBE Insurance Group [QBE]

Last covered on
October 7, 2002
.
After its dramatic fall in 2001, QBE rallied to 8.00 before forming a bottom above 6.00 in the form of an ascending triangle. Relative strength (price ratio: xao) is rising.
MACD has given a bullish signal at [$], respecting zero before crossing above its signal line. Twiggs money flow signals accumulation.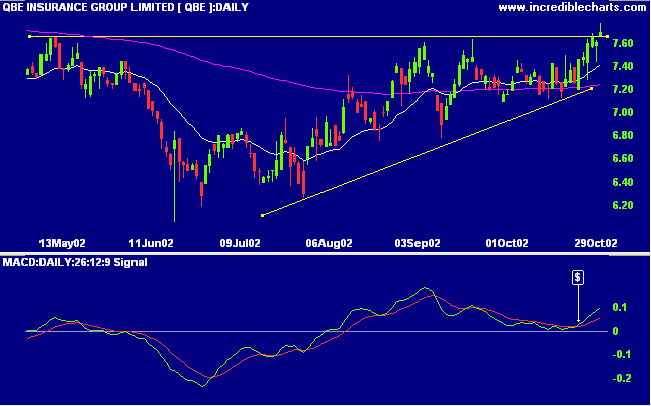 After testing resistance at [1] and [3] QBE broke above at [5]
. The rally was unsuccessful with a close back at 7.65. The pull-back was short and the long shadow signaled buying support. The breakout at [6] was on slightly better volume but again the long shadow signals weakness. The safest entry point will be if a pull-back is of short duration and respects the 7.65 support line.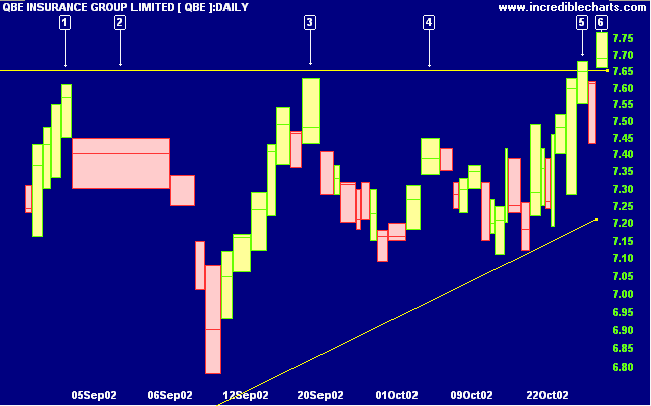 Bear in mind that there is resistance close overhead at 8.00. This could affect the targeted move from the breakout.
Short-term: Avoid new entries. The Slow Stochastic and MACD are on opposite sides of their respective signal lines.
Medium-term: Avoid new entries. Use stop losses to protect yourself against a sudden reversal.
Colin Twiggs
Thought for the Day:
We come now to the region dominated by the powers of intellect. War is the realm of uncertainty . . . . War is the realm of chance. . . . Two qualities are indispensable: first, an intellect that, even in the darkest hour, retains some glimmerings of the inner light which leads to truth; and second, the courage to follow this faint light wherever it may lead. The first of these qualities is described by the French term, coup d'oeil; the second is determination.

Prussian military thinker Claus von Clausewitz, translated from Vom Kriege ("On War") (1831).

Napoleon first described coup d'oeil: "There is a gift of being able to see at a glance the possibilities offered by the terrain …"
Clausewitz explained it as "...the quick recognition of a truth that the mind would ordinarily miss or would perceive only after long study and reflection."
Traders require similar traits.
---
Back Issues
Access the Trading Diary Archives.
---