---
Below is an excerpt from Colin Twiggs' October 17, 2023 Market Analysis, published with permission.
The Big Picture: War, Energy, Bonds and Gold
Two inter-connected themes likely to dominate the next few decades are War and Energy.
War may take the form of a geopolitical struggle between opposing ideologies, with conventional wars limited to proxies in most cases and nuclear exchanges avoided because the costs are prohibitive. But it is likely to involve fierce competition for energy and resources in an attempt to undermine opposing economies. The impact is likely to be felt throughout the global economy and across all asset classes, including bonds, stocks and precious metals.
War
War can take many forms: conventional war, nuclear war, proxy war, cold war,  economic war, or some combination of the above.
Nuclear war can hopefully be avoided, with sane leaders skirting mutually assured destruction (MAD). For that reason, even conventional war between great powers is unlikely -- but there is a risk of it being triggered by escalation in a war between proxies.
Cold war, with limited trade between opposing powers -- as in the days of Churchill's Iron Curtain -- is also unlikely. Global economic interdependence is far higher than sixty years ago.
Greg Hayes, chief executive of Raytheon, said the company had "several thousand suppliers in China and decoupling . . . is impossible". "We can de-risk but not decouple," Hayes told the Financial Times in an interview, adding that he believed this to be the case "for everybody".

"Think about the $500bn of trade that goes from China to the US every year. More than 95 per cent of rare earth materials or metals come from, or are processed in, China. There is no alternative," said Hayes. "If we had to pull out of China, it would take us many, many years to re-establish that capability either domestically or in other friendly countries."
What is likely is a struggle for geopolitical advantage between opposing alliances, with economic war, proxy wars, and attempts to build spheres of influence. This includes enticing (or coercing) non-aligned nations such as India to join one of the sides.
Such a geopolitical arm-wrestle is likely to have ramifications in many different spheres, but most of all energy.
Energy
You can't fight a war without energy. A key element of the geopolitical tussle will be to secure adequate supplies of energy -- and to deprive the opposing side of the same.
The situation is further complicated by the attempted transition from fossil fuels to low-carbon energy sources.
Since the Industrial revolution, development of the global economy has been fueled by energy from fossil fuels, with GDP and fossil fuel consumption growing exponentially. Gradual transition to alternative energy sources would be a big ask. To attempt a rapid transition while in the midst of geopolitical conflict could end in disaster.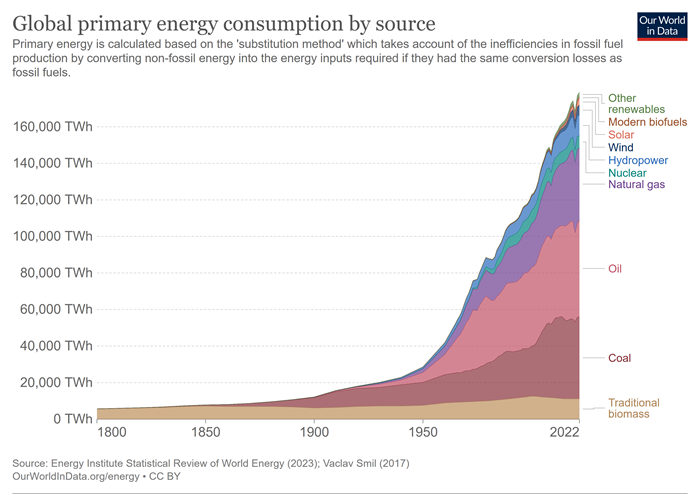 The challenge is further complicated by attempts to replace fossil fuels with wind and solar which generate intermittent power. Base-load power -- generated from fossil fuels or nuclear -- is essential for many industries. Microsoft are investigating the use of nuclear to power data centers. The US Department of Defense (DoD) has commissioned Oklo Inc. to design and build a nuclear micro-reactor to power Eielson Air Force Base in Alaska. Renewables are a poor option for critical applications.
Russia's 2022 invasion of Ukraine highlighted Germany's energy vulnerability despite billions of Euros invested in renewables over recent decades. You cannot run a modern industrialized economy without reliable energy sources.
Low investment in fossil fuel resources -- which fail to meet ESG standards -- has further increased global vulnerability to energy shortages during the transition.
Inflation
War and pandemics cause high inflation. Governments run large deficits during times of crisis, funded by central bank purchases in the absence of other investors. This causes rapid expansion of the money supply, leading to high inflation.
Geopolitical conflict and the attempt to rapidly transition to carbon-free fuels -- while neglecting existing resources -- are both likely to cause a steep rise in energy costs.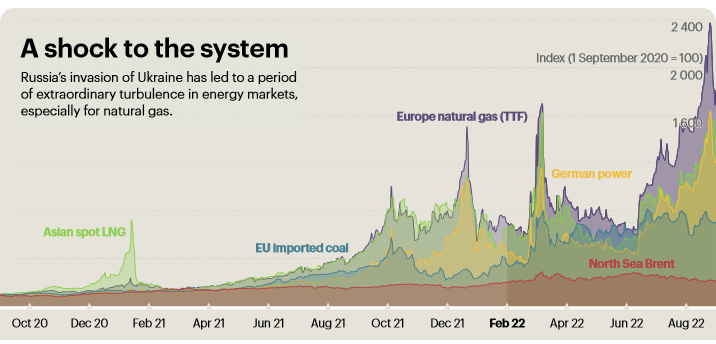 Bond Market
The bond market has the final say. The recent steep rise in long-term Treasury yields is the bond market's assessment of fiscal management in the US. The deeply divided House of Representatives has effectively been awarded an "F" on its economic report card.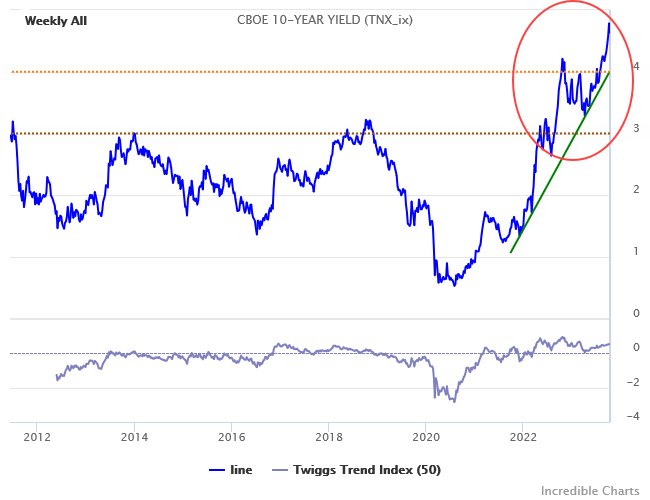 Failure of a divided government to address fiscal debt at precarious levels and rein in ballooning deficits raises a question mark over future stability, with the bond market demanding a premium on long-term issues.
The rating downgrade of the United States reflects the expected fiscal deterioration over the next three years, a high and growing general government debt burden, and the erosion of governance relative to 'AA' and 'AAA' rated peers over the last two decades that has manifested in repeated debt limit standoffs and last-minute resolutions. (Fitch Ratings)
CBO projections show federal debt held by the public rising from 98% of GDP today to 181% in thirty years time...
---
Everything contained in these newsletters, related websites, training videos and training courses (collectively referred to as the "Material") has been written for the purpose of teaching analysis, trading and investment techniques. The Material neither purports to be, nor is it intended to be, advice to trade or to invest in any financial instrument, or class of financial instruments, or to use any particular methods of trading or investing.
Advice in the Material is provided for the general information of readers and viewers (collectively referred to as "Readers") and does not have regard to any particular person's investment objectives, financial situation or needs. Accordingly, no Reader should act on the basis of any information in the Material without properly considering its applicability to their financial circumstances. If not properly qualified to do this for themselves, Readers should seek professional advice.
Investing and trading involves risk of loss. Past results are not necessarily indicative of future results.
You, the Reader, need to conduct your own research and decide whether to invest or trade. The decision is yours alone. We expressly disavow all and any liability to any person, with respect of anything, and of the consequences of anything, done or omitted to be done by any such person in reliance upon the whole or any part of the Material.