---
A Fed with no fear of inflation
First, please read the Disclaimer.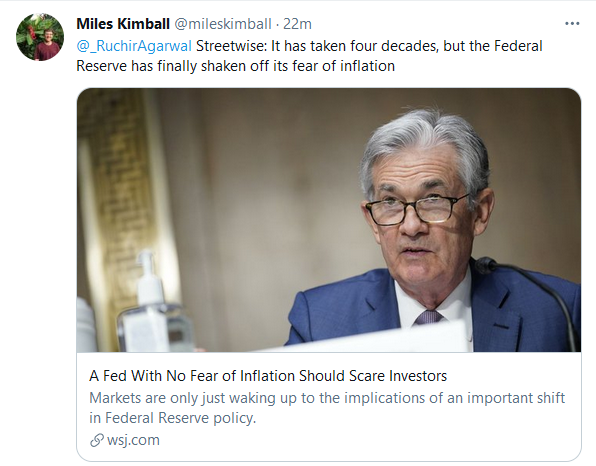 Morgan Stanley's Ruchir Sharma wrote an excellent op-ed in the FT ....He identifies the major flaw of the current system of inflation targeting: namely that secular global deflationary forces have pushed CPI inflation well below their c.2% targets, resulting in super-stimulative monetary policy. And although that can do little to drive CPI inflation up, it creates housing and financial market bubbles that the central bankers choose to ignore and which typically now precede recessions. For everyone loves an asset price bubble — until it bursts! (Albert Edwards at SocGen)
The ratio of stock market capitalization to corporate profits (before tax) at 22.3 is fast approaching the record high of the Dotcom mania in 2000.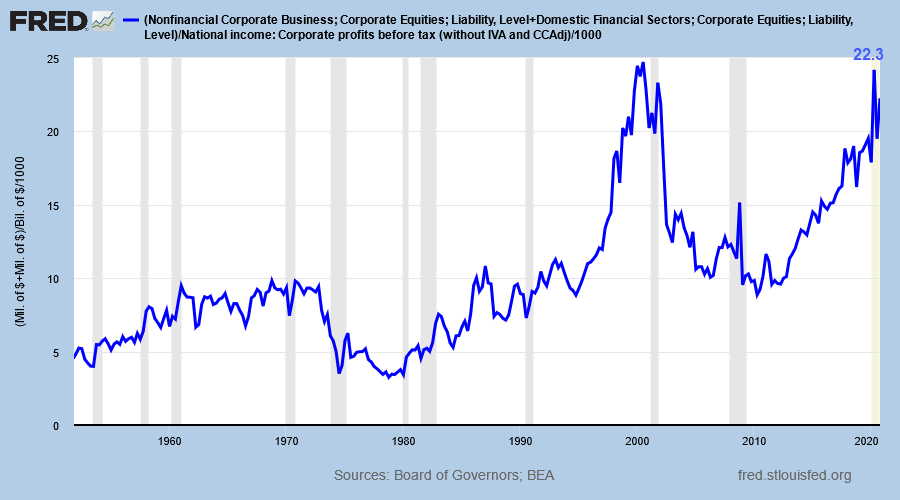 Compare 10-Year Treasury yield minus nominal GDP growth (pink) from 1960-1980 to the following two decades and then to 2000-present.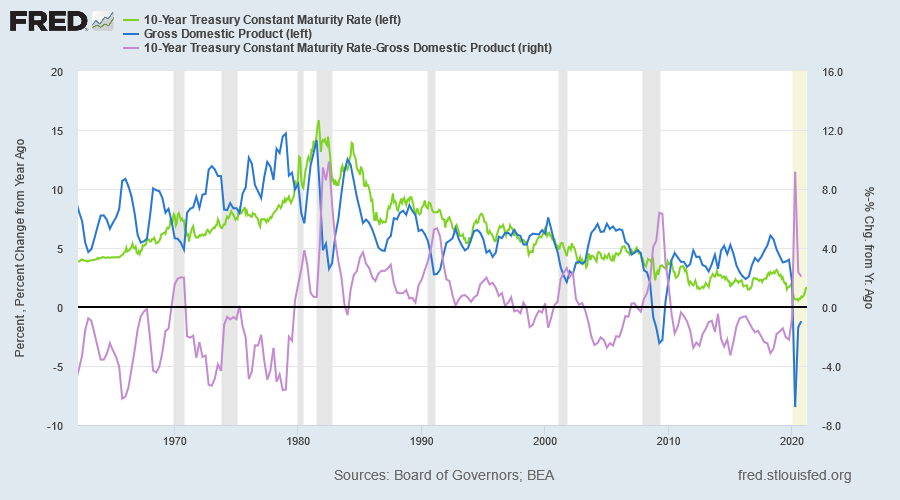 Paul Vocker kept Treasury yields above GDP growth during his time at the Fed (1979-1987). This was continued by Alan Greenspan (1987-2006) but he blinked in 1998 and the Fed has grown increasingly dismissive of inflation risks since then. The only spikes above zero prior to 1979 and after 1998 are when there are sharp falls in GDP.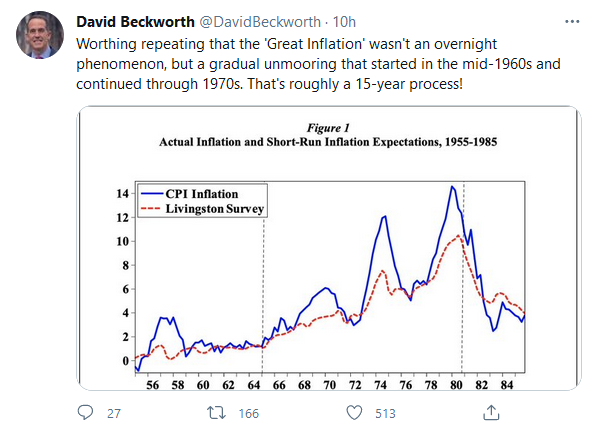 Conclusion
We are witnessing a stock market bubble equal to the Dotcom mania of the late '90s and the Fed is doing all that it can to support it! Risk remains elevated and investors should exercise caution.
Quote for the Week

The lesson of history, then, is that even as institutions and policy makers improve, there will always be a temptation to stretch the limits. Just as an individual can go bankrupt no matter how rich she starts out, a financial system can collapse under the pressure of greed, politics, and profits no matter how well regulated it seems to be.

~ Carmen M. Reinhart, This Time Is Different: Eight Centuries of Financial Folly
Updates for Market Analysis Subscribers
Please take advantage of our $1 special offer for the first month. Cancel at any time.
Disclaimer
Colin Twiggs is director of The Patient Investor Pty Ltd, an Authorised Representative (no. 1256439) of MoneySherpa Pty Limited which holds Australian Financial Services Licence No. 451289.
Everything contained in this web site, related newsletters, training videos and training courses (collectively referred to as the "Material") has been written for the purpose of teaching analysis, trading and investment techniques. The Material neither purports to be, nor is it intended to be, advice to trade or to invest in any financial instrument, or class of financial instruments, or to use any particular methods of trading or investing.
Advice in the Material is provided for the general information of readers and viewers (collectively referred to as "Readers") and does not have regard to any particular person's investment objectives, financial situation or needs. Accordingly, no Reader should act on the basis of any information in the Material without properly considering its applicability to their financial circumstances. If not properly qualified to do this for themselves, Readers should seek professional advice.
Investing and trading involves risk of loss. Past results are not necessarily indicative of future results.
The decision to invest or trade is for the Reader alone. We expressly disclaim all and any liability to any person, with respect of anything, and of the consequences of anything, done or omitted to be done by any such person in reliance upon the whole or any part of the Material.
Please read the Financial Services Guide.