---
Still counting....and still rising!
First, please read the Disclaimer.
Three days have passed since the election and there is still no clear result.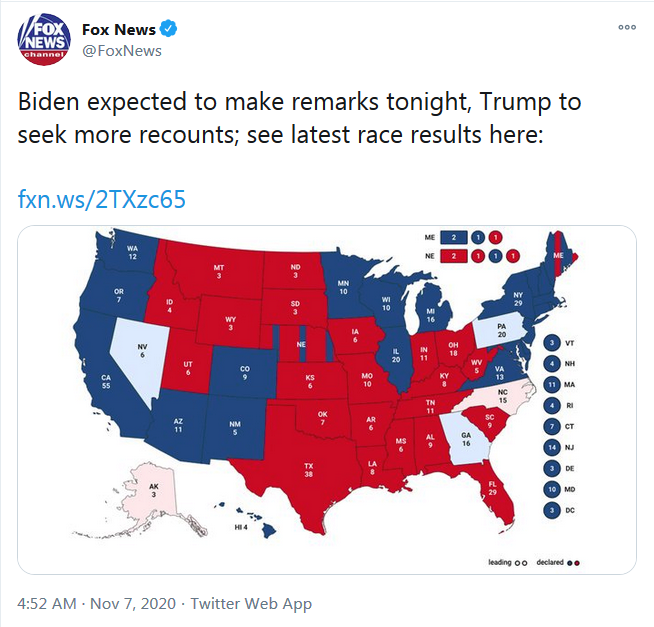 There are currently five states still in play: Alaska, Georgia, Nevada, North Carolina, and Pennsylvania. With 270 electoral votes needed to win, Biden needs 6 more electoral votes -- any one of the last four (GA, NV, NC or PA) would do it. If conservative Fox News call the result in favor of Joe Biden, we will know it is all over for Donald Trump.
There are wild claims of missing ballots and vote rigging aimed at destroying credibility of the election result, plus conspiracy theories and fake videos alleging election fraud circulating on social media. We saw similar videos circulated after the 2014 Scottish independence referendum. Some were so amateurish as to be laughable -- with looped video run in reverse in an attempt to portray an election official as counting the same ballot over and over again, complete with a voice-over with a heavy Russian accent -- but some are now likely to be far more professional. Social media companies will need to crack down on organized disinformation campaigns.
Requests for recounts are fair enough in a hotly-contested race but are unlikely to change the outcome. Allegations of election fraud are far more malicious, especially when made in the mass media rather than in court. In the end, any such allegations will need to be tested in a court of law which will act as the final arbiter.
Still Rising!
The election is distracting us from an even more serious threat to the country: daily cases of COVID-19 in the US reached a new record high of 121,888. Failure to curb the current rate of transmission threatens to overwhelm the health care system and bring the economy to a standstill.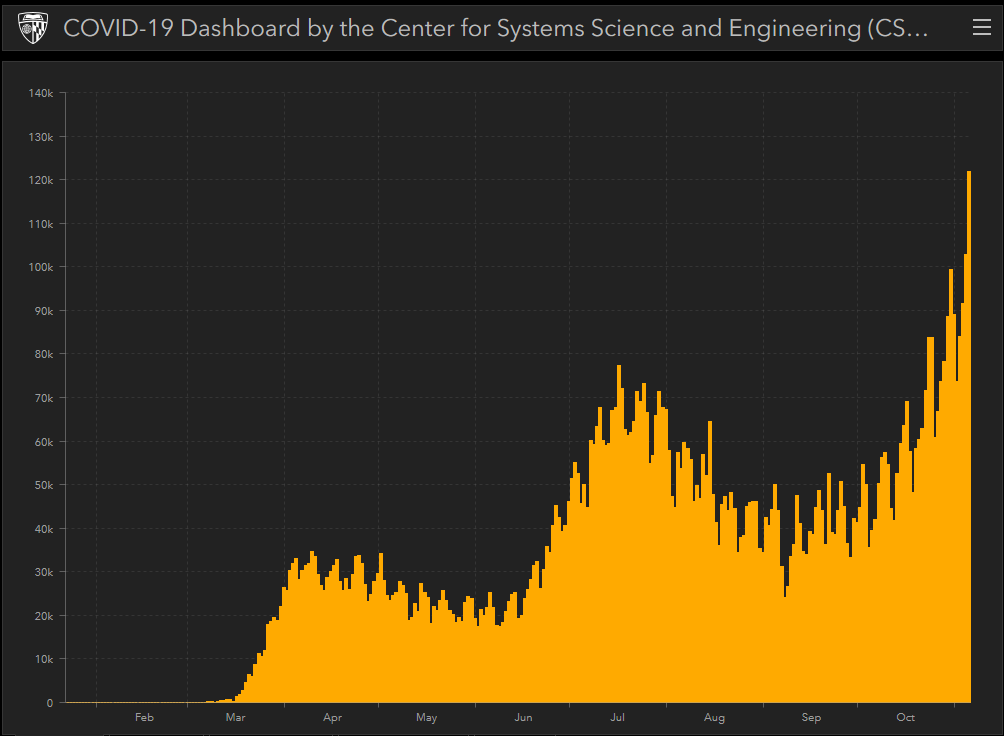 The last thing we need is to neglect the COVID-19 campaign while the election arm-wrestle descends into an all-in brawl.
Quote for the Week
Crisis does not change who you are.
Crisis reveals who you are.
Updates for Market Analysis Subscribers
Please take advantage of our $1 special offer for the first month. Cancel at any time.
Disclaimer
Colin Twiggs is director of The Patient Investor Pty Ltd, an Authorised Representative (no. 1256439) of MoneySherpa Pty Limited which holds Australian Financial Services Licence No. 451289.
Everything contained in this web site, related newsletters, training videos and training courses (collectively referred to as the "Material") has been written for the purpose of teaching analysis, trading and investment techniques. The Material neither purports to be, nor is it intended to be, advice to trade or to invest in any financial instrument, or class of financial instruments, or to use any particular methods of trading or investing.
Advice in the Material is provided for the general information of readers and viewers (collectively referred to as "Readers") and does not have regard to any particular person's investment objectives, financial situation or needs. Accordingly, no Reader should act on the basis of any information in the Material without properly considering its applicability to their financial circumstances. If not properly qualified to do this for themselves, Readers should seek professional advice.
Investing and trading involves risk of loss. Past results are not necessarily indicative of future results.
The decision to invest or trade is for the Reader alone. We expressly disclaim all and any liability to any person, with respect of anything, and of the consequences of anything, done or omitted to be done by any such person in reliance upon the whole or any part of the Material.
Please read the Financial Services Guide.