---
Bearish divergence warns of tech stock retracement
First, please read the Disclaimer.
The US recorded more than 75,000 new COVID19 cases on July 16th. The CCP must be smiling behind their masks after successfully containing last month's outbreak in Beijing.
Source JHU CSSE
Technology stocks have screamed upwards despite the chaos, but bearish divergence on Twiggs Money Flow now warns of selling pressure. Expect retracement to test support at 2650 on the Dow Jones US Technology Index.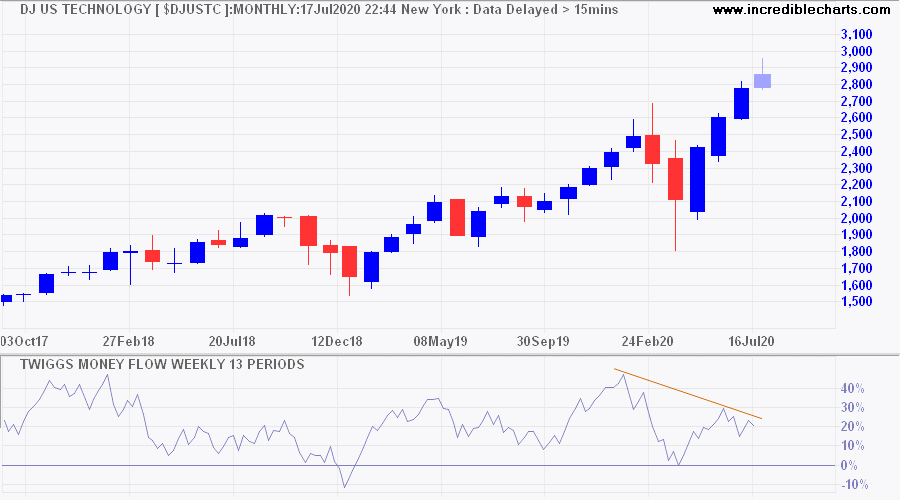 Dow Jones Banks Index is a more realistic representation of the broader US economy. The weak rally has fizzled out, with a Money Flow peak at zero now warning of strong selling pressure. Breach of short-term support at 320 would signal another test of primary support at 270.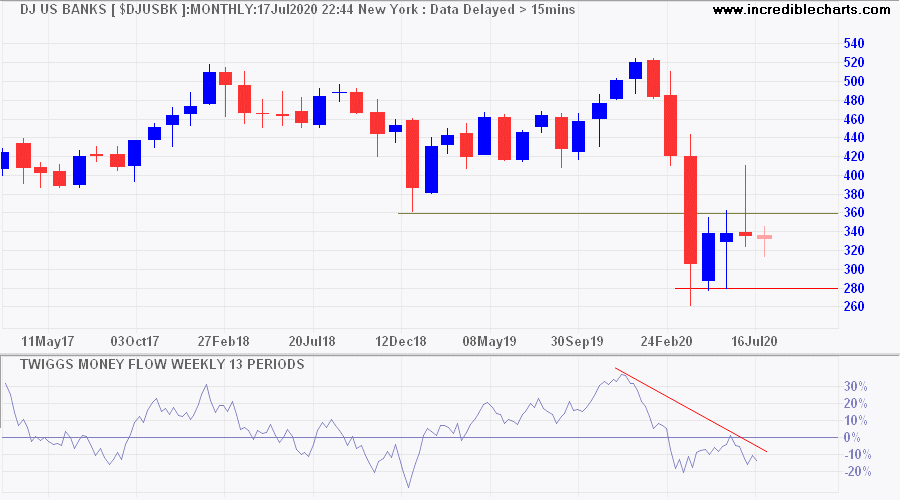 Government support can only cushion the impact of a massive surge in unemployment for a limited time. Then we will witness the full extent of the damage.
Continued unemployment claims jumped to 17.355 million on July 4th, up by 840,000 from a week earlier. Judging by the rising virus count, further increases are likely.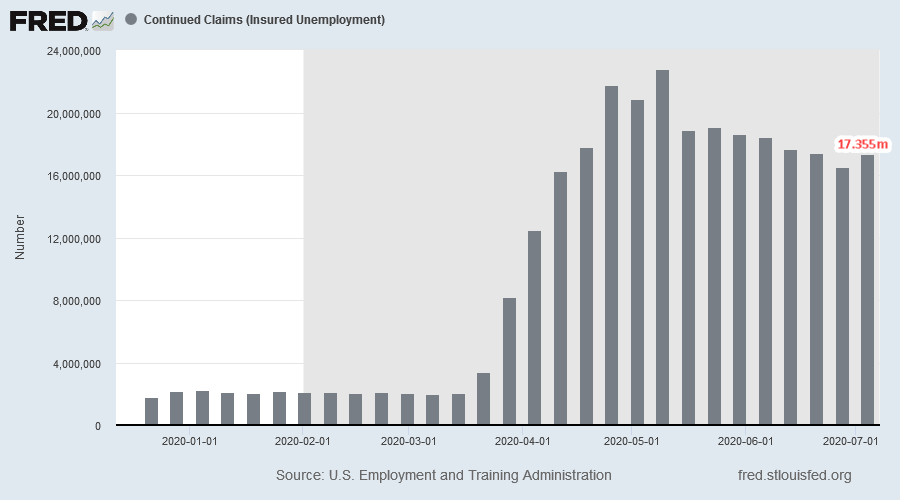 But that is only the tip of the iceberg.
The latest Department of Labor update shows 32 million people claimed unemployment insurance benefits in all programs for the week ending June 27.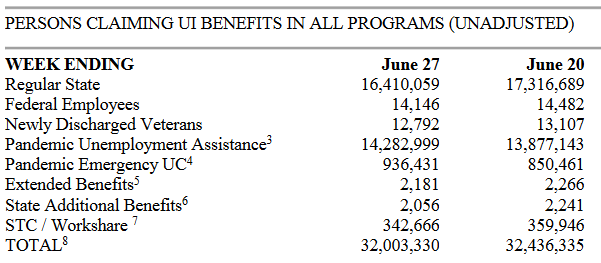 ...21% of the 152.4 million non-farm workforce in February 2020.
Pandemic Unemployment Assistance (PUA) under the CARES Act, signed into law on March 27, 2020 provides benefits to those individuals "not eligible for regular unemployment compensation or extended benefits under state or Federal law or pandemic emergency unemployment compensation (PEUC), including those who have exhausted all rights to such benefits."
The S&P 500 is inching upwards, reflecting the tug-of-war between technology stocks and the broader market. We expect retracement of the Technology Index to cause another test of support at 3000 (on the S&P 500).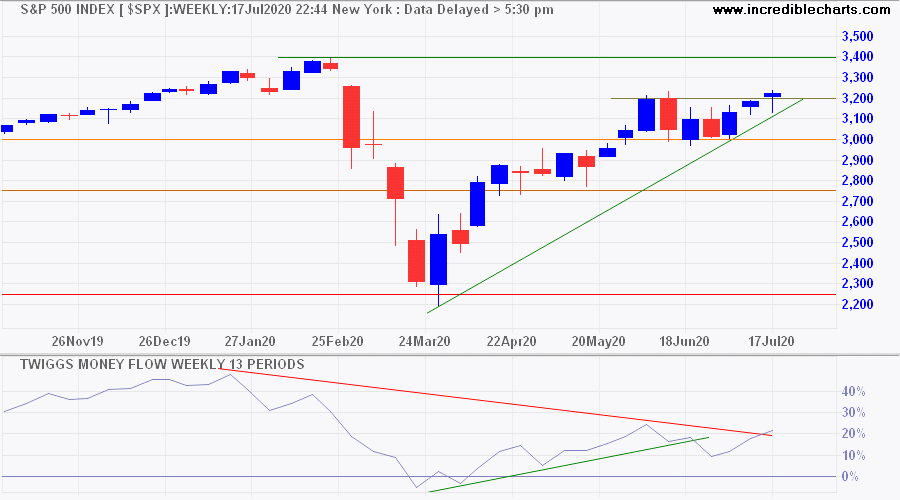 "When I am long of stocks it is because my reading of conditions has made me bullish. But you find many people, reputed to be intelligent, who are bullish because they have stocks. I do not allow my possessions — or my prepossessions either — to do any thinking for me. That is why I repeat that I never argue with the tape."

~ Jesse Livermore
Updates for Market Analysis Subscribers
Please take advantage of our $1 special offer for the first month. Cancel at any time.
Disclaimer
Colin Twiggs is director of The Patient Investor Pty Ltd, an Authorised Representative (no. 1256439) of MoneySherpa Pty Limited which holds Australian Financial Services Licence No. 451289.
Everything contained in this web site, related newsletters, training videos and training courses (collectively referred to as the "Material") has been written for the purpose of teaching analysis, trading and investment techniques. The Material neither purports to be, nor is it intended to be, advice to trade or to invest in any financial instrument, or class of financial instruments, or to use any particular methods of trading or investing.
Advice in the Material is provided for the general information of readers and viewers (collectively referred to as "Readers") and does not have regard to any particular person's investment objectives, financial situation or needs. Accordingly, no Reader should act on the basis of any information in the Material without properly considering its applicability to their financial circumstances. If not properly qualified to do this for themselves, Readers should seek professional advice.
Investing and trading involves risk of loss. Past results are not necessarily indicative of future results.
The decision to invest or trade is for the Reader alone. We expressly disclaim all and any liability to any person, with respect of anything, and of the consequences of anything, done or omitted to be done by any such person in reliance upon the whole or any part of the Material.
Please read the Financial Services Guide.