---
Offshoring Jobs and Growth
First, please read the Disclaimer.
The view is often promoted that low GDP growth over the past decade is caused by low interest rates and balance sheet expansion (QE) by central banks. That is putting the cart before the horse. Central banks have tried to stimulate their economies, with massive QE and low interest rates, because of low GDP growth. Not the other way around.
The real cause of low GDP growth is low job growth, as the chart below illustrates.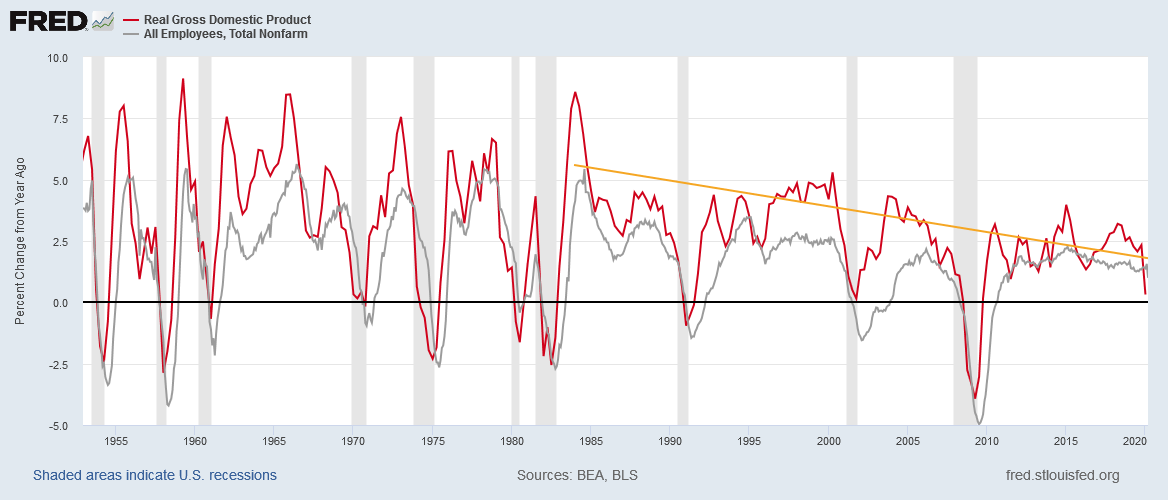 [click here for full screen image]
Offshoring jobs means offshoring growth.
The last time that the US had employment growth above 5.0% is 1984 which also the last time that we saw real GDP growth at 7.5%. Since then, job growth has progressively weakened — and GDP with it.
In the last decade, employment growth peaked at 2.27% and GDP at 3.98% in Q1 of 2015.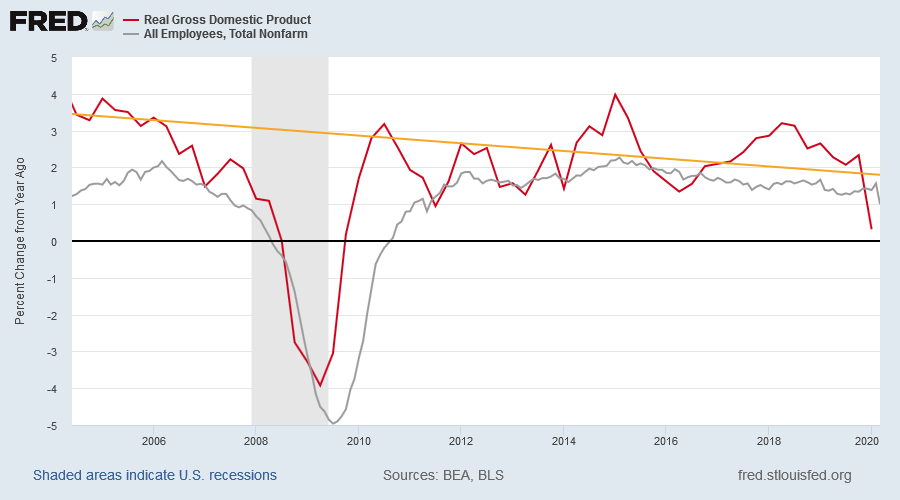 We now expect job growth to fall to -20% in April, four times the -5% trough in 2009, and a sharp GDP contraction.
How long the recession/depression will continue is uncertain. But, in the long-term, it is unlikely that the US can achieve +5% real GDP growth unless employment growth recovers close to +3.0%.
The decadent international but individualistic capitalism in the hands of which we found ourselves after the war is not a success. It is not intelligent. It is not beautiful. It is not just. It is not virtuous. And it doesn't deliver the goods. In short we dislike it, and we are beginning to despise it. But when we wonder what to put in its place, we are extremely perplexed.

~ John Maynard Keynes (1933)
Updates for Market Analysis Subscribers
Please take advantage of our $1 special offer for the first month. Cancel at any time.
Disclaimer
Colin Twiggs is director of The Patient Investor Pty Ltd, an Authorised Representative (no. 1256439) of MoneySherpa Pty Limited which holds Australian Financial Services Licence No. 451289.
Everything contained in this web site, related newsletters, training videos and training courses (collectively referred to as the "Material") has been written for the purpose of teaching analysis, trading and investment techniques. The Material neither purports to be, nor is it intended to be, advice to trade or to invest in any financial instrument, or class of financial instruments, or to use any particular methods of trading or investing.
Advice in the Material is provided for the general information of readers and viewers (collectively referred to as "Readers") and does not have regard to any particular person's investment objectives, financial situation or needs. Accordingly, no Reader should act on the basis of any information in the Material without properly considering its applicability to their financial circumstances. If not properly qualified to do this for themselves, Readers should seek professional advice.
Investing and trading involves risk of loss. Past results are not necessarily indicative of future results.
The decision to invest or trade is for the Reader alone. We expressly disclaim all and any liability to any person, with respect of anything, and of the consequences of anything, done or omitted to be done by any such person in reliance upon the whole or any part of the Material.
Please read the Financial Services Guide.