---
Hope is not a strategy
By Colin Twiggs
August 24, 2019 3:00 a.m. EDT (5:00 p.m. AEST)
First, please read the Disclaimer.
Important News
Dear Friends,
I have been writing the Trading Diary newsletter for almost 20 years. It has been a great success but times are changing. Advertisers have largely migrated to Google & social media and independent advertising through brokers has slowed to a trickle. We have therefore decided to change the format of the newsletter in line with these developments.
In future, market analysis will be provided by way of subscription through The Patient Investor. The format will remain the same, with regular updates focused on major markets — stocks, precious metals, commodities, interest rates and the economy — and increased coverage of sectors and industries.
While the change may seem sudden, the changes in advertising revenue have been evident for more than a year and I have been postponing the inevitable for some time.
Details of subscriptions are available at The Patient Investor and include a $1 subscription for the first month.
Thank you for your support.
Hope is not a strategy
Bob Doll's outlook this week at Nuveen Investments is less bearish than my own:
Trade-related risks seem to be growing. President Trump looks to be holding out hope that the U.S. economy will stay resilient in the face of escalating tariffs and rising tensions. So far, the U.S. economy has not faltered, thanks largely to continued strength in the consumer sector and labor market. But if business confidence crumbles (as it has in parts of Europe), it could lead to serious economic damage.....

The president's recent actions to delay the implementation of some new tariffs show that he is sensitive to the market impact of his trade policies. But the erratic nature of his on-again, off-again approach adds too policy uncertainty. At this point, we can't predict the ultimate economic impact from these issues. Our best guess is that the U.S. remains more than a year away from the next recession, but risks are rising. In addition to the solid consumer sector, we don't see financial stress in the system. Liquidity is still broadly available, and fixed income credit spreads are generally stable outside of the energy sector.

With additional Federal Reserve rate cuts already priced into the markets and bond yields falling sharply, the only catalyst for better equity market performance could be improving global economic data. We hold out hope that the global economy will improve, and still think there is a better-than-even chance of manufacturing activity and export levels to grow. But those improvements will take some time, suggesting equities will remain volatile and vulnerable for now.
Where we seem to differ is on the inevitability of the US-China trade war escalating into full-blown disengagement. This week's events have not helped.
China's national English language newspaper, Global Times, under the People's Daily, announced new tariffs.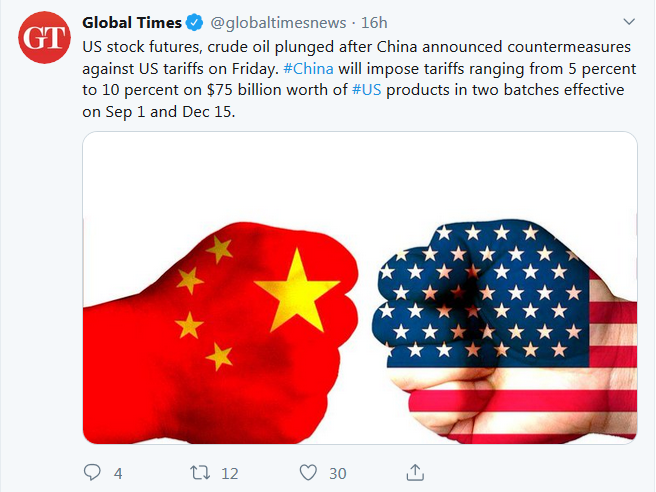 Followed by an admission that the timing of the announcement was intended to cause maximum disruption to US stock markets.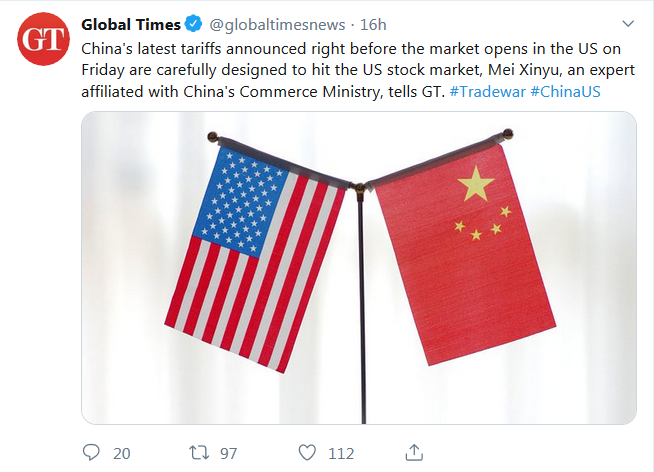 The inevitable Twitter tantrum ensued.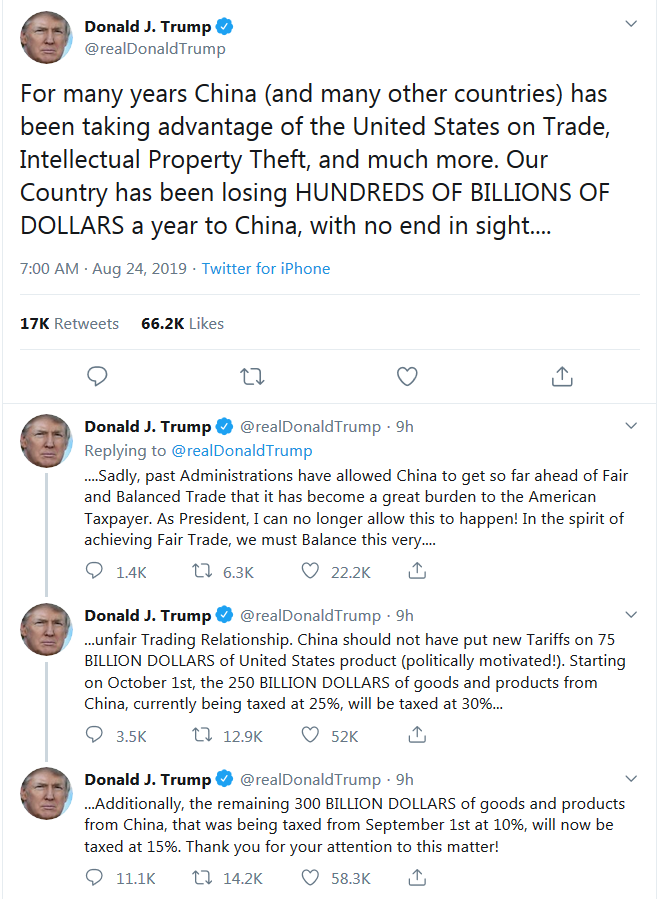 The President also tweeted "Now the Fed can show their stuff!"
He is deluded if he thinks that the Fed can help him here.....
The full article is available to Market Analysis subscribers.
"The speculator's deadly enemies are: Ignorance, greed, fear and hope. All the statute books in the world and all the rule books on all the Exchanges of the earth cannot eliminate these from the human animal."

~ Jesse Livermore
Latest
Disclaimer
Colin Twiggs is director of The Patient Investor Pty Ltd, an Authorised Representative (no. 1256439) of MoneySherpa Pty Limited which holds Australian Financial Services Licence No. 451289.

Everything contained in this web site, related newsletters, training videos and training courses (collectively referred to as the "Material") has been written for the purpose of teaching analysis, trading and investment techniques. The Material neither purports to be, nor is it intended to be, advice to trade or to invest in any financial instrument, or class of financial instruments, or to use any particular methods of trading or investing.

Advice in the Material is provided for the general information of readers and viewers (collectively referred to as "Readers") and does not have regard to any particular person's investment objectives, financial situation or needs. Accordingly, no Reader should act on the basis of any information in the Material without properly considering its applicability to their financial circumstances. If not properly qualified to do this for themselves, Readers should seek professional advice.

Investing and trading involves risk of loss. Past results are not necessarily indicative of future results.

The decision to invest or trade is for the Reader alone. We expressly disclaim all and any liability to any person, with respect of anything, and of the consequences of anything, done or omitted to be done by any such person in reliance upon the whole or any part of the Material.

Please read the Financial Services Guide.