---
Inverted yield curve is no cause for panic....yet
By Colin Twiggs
March 29, 2019 7:00 p.m. ET (10:00 a.m. AEDT)
First, please read the Disclaimer.
10-Year Treasury yields continue to fall. A Trend Index peak below zero signals strong selling pressure (purchases of bonds). Target for the decline is primary support at 2.0%.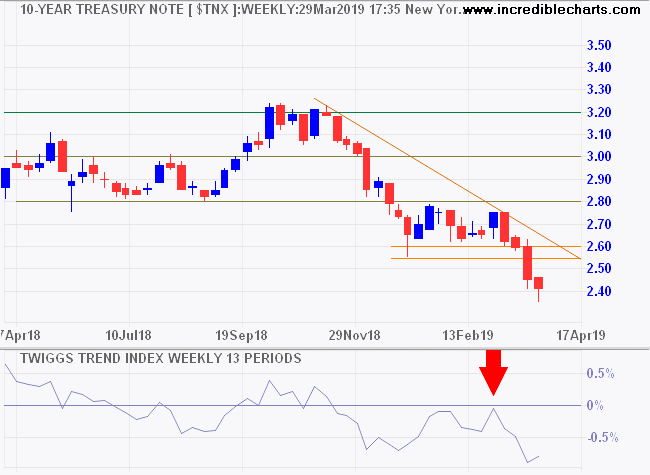 The spread between 10-Year and 3-Month Treasury yields is at zero, warning that the yield curve is about to invert. While there is no cause for panic, an inverted yield curve is a reliable predictor of recession within 12 to 18 months, preceding every recession since 1960*.
*1966 is an arguable exception. Initially classed as a recession by the NBER, their decision was later reversed and airbrushed out of history.
The 10-year/3-Month spread last crossed below zero in August 2006 and was followed by a recession in December 2007. While credit conditions tighten when the yield curve inverts, there is considerable lag and the chart below shows that credit growth remains high while the yield curve is inverted.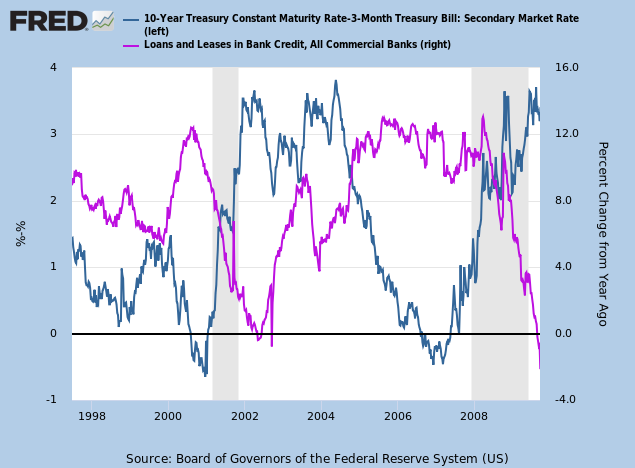 A far more imminent warning (of recession) is when the yield differential recovers above zero.
Why does a recovering yield curve warn of impending recession?
First, you need to understand what causes the yield curve to invert. Economic prospects weaken to the extent that bond investors are prepared to accept lower long-term yields than the current short-term yield, in anticipation that interest rates will fall. The inverted yield curve will continue for as long as rates are expected to fall but will rapidly recover when the Fed starts to cut rates.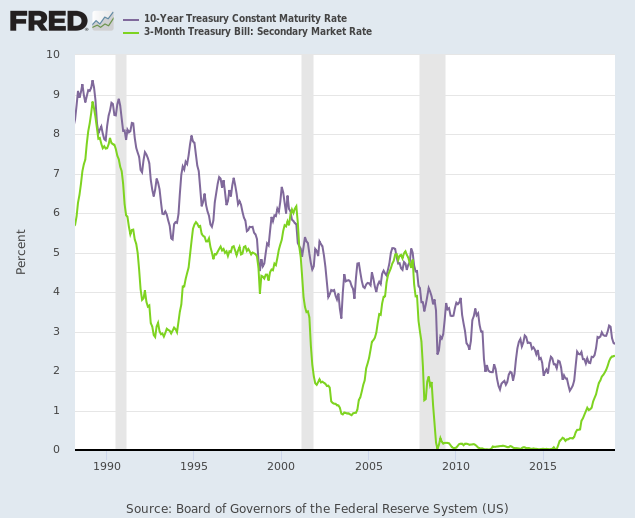 Falling short-term yields flag that the Fed is cutting interest rates, confirming bond investors earlier suspicions of a weakening economy. That serves as a reliable warning, after an inverted yield curve, of impending recession.
We are not there yet. The Fed may have eased off on further rate rises but is still some way off from cutting rates.
There is a time for all things, but I didn't know it. And that is precisely what beats so many men in Wall Street who are very far from being in the main sucker class. There is the plain fool, who does the wrong thing at all times everywhere, but there is the Wall Street fool, who thinks he must trade all the time. No man can always have adequate reasons for buying and selling stocks daily — or sufficient knowledge to make his play an intelligent play. ~ Jesse Livermore
Latest
Disclaimer
Colin Twiggs is director of The Patient Investor Pty Ltd, an Authorised Representative (no. 1256439) of MoneySherpa Pty Limited which holds Australian Financial Services Licence No. 451289.

Everything contained in this web site, related newsletters, training videos and training courses (collectively referred to as the "Material") has been written for the purpose of teaching analysis, trading and investment techniques. The Material neither purports to be, nor is it intended to be, advice to trade or to invest in any financial instrument, or class of financial instruments, or to use any particular methods of trading or investing.

Advice in the Material is provided for the general information of readers and viewers (collectively referred to as "Readers") and does not have regard to any particular person's investment objectives, financial situation or needs. Accordingly, no Reader should act on the basis of any information in the Material without properly considering its applicability to their financial circumstances. If not properly qualified to do this for themselves, Readers should seek professional advice.

Investing and trading involves risk of loss. Past results are not necessarily indicative of future results.

The decision to invest or trade is for the Reader alone. We expressly disclaim all and any liability to any person, with respect of anything, and of the consequences of anything, done or omitted to be done by any such person in reliance upon the whole or any part of the Material.

Please read the Financial Services Guide.