---
Black Monday, October 1987
By Colin Twiggs
February 2, 2017 11:00 p.m. EST (3:00 p.m. AEDT)
Please read the Disclaimer.
What caused the Black Monday crash of 1987? Analysts are often unable to identify a single trigger or cause.
Sniper points to a sharp run-up in short-term interest rates in the 3 months prior to the crash.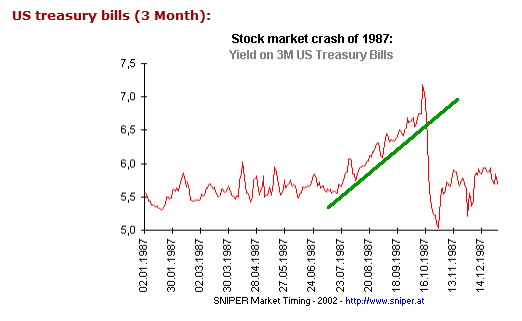 Valuations were also at extreme readings, with PEmax (price-earnings based on the highest earnings to-date) near 20, close to its Black Friday high from the crash of 1929.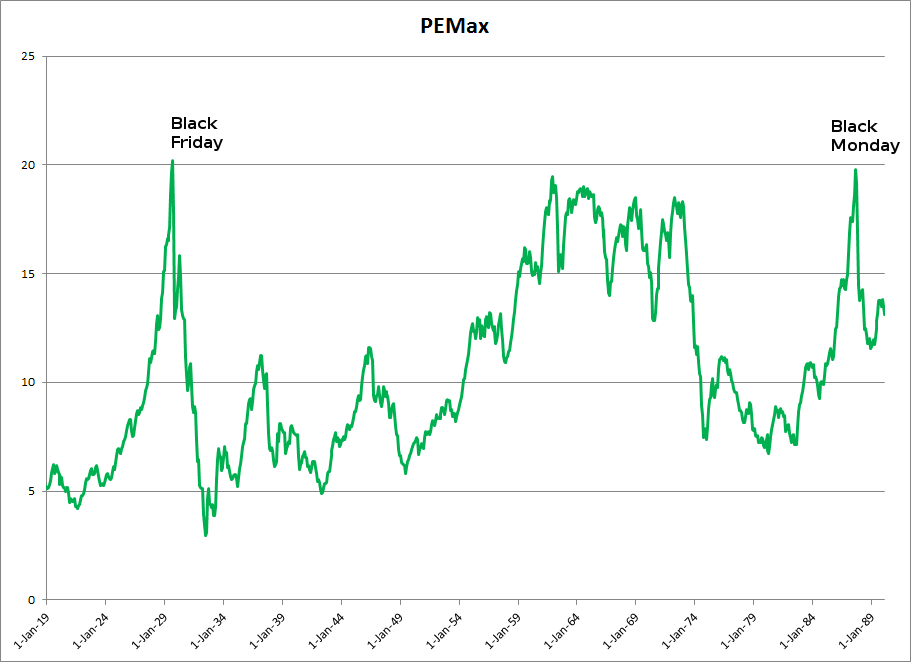 Often overlooked is the fact that the S&P 500 was testing resistance at its previous highs between 700 and 750 from the 1960s and 70s (chart from macrotrends).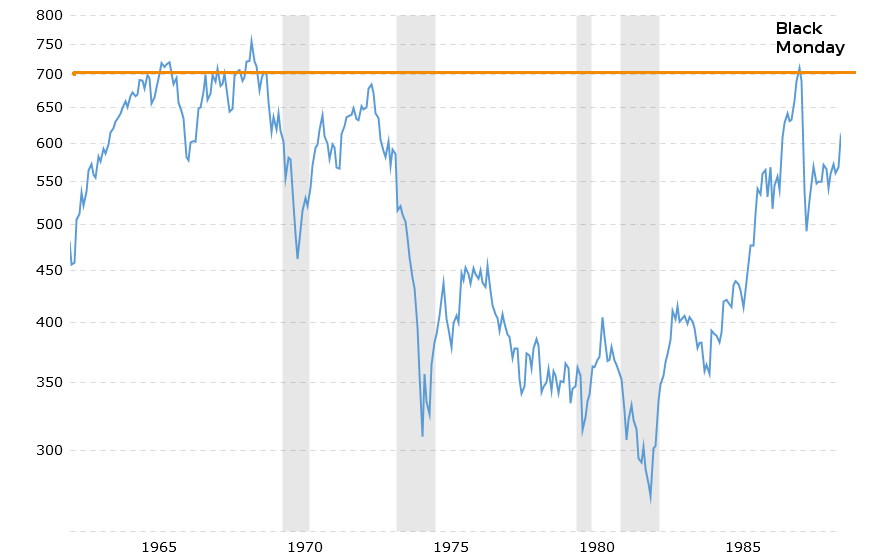 A combination of these three factors may have been sufficient to tip the market into a dramatic reversal.
Are we facing a similar threat today?
Short-term rates are rising but at 40 basis points over the last 4 months, compared to 170 bp in 1987, there is not much cause for concern.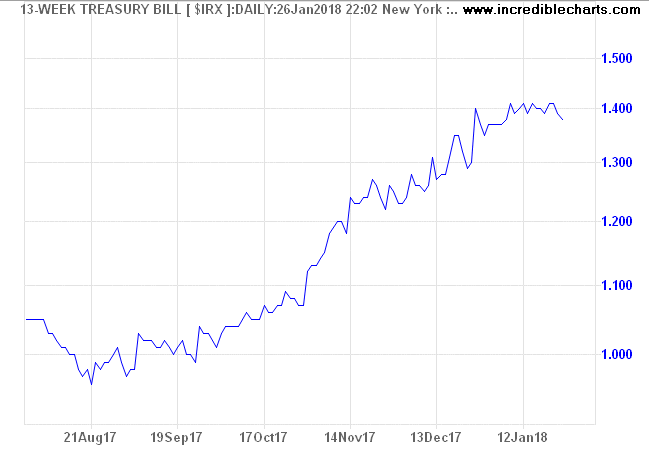 PEmax, however, is now at a precipitous 26.8, second only to the Dotcom bubble of 1999/2000 and way above its October 1987 reading.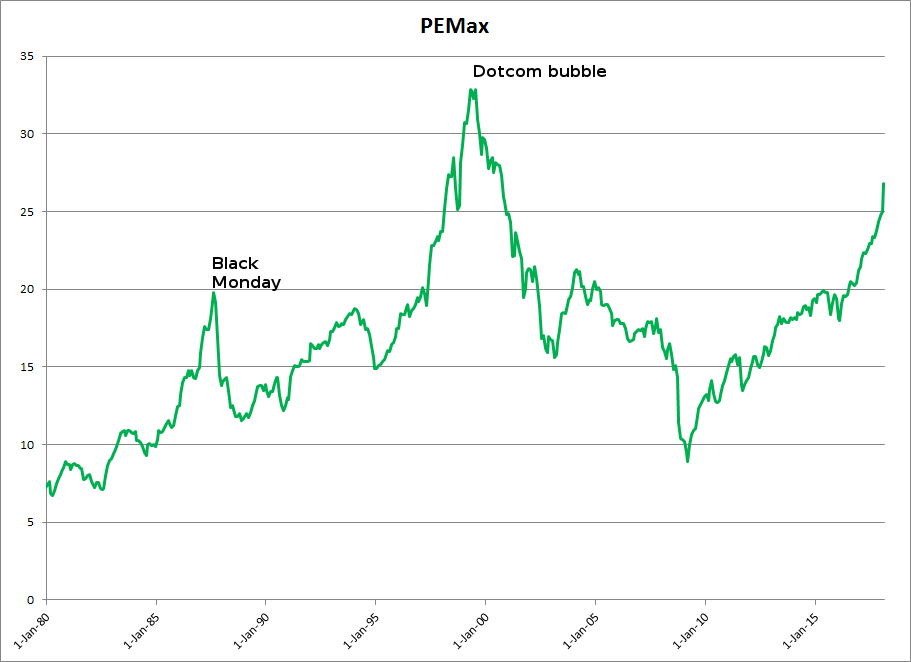 While the index is in blue sky territory, with no resistance in sight, there is still an important psychological barrier ahead at 3000.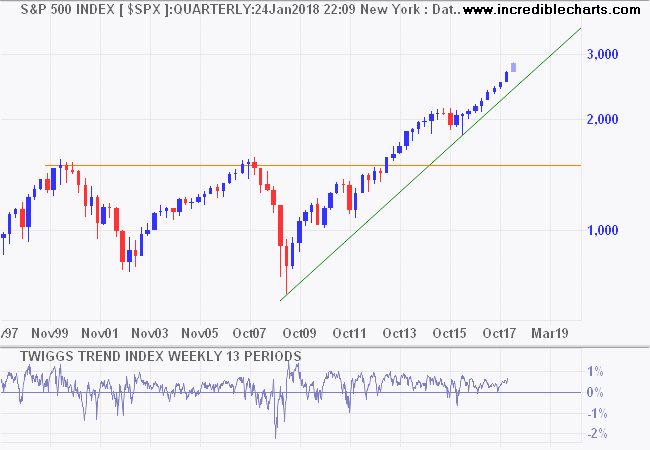 Conclusion: This does not look like a repetition of 1987. But investors who ignore the extreme valuation warning may be surprised at how fast the market can reverse (as in 1987) from such extremes.
The borrowing has to stop. The market slide was a shot right between the eyes that had better wake us all up to simple fact that we can't keep romping forever on borrowed money.

~ Lee Iacocca, Chrysler Corp Chairman, October 20, 1987
The principal reason for the drop was that common stocks all over the world are overvalued. If the market had come down from 2,700 by thirty-seconds of a point, or sixteenths, over a period of time, you wouldn't be writing about this. The real question is why it went so far so fast.

~ Nicholas F. Brady, head of the presidential task force into the crash, October 24, 1987
Disclaimer
Colin Twiggs is director of The Patient Investor Pty Ltd, an Authorised Representative (no. 1256439) of MoneySherpa Pty Limited which holds Australian Financial Services Licence No. 451289.

Everything contained in this web site, related newsletters, training videos and training courses (collectively referred to as the "Material") has been written for the purpose of teaching analysis, trading and investment techniques. The Material neither purports to be, nor is it intended to be, advice to trade or to invest in any financial instrument, or class of financial instruments, or to use any particular methods of trading or investing.

Advice in the Material is provided for the general information of readers and viewers (collectively referred to as "Readers") and does not have regard to any particular person's investment objectives, financial situation or needs. Accordingly, no Reader should act on the basis of any information in the Material without properly considering its applicability to their financial circumstances. If not properly qualified to do this for themselves, Readers should seek professional advice.

Investing and trading involves risk of loss. Past results are not necessarily indicative of future results.

The decision to invest or trade is for the Reader alone. We expressly disclaim all and any liability to any person, with respect of anything, and of the consequences of anything, done or omitted to be done by any such person in reliance upon the whole or any part of the Material.
Recent Posts