---
Leading Index early warning
By Colin Twiggs
November 17, 2017 9 p.m. EDT (1 p.m. AEST)
Please note changes to the Disclaimer.
One of the better composite indicators in the US, the Leading Index from the Philadelphia Fed, points to a slow-down in the US economy. A dip below 1.0% is often early, as in July 2000 and May 2006, but serves as a reliable warning of an economic slow-down.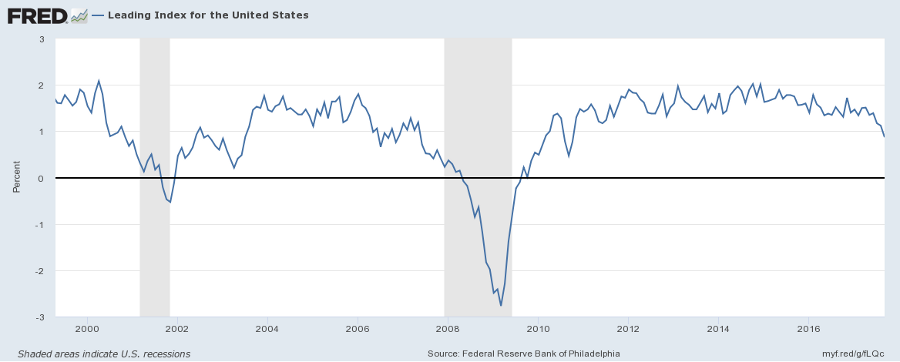 The Leading Index predicts the six-month growth rate of the Philadelphia Fed Coincident Index. In addition to the Coincident Index, it includes variables that lead the economy: housing permits (1 to 4 units), initial unemployment insurance claims, delivery times from the ISM manufacturing survey, and the interest rate spread between the 10-year Treasury bond and the 3-month Treasury bill.

The Coincident Index combines four indicators: nonfarm payroll employment, the unemployment rate, average hours worked in manufacturing and wages and salaries.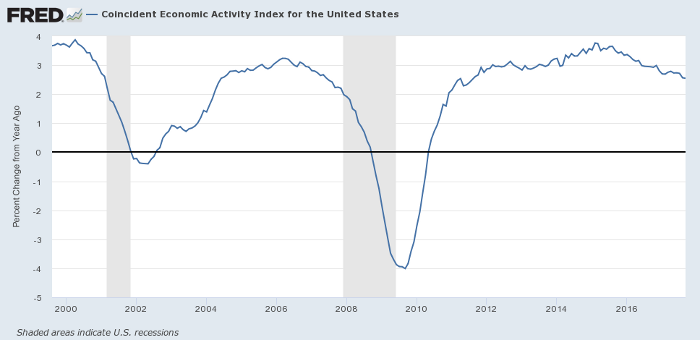 The Leading Index signal does seem early. Low corporate bond spreads and VIX near record lows continue to indicate low market risk, typical of a bull market.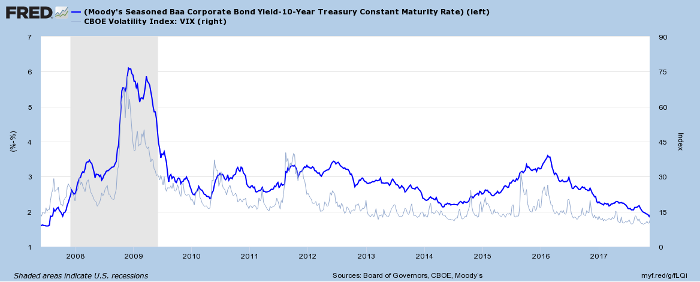 Monetary policy remains accomodative, with money stock growing at close to 5% p.a. (MZM = cash in circulation, travelers checks, money market funds and deposits with zero maturity).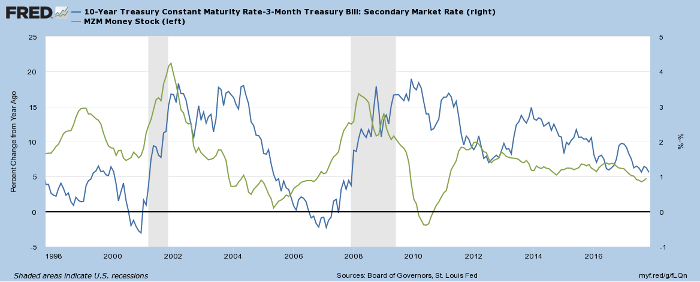 The yield curve has flattened, with the spread between 10-year and 3-month Treasuries falling to 1.0% on the above graph. That is what one would expect when the Fed hikes interest rates in a low inflation environment: short-term rates will rise faster than long-term rates. But a negative yield curve, where short-term rates are higher than long-term rates, is a reliable predictor of recessions in the US economy. Each time the yield differential on the above graph crossed below zero in the last 50 years, a recession has followed within 12 months.
Underlying inflation remains low, with average hourly earnings growth below 2.5% p.a., and the Fed should be careful about single-mindedly raising interest rates without considering the yield curve.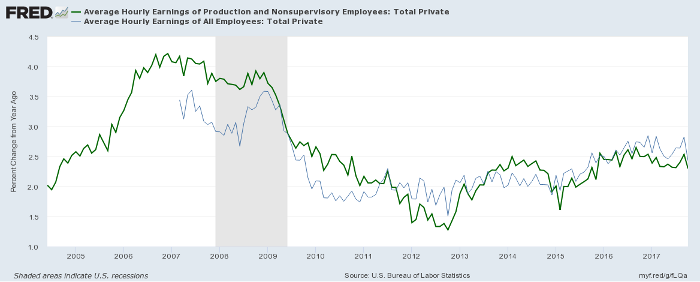 The bull market continues but investors need to keep a weather eye on interest rates and the yield curve.
I learned early that there is nothing new in Wall Street. There can't be because speculation is as old as the hills. Whatever happens in the stock market today has happened before and will happen again. I've never forgotten that.

~ Jesse Livermore
Disclaimer
Colin Twiggs is director of The Patient Investor Pty Ltd, an Authorised Representative (no. 1256439) of MoneySherpa Pty Limited which holds Australian Financial Services Licence No. 451289.

Everything contained in this web site, related newsletters, training videos and training courses (collectively referred to as the "Material") has been written for the purpose of teaching analysis, trading and investment techniques. The Material neither purports to be, nor is it intended to be, advice to trade or to invest in any financial instrument, or class of financial instruments, or to use any particular methods of trading or investing.

Advice in the Material is provided for the general information of readers and viewers (collectively referred to as "Readers") and does not have regard to any particular person's investment objectives, financial situation or needs. Accordingly, no Reader should act on the basis of any information in the Material without properly considering its applicability to their financial circumstances. If not properly qualified to do this for themselves, Readers should seek professional advice.

Investing and trading involves risk of loss. Past results are not necessarily indicative of future results.

The decision to invest or trade is for the Reader alone. We expressly disclaim all and any liability to any person, with respect of anything, and of the consequences of anything, done or omitted to be done by any such person in reliance upon the whole or any part of the Material.