---
Nasdaq soars, ASX stalls
By Colin Twiggs
July 28, 2017 8:30 p.m. EDT (10:30 a.m. AEST)
Disclaimer
Please read the Disclaimer. I am not a licensed investment adviser.
GDP results for the second quarter of 2017 reflect recovery from the soft patch in 2016.

Source: St Louis Fed, BLS & BEA
Nominal GDP for Q2 improved to 3.71%, measured annually. This closely follows our intial estimate calculated from Nonfarm Payroll * Average Weekly Hours * Average Hourly Rate.
Real GDP, after adjustment for inflation, also improved, to a 2.1% annual rate.

Source: St Louis Fed, BLS & BEA
Bellwether transport stock Fedex is undergoing a correction at present but selling pressure appears moderate. Respect of medium-term support at 200 is likely and would confirm the primary up-trend (and rising economic activity).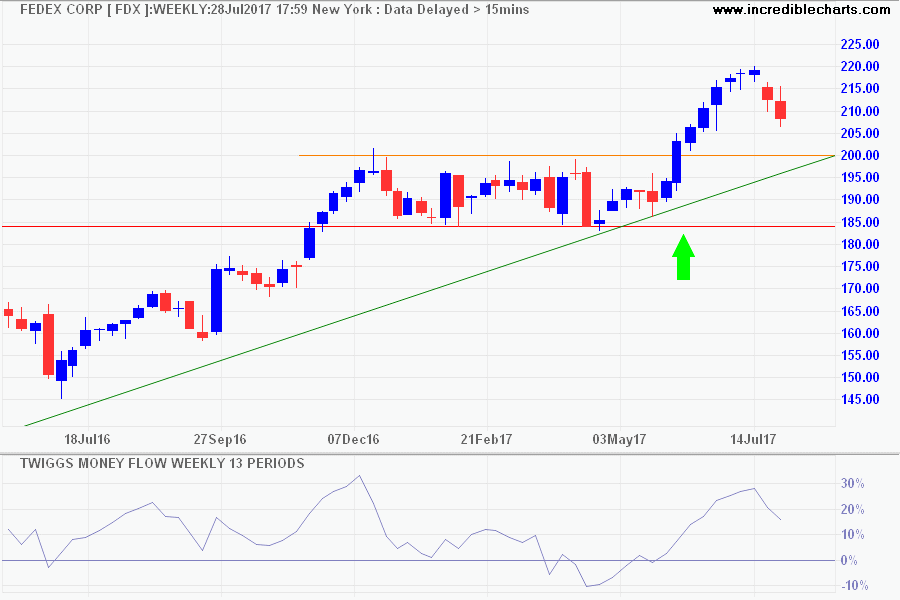 The Nasdaq 100 gained more than 20% year-to-date, from 4863 at end of December 2016 to 5908 on July 28th. Growth since 2009 has been consistent at around 20% a year but now appears to be accelerating. To my mind that warns sentiment may be running ahead of earnings, increasing the risk of a major adjustment. But there is no indication of this at present.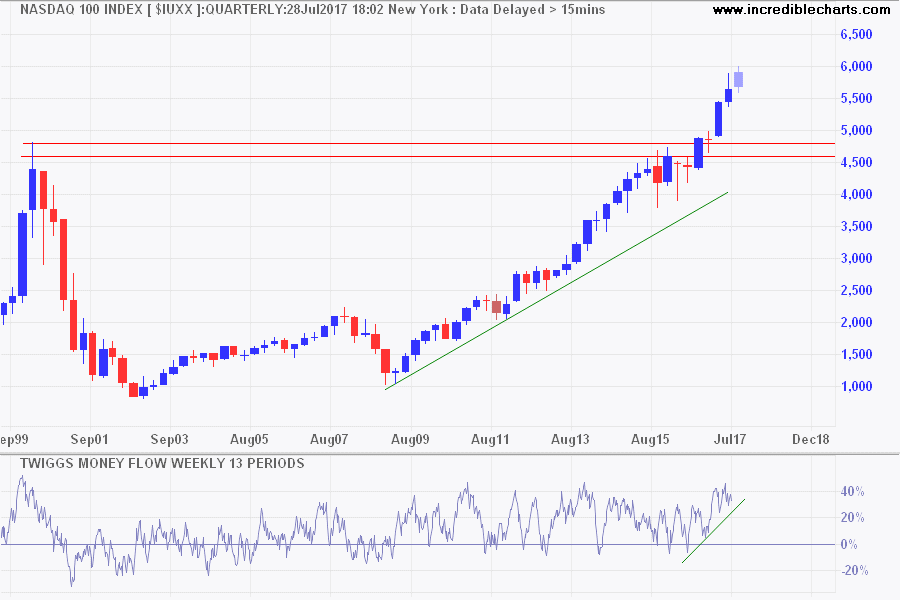 The S&P 500 continues its advance towards 2500 at a more modest pace. Bearish divergence on Twiggs Money Flow warns of selling pressure but this seems to be secondary in nature, with the indicator holding well above zero.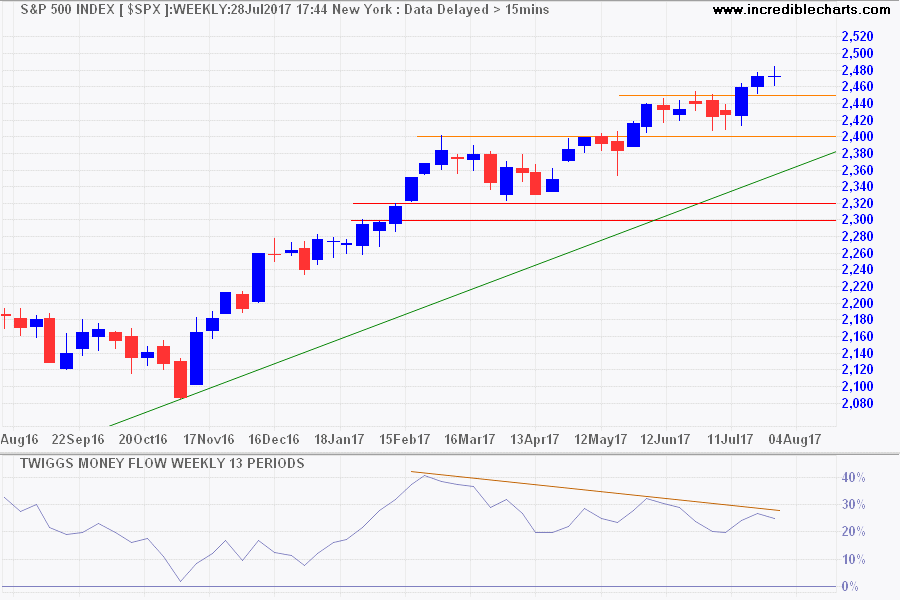 Target 2400 + ( 2400 - 2300 ) = 2500
Australia: ASX stalls
Iron ore is testing resistance at 70. Respect would warn of another test of primary support at 53, while breakout would suggest that a bottom is forming and the next correction is likely to find support at 60.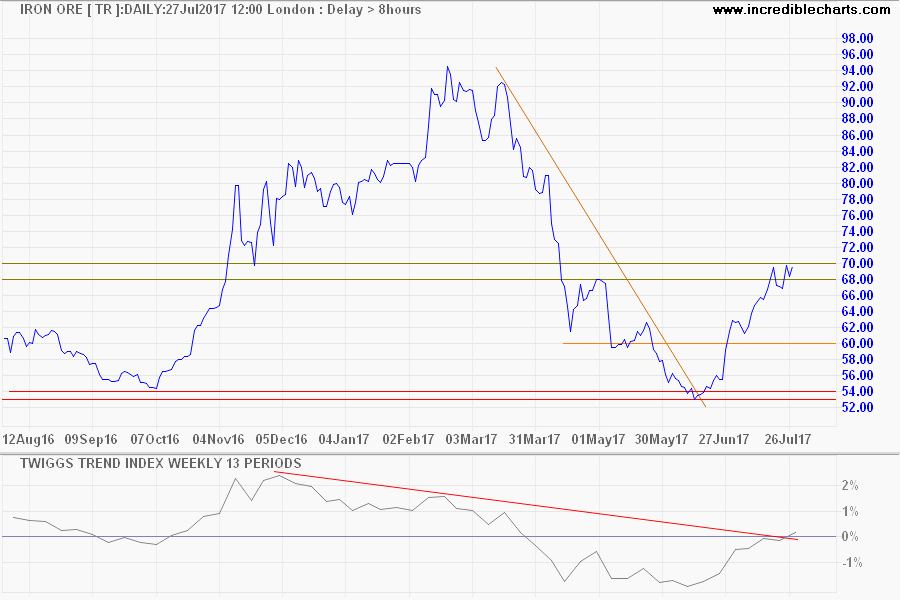 The Resources sector remains wary, with the ASX 300 Metals & Mining index retreating after a false break above resistance at 3050.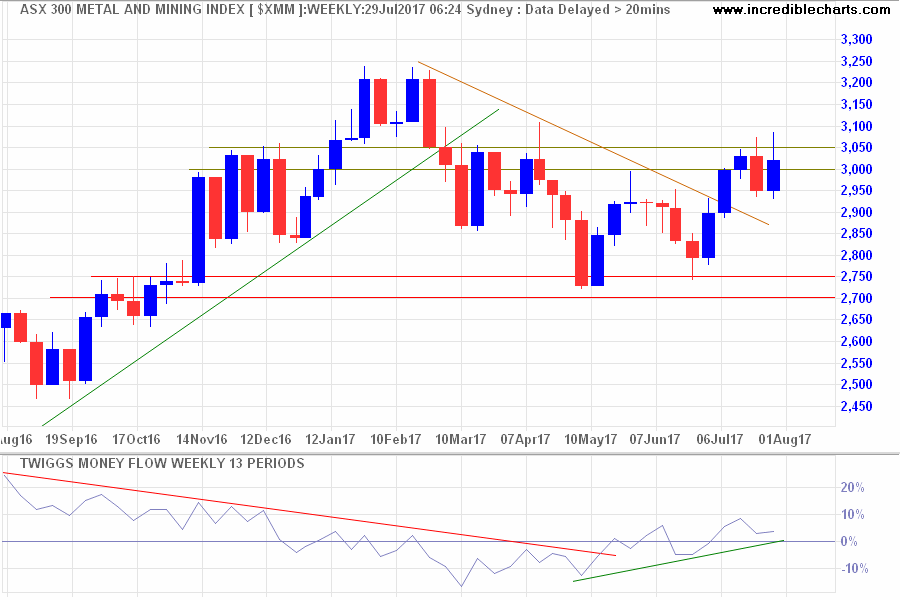 The ASX 300 Banks index retraced from resistance at 8800, heading for a test of the rising trendline and short-term support at 8500. Twiggs Money Flow continues to warn of selling pressure despite indications from APRA that they are unlikely to require further capital raising. Reversal below 8500 would warn of another test of primary support at 8000.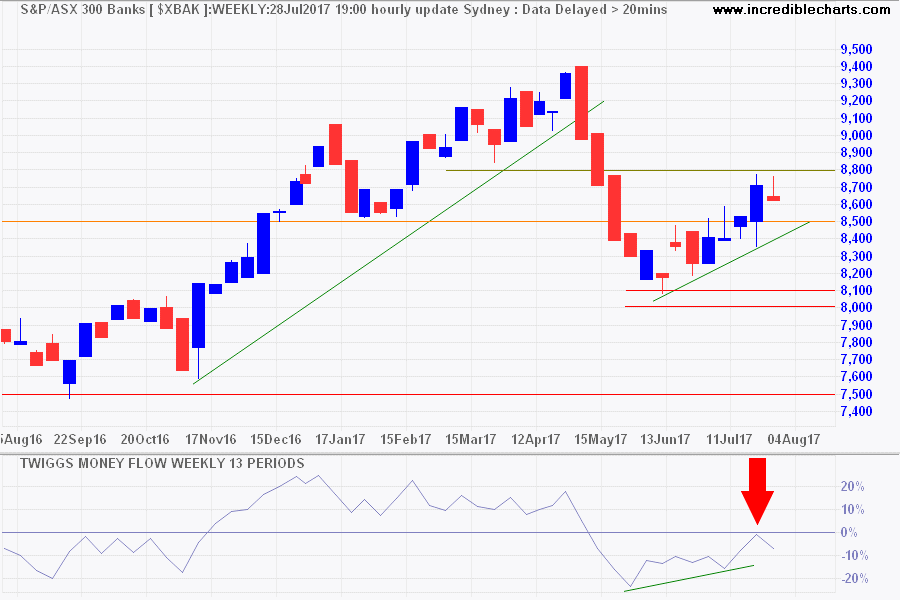 The ASX 200 has stalled, consolidating between 5600 and 5800 over the last two months. Declining Twiggs Money Flow, with a peak below zero, warns of selling pressure. Breach of support at 5600 is more likely, with an ensuing down-trend, but a lot depends on how iron ore behaves in the next few weeks.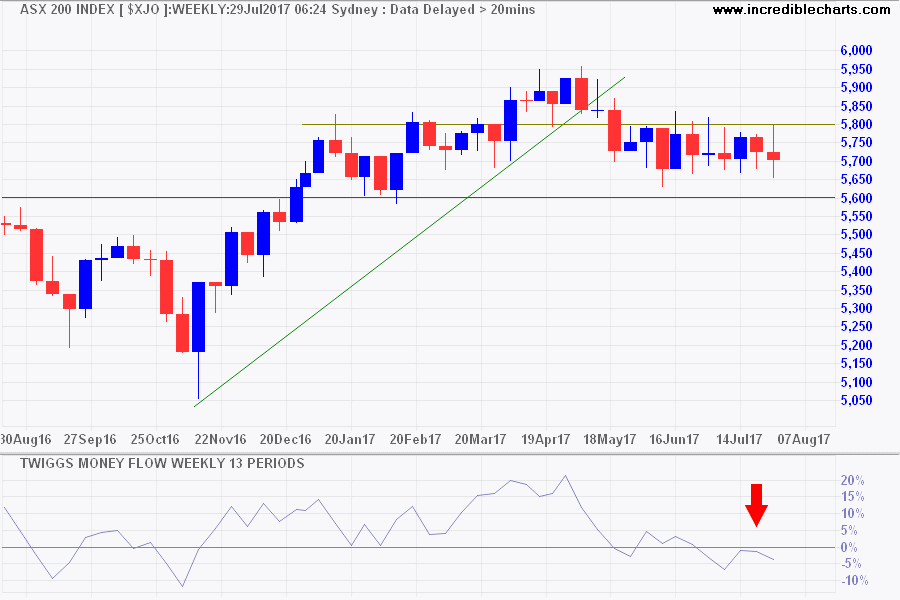 It ain't what you don't know that gets you into trouble. It's what you know for sure that just ain't so.

~ Mark Twain (Samuel Clemens)