---
US adds 222 thousand jobs, Australia faces headwinds
By Colin Twiggs
July 7, 2017 11:30 p.m. EDT (1:30 p.m. AEST)
Disclaimer
Please read the Disclaimer. I am not a licensed investment adviser.
From the Wall Street Journal:
U.S. employers picked up their pace of hiring in June. Nonfarm payrolls rose by a seasonally adjusted 222,000 from the prior month, the Labor Department said. The unemployment rate ticked up to 4.4% from 4.3% the prior month as more people joined the workforce.....
Source: St Louis Fed & BLS
Forecast real GDP for the current quarter — total payrolls * hours worked — is rising, showing an improving economy.

Source: St Louis Fed, BLS & BEA
Declining corporate profits as a percentage of net value added (RHS) is typical of mid-cycle growth, while employee compensation (% of net value added) is rising at a modest pace. Peaks in employee compensation are normally accompanied by troughs in corporate profits.....and followed by a recession.

Source: St Louis Fed & BEA
Average wage rate growth, both for production/non-supervisory and all employees, remains below 2.5% per year. Absence of wage rate pressure suggests that the Fed will be in no hurry to hike interest rates to curb inflationary pressure.

Source: St Louis Fed & BLS
Which should mean further growth ahead.
Australia
Australian wage rate growth, on the other hand, is declining.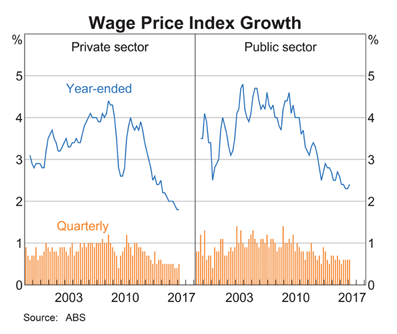 Source: RBA & ABS
As is inflation.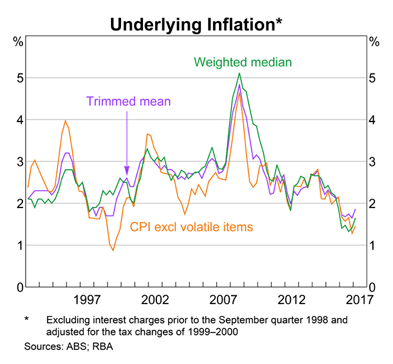 Source: RBA & ABS
Growth in Household Disposable Income and Consumption.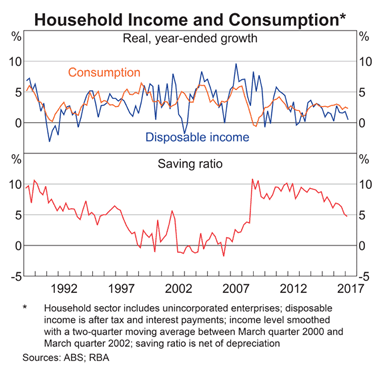 Source: RBA & ABS
And Banks return on shareholders equity.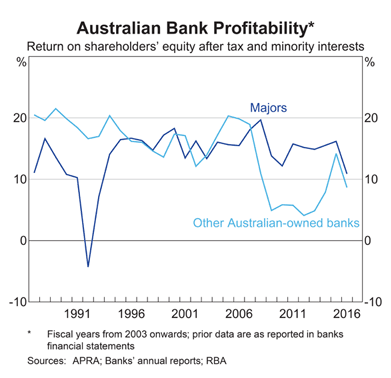 Source: RBA & APRA
But not Housing.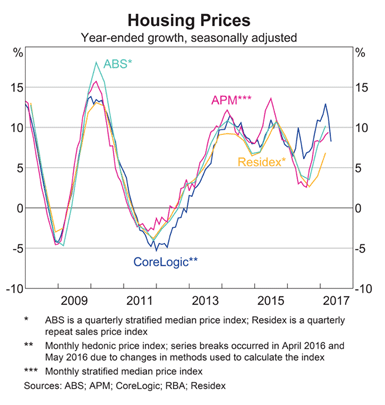 Source: RBA, ABS, APM, CoreLogic & Residex
At least not yet.

Falling house prices would complete the feedback loop, shrinking household incomes, consumption and banks ROE.
Much success can be attributed to inactivity. Most investors cannot resist the temptation to constantly buy and sell.

~ Warren Buffett