---
Tall shadows warn of selling pressure
By Colin Twiggs
May 19, 2017 7:00 p.m. EDT (9:00 a.m. AEST)
Disclaimer
Please read the Disclaimer. I am not a licensed investment adviser.
The S&P 500 is recovering after Wednesday's sharp fall but tall shadows on the last two candles indicate selling pressure. This is supported by a bearish divergence on 21-day Twiggs Money Flow, signaling medium-term selling pressure. Respect of resistance at 2400 is likely and would warn of another test of primary support at 2330.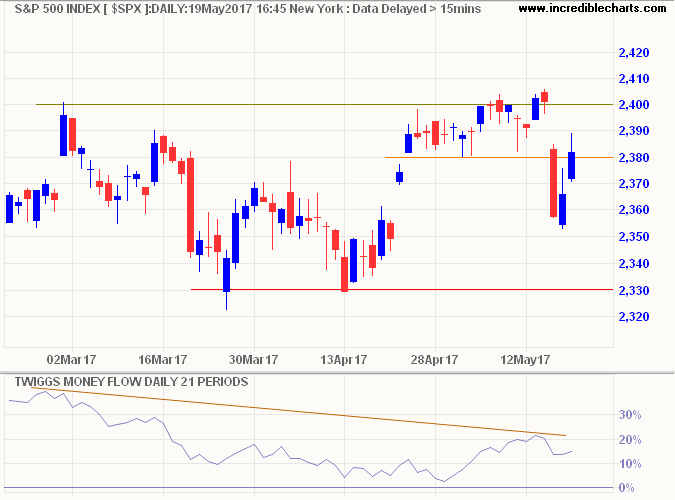 Bellwether transport stock Fedex [FDX] has consolidated in a broad rectangle over the last six months. Bearish divergence on 13-week Twiggs Money Flow indicates long-term selling pressure. Breach of support at 185 would signal a primary down-trend, warning that economic activity is slowing.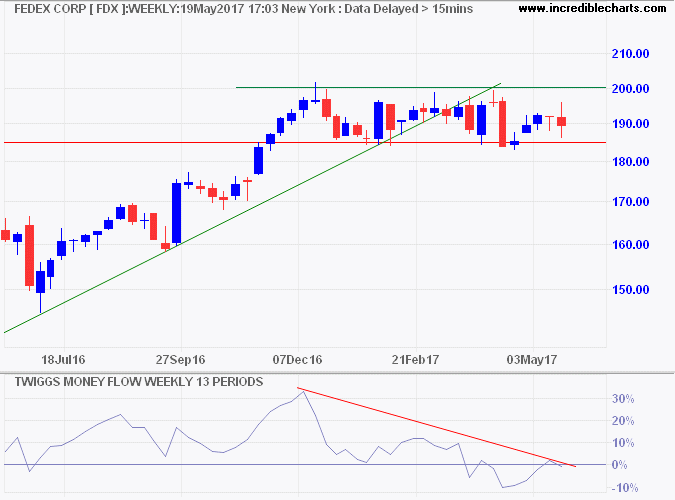 No government is perfect. One of the chief virtues of a democracy, however, is that its defects are always visible and under democratic processes can be pointed out and corrected.

~ President Harry S. Truman