---
US Inflation Falls, PE rises
By Colin Twiggs
May 12, 2017 9:30 p.m. EDT (11:30 a.m. AEST)
Disclaimer
Please read the Disclaimer. I am not a licensed investment adviser.
A dip in the latest consumer price index (CPI) growth figures brings the inflation measure back in line with the Fed target of 2.0%. Inflationary pressures appear contained, easing Fed motivation to implement restrictive monetary policy.

Personal consumption continues to grow at a modest pace. The down-turn in expenditure on services would be cause for concern — this normally precedes a recession — if not for a strong rise in expenditure on durables.

Manufacturers new orders for capital goods display a similar recovery.

The housing recovery continues at a modest pace.

Construction spending as a percentage of GDP remains soft, suggesting that the recovery still has plenty of room for improvement.

Price-Earnings Ratio
With 84.4% of S&P 500 index consituents having reported first-quarter earnings, 302 (73.84%) beat their earnings estimates while 77 (18.83%) missed. Forward estimates for 2017 contracted by an average of 4.6% over the last 12 months but not sufficient to raise the forward Price-Earnings Ratio above 20. That is the threshold level above which we consider the market to be over-priced.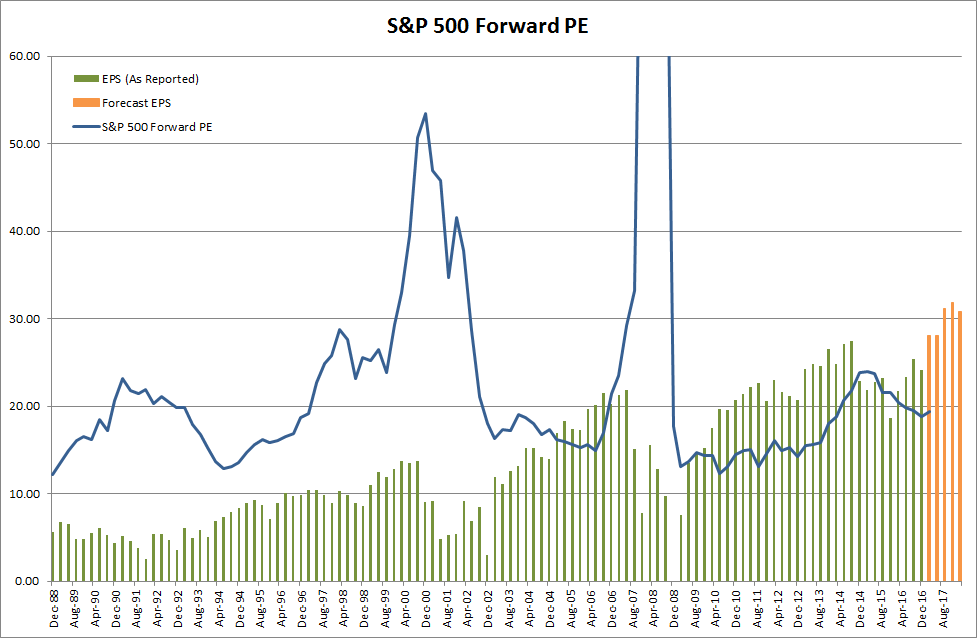 Comparing the forward estimates for 2017 to actual earnings for 1989, we see that the market is expected to deliver a compound average growth rate of 6.0% over almost three decades.
With a dividend yield of 2.16%, that delivers a total return to investors of just over 8 percent.
Price-Earnings ratios fluctuate over time, so any improvement in the ratio should be considered temporary.
Buybacks have averaged just over 3 percent since 2011. The motivation for buybacks is that they should accelerate earnings growth but there is little evidence as yet to support this. As Reported Earnings grew at an average rate of 3.2% between December 2011 and 2016, below the long-term average.
A spike in earnings is projected for 2017 and 2018. Hopefully this continues. Else there will be a strong case for restoring dividends and reducing stock buybacks.
It ought to be remembered that there is nothing more difficult to take in hand, more perilous to conduct, or more uncertain in its success, than to take the lead in the introduction of a new order of things.

~ Niccolo Machiavelli