---
US Housing Starts; ASX Advance
By Colin Twiggs
April 28, 2017 9:30 p.m. ET (11:30 a.m. AEST)
Disclaimer
Please read the Disclaimer. I am not a licensed investment adviser.
Another short newsletter. I will return to the usual, longer format next week.
The latest GDP update shows the economy continues to grow, albeit at a moderate pace. The graph below compares nominal GDP (before adjusting for inflation) to total nonfarm payrolls multiplied by average weekly earnings.

Light vehicle sales are slowing, suggesting that consumers grow more cautious.

But housing starts continue to climb, recovering above 1.2 million (privately owned) units for the first time since 2008.

The Philadelphia Fed Leading Index is rising, suggesting healthy growth in the 12 months ahead.

And a soaring Freight Transportation Services Index flags strong economic activity.

The economy appears on track for further growth. The biggest threat is that inflationary pressures rise and force the Fed to adopt a more contractionary monetary policy. But there is little sign of this at present.
Australia
The ASX 200 recovered above 5900, respecting medium-term support at 5800. Rising Twiggs Money Flow flags strong buying pressure and breach of 6000 now appears likely.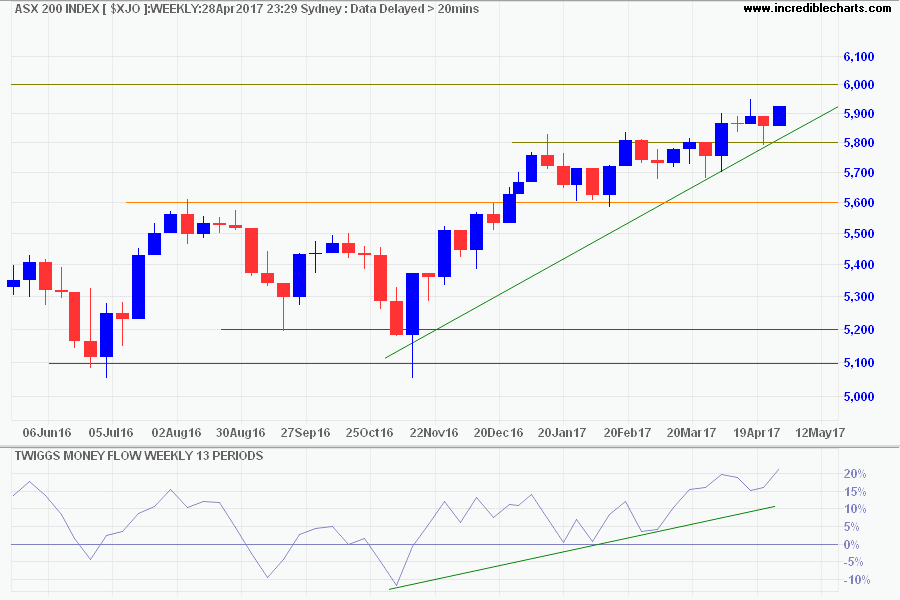 * Target medium-term: 5800 + ( 5800 - 5600 ) = 6000
It is easier to make our wishes conform to our means than to make our means conform to our wishes.

~ General Robert E. Lee