---
It's a Bull Market
By Colin Twiggs
March 03, 2017 6:40 p.m. ET (10:40 a.m. AEDT)
Disclaimer
Please read the Disclaimer. I am not a licensed investment adviser.
Dow Jones Industrials
Dow Jones Industrial Average closed the week above 21000 for the first time. Twelve months ago the index was at 17000, an increase of 23.5 percent. Shallow retracements since then signal buying pressure, highlighted by Twiggs Money Flow troughs above zero. The latest trough, higher than zero, reflects growing enthusiasm from investors.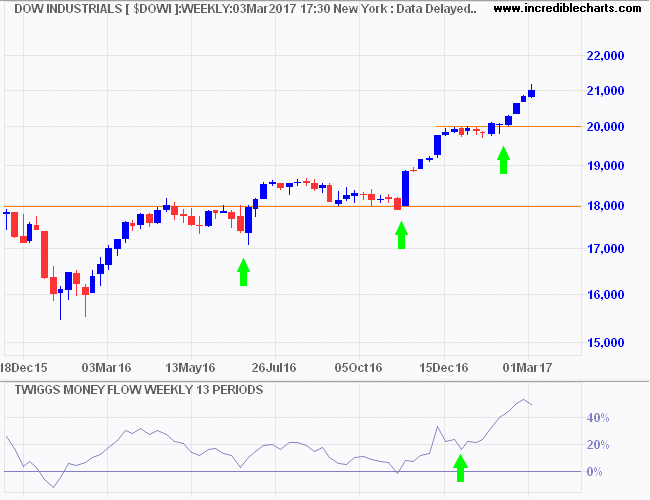 Prices are rising faster than earnings in expectation of future growth. Clearly the Dow is in Phase III of a Bull Market. As I pointed out in December, this could last for several years.
US: Why the enthusiasm?
Retail sales are surging, with Retail & Food (ex-Motor Vehicles) growing above 5% a year for the first time since 2012.

Light vehicles sales are back at their 2000-2006 norm of 17.5 million units a year, reflecting consumer confidence.

Housing remains soft but growth in new starts and building permits continues.

Durable goods orders are also soft but unlikely to remain so if retail sales growth continues.

Inflationary pressures are likely to rise. Which is why the Fed expects to increase the pace of interest rate hikes in 2017.
Australia
Australia is on a different path.
Motor vehicle sales are strong, according to the Federal Chamber of Automotive Industries:
Motor vehicle sales across Australia got off to a solid start in January, with the month's sales nudging ahead of the same period last year and showing a rise in activity among private purchasers.

Total sales for January, including passenger cars, SUVs, light and heavy commercial vehicles totalled 84,910 for the month, 0.6 percent up on the same month in 2016.

Within the segments, light commercials fell 3.9 per cent, passenger car sales declined slightly (down 0.8 per cent), while SUVs continued their consistent growth pattern with a gain of 3.2 per cent....
But retail sales growth is slowing.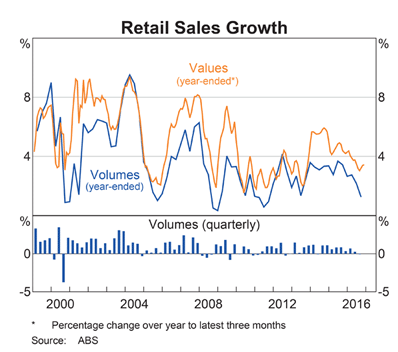 While housing is slowing after a surge in high-density units over the last five years.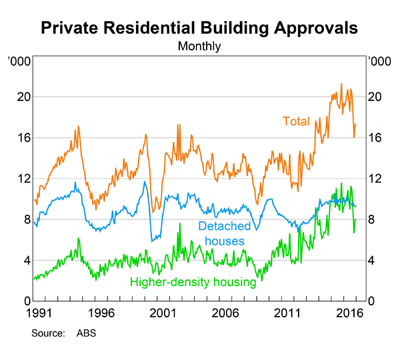 Resources exports have been performing well but a slow-down in Chinese housing sales could act as a hand-brake on future growth.
The stock market is a device for transferring money from the impatient to the patient.

~ Warren Buffett