---
Optimism high, certainty low
By Colin Twiggs
December 3, 2016 2:00 a.m. ET (6:00 p.m. AEDT)
Disclaimer
I am not a licensed investment adviser. Everything contained in this web site, related newsletters, training videos and training courses (collectively referred to as the "Material") has been written for the purpose of teaching analysis, trading and investment techniques. The Material neither purports to be, nor is it intended to be, advice to trade or to invest in any financial instrument, or class of financial instruments, or to use any particular methods of trading or investing. Advice in the Material is provided for the general information of readers, viewers and course attendees (collectively referred to as "Readers") and does not have regard to any particular person's investment objectives, financial situation or needs. Accordingly, no Reader should act on the basis of any information in the Material without properly considering its applicability to their financial circumstances. If not properly qualified to do this for themselves, Readers should seek professional advice. Investing and trading involves risk of loss. Past results are not necessarily indicative of future results. The decision to invest or trade is for the Reader alone. I expressly disclaim all and any liability to any person, with respect of anything, and of the consequences of anything, done or omitted to be done by any such person in reliance upon the whole or any part of the Material.


United States
Optimism may be high but certainty is low. Initial euphoria over the election result is now fading as the enormity and complexity of the task facing president-elect Trump starts to sink in. Whether he and his team are up to the task only time will tell, but it will not be a smooth ride.
On the economic front the biggest task will be to lift sagging economic activity — highlighted here by declining manufacturing orders — without raising inflationary pressures too fast.

Dow Jones Industrial Average is doing well, having broken resistance at 19000. But the initial strong move has now faded and declining 21-day Twiggs Money Flow indicates short-term selling pressure. Expect retracement to test the new support level at 19000. Respect would indicate an advance to 20000*.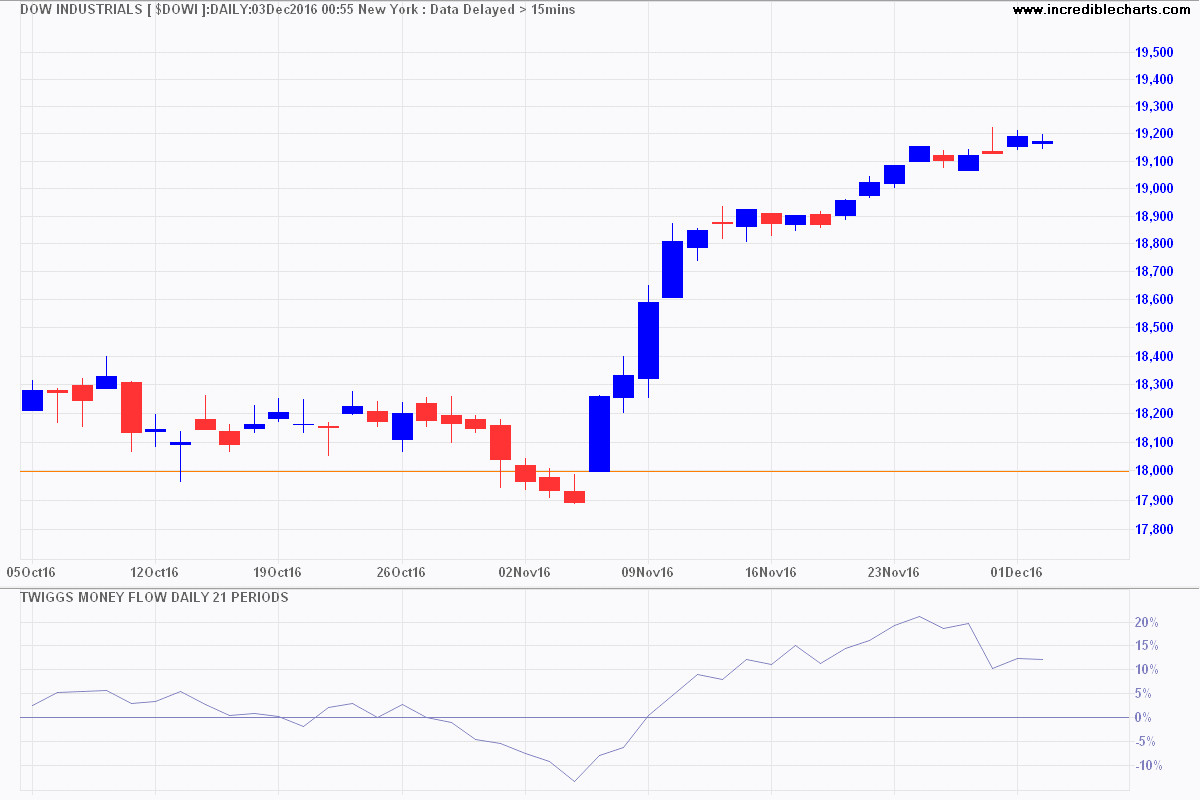 * Target medium-term: 18500 + ( 18500 - 17000 ) = 20000
The S&P 500 weekly chart shows hesitation at 2200, while declining 13-week Twiggs Money Flow signals long-term selling pressure. Retreat below last week's candle would warn of another test of primary support at 2100.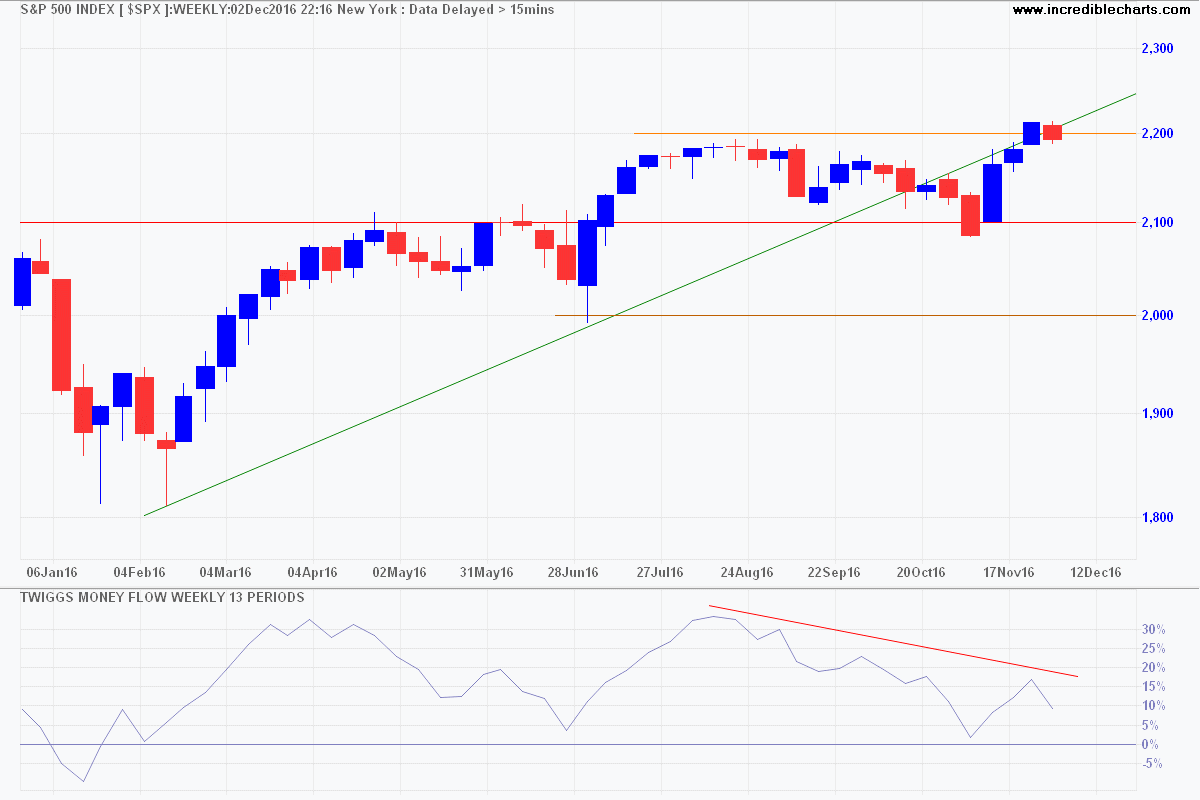 * Target medium-term: 2100 + ( 2200 - 2000 ) = 2300
This country has nothing to fear from the crooked man who fails. We put him in jail. It is the crooked man who succeeds who is a threat to this country.

~ President Theodore Roosevelt (1905)