---
Waiting for an election
By Colin Twiggs
October 22, 2016 9:30 p.m. EDT (12:30 pm AEST)
Disclaimer
I am not a licensed investment adviser. Everything contained in this web site, related newsletters, training videos and training courses (collectively referred to as the "Material") has been written for the purpose of teaching analysis, trading and investment techniques. The Material neither purports to be, nor is it intended to be, advice to trade or to invest in any financial instrument, or class of financial instruments, or to use any particular methods of trading or investing. Advice in the Material is provided for the general information of readers, viewers and course attendees (collectively referred to as "Readers") and does not have regard to any particular person's investment objectives, financial situation or needs. Accordingly, no Reader should act on the basis of any information in the Material without properly considering its applicability to their financial circumstances. If not properly qualified to do this for themselves, Readers should seek professional advice. Investing and trading involves risk of loss. Past results are not necessarily indicative of future results. The decision to invest or trade is for the Reader alone. I expressly disclaim all and any liability to any person, with respect of anything, and of the consequences of anything, done or omitted to be done by any such person in reliance upon the whole or any part of the Material.


Global
The world faces two major uncertainties in the months ahead: Brexit and the US November election. Reaction of stocks to uncertainty is consolidation. We have very little directional movement at present. Perhaps this will change after November 8 but the markets may adopt a wait-and-see attitude to the outcome.
Dow Jones Global Index continues to test support at 316. Recovery above 328 would signal another strong advance but breach of 316 is more likely and would offer a target of 300.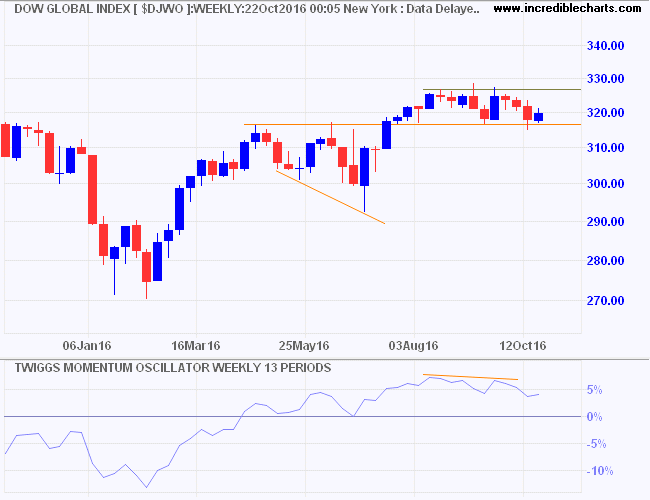 North America
Bearish divergence on Twiggs Money Flow continues to warn of long-term selling pressure on the Dow Jones Industrial Average. Breach of 18000 would warn of a test of primary support at 17000.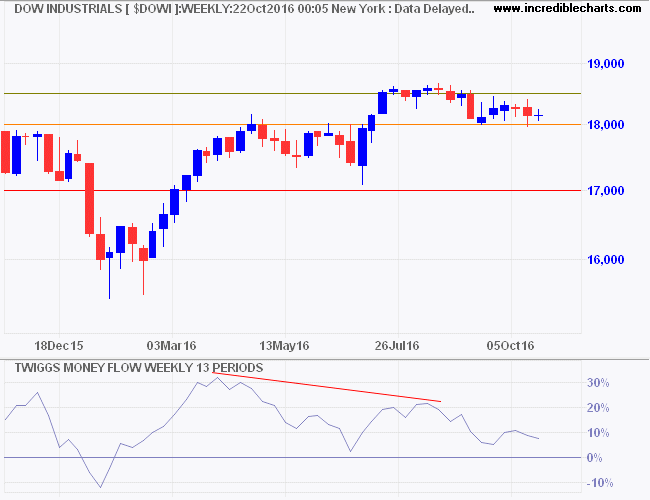 Bellwether transport stock Fedex is retracing to test its new support level at 170. Short candles during the retracement indicate weak selling pressure. Respect of support is likely and would signal another primary advance. The up-trend indicates rising economic activity in the US.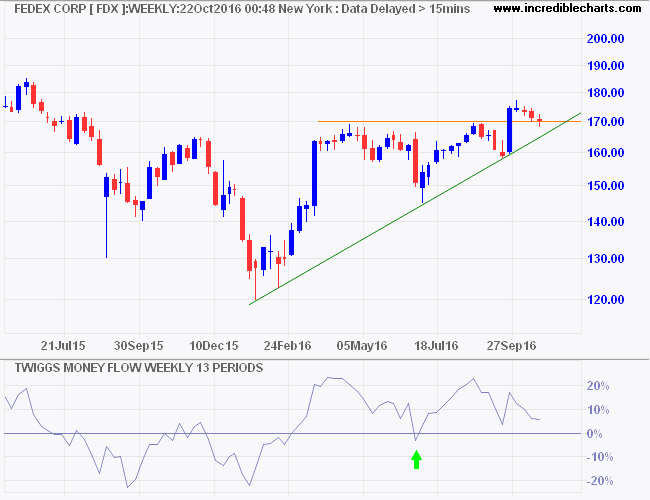 Australia
The latest ASX 200 is consolidating between 5400 and 5500. Declining Twiggs Money Flow warns of selling pressure. Breakout below 5400 would signal another test of primary support at 5200. Breach of 5200 would signal a primary down-trend.
The ASX 300 Banks Index continues to test resistance at 8000. Twiggs Money Flow is still negative but recovery above zero now looks equally likely. Breakout would signal an advance to 8700. Breach of support at 7500 would warn of another decline.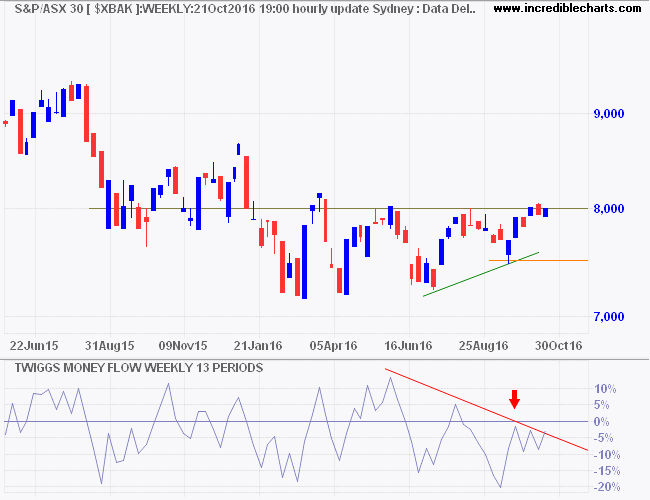 Perhaps the cause of our contemporary pessimism is our tendency to view history as a turbulent stream of conflicts — between individuals in economic life, between groups in politics, between creeds in religion, between states in war. This is the more dramatic side of history; it captures the eye of the historian and the interest of the reader. But if we turn from that Mississippi of strife, hot with hate and dark with blood, to look upon the banks of the stream, we find quieter but more inspiring scenes: women rearing children, men building homes, peasants drawing food from the soil, artisans making the conveniences of life, statesmen sometimes organizing peace instead of war, teachers forming savages into citizens, musicians taming our hearts with harmony and rhythm, scientists patiently accumulating knowledge, philosophers groping for truth, saints suggesting the wisdom of love. History has been too often a picture of the bloody stream. The history of civilization is a record of what happened on the banks.

~ Will Durant, The Story of Philosophy