---
Dow surges on strong jobs data
By Colin Twiggs
August 5, 2016 10:30 p.m. EDT (12:30 p.m. AEST)
Disclaimer
I am not a licensed investment adviser. Everything contained in this web site, related newsletters, training videos and training courses (collectively referred to as the "Material") has been written for the purpose of teaching analysis, trading and investment techniques. The Material neither purports to be, nor is it intended to be, advice to trade or to invest in any financial instrument, or class of financial instruments, or to use any particular methods of trading or investing. Advice in the Material is provided for the general information of readers, viewers and course attendees (collectively referred to as "Readers") and does not have regard to any particular person's investment objectives, financial situation or needs. Accordingly, no Reader should act on the basis of any information in the Material without properly considering its applicability to their financial circumstances. If not properly qualified to do this for themselves, Readers should seek professional advice. Investing and trading involves risk of loss. Past results are not necessarily indicative of future results. The decision to invest or trade is for the Reader alone. I expressly disclaim all and any liability to any person, with respect of anything, and of the consequences of anything, done or omitted to be done by any such person in reliance upon the whole or any part of the Material.


Global
Dow Jones Global Index retraced to test support between 316 and 320. Respect is likely and would signal an advance to 340*. Momentum troughs above zero indicate trend strength.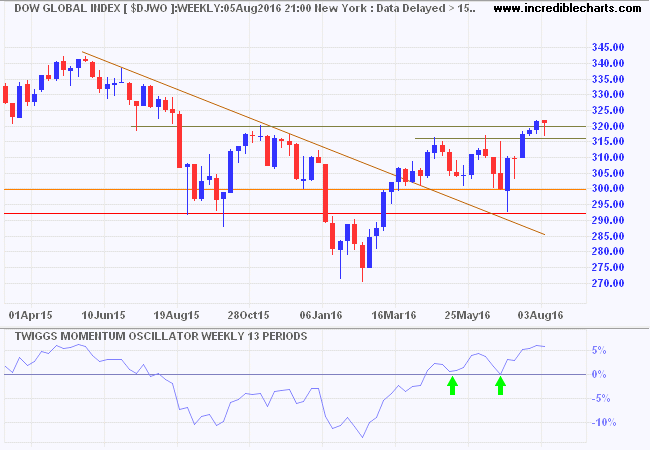 * Target calculation: 320 + ( 320 - 300 ) = 340
North America
Strong jobs numbers helped the S&P 500 break out of its narrow flag/rectangle, signaling another advance. The false break below 2160 strengthens the signal. Rising 21-day Money Flow highlights buying pressure.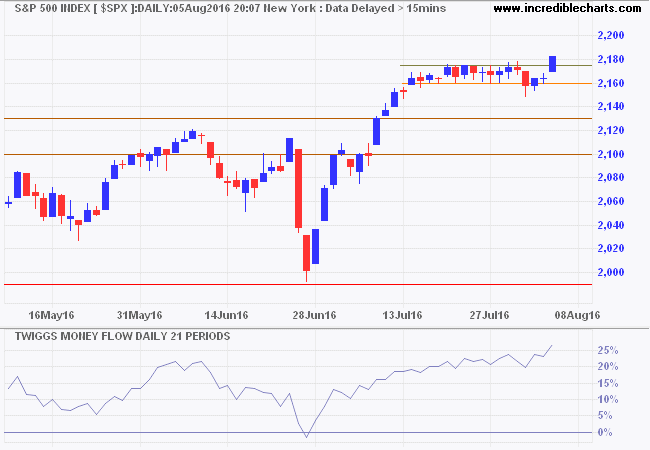 * Target calculation: 2100 + ( 2100 - 1800 ) = 2400
The Dow Jones Industrial Average similarly broke out of its recent flag, signaling continuation of the primary up-trend. The immediate target is 19000*.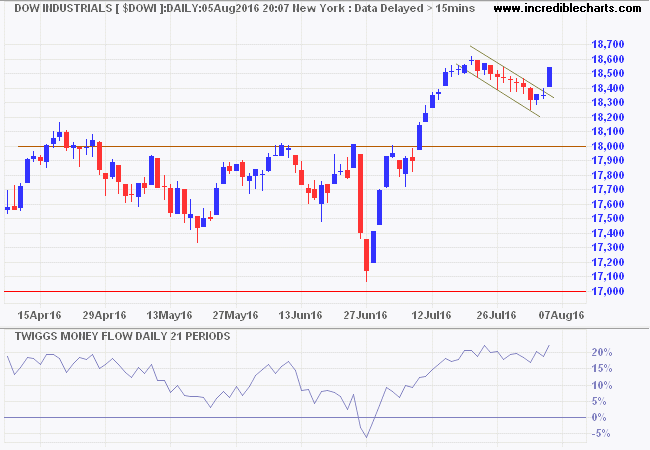 * Target medium-term: 18500 + ( 18500 - 18000 ) = 19000; Long-term: 18000 + ( 18000 - 16000 ) = 20000
VIX declined below 12, indicating low market risk.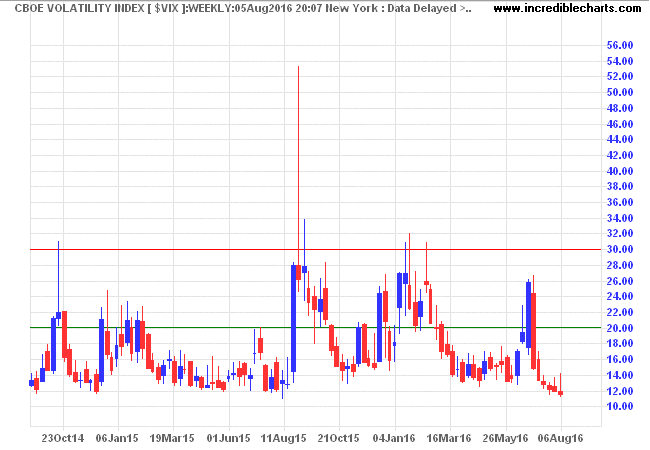 Canada's TSX 60 has run into further resistance at 850. Expect another retracement to test the rising trendline. Rising Momentum troughs above zero indicate trend strength.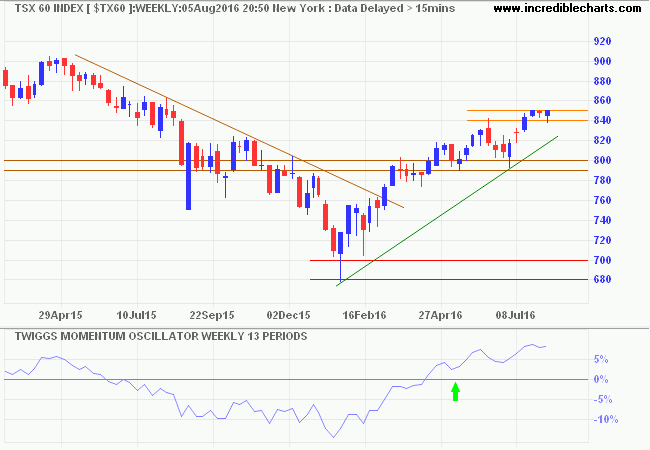 Europe
Germany's DAX hesitated at resistance at 10500, the long tail indicating uncertainty. Further consolidation between 10000 and 10500 would be a bullish sign, while breakout above 10500 would confirm a primary up-trend.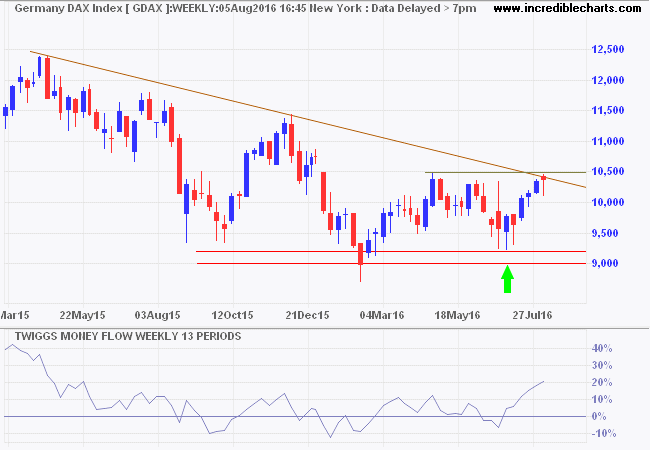 * Target calculation: 10500 + ( 10500 - 9500 ) = 11500
The Footsie is already in a primary up-trend. We could still see retracement testing the new support level at 6500 but respect is likely and would confirm the primary trend. Expect an advance to 7100*.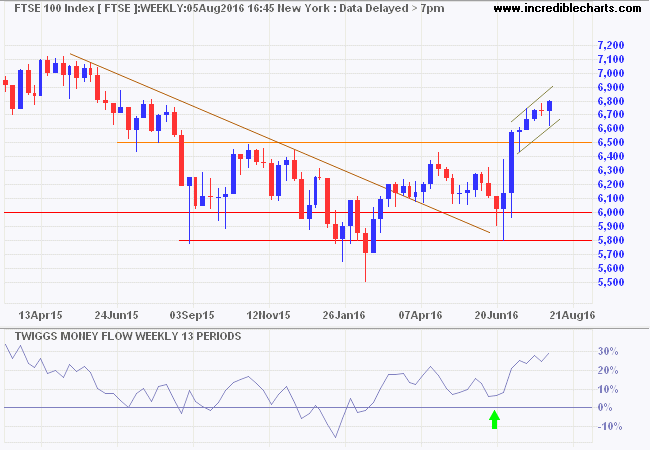 * Target calculation: 6500 + ( 6500 - 5900 ) = 7100
Asia
The Shanghai Composite Index met stubborn resistance at 3100. Reversal below 3000 warns of another test of primary support.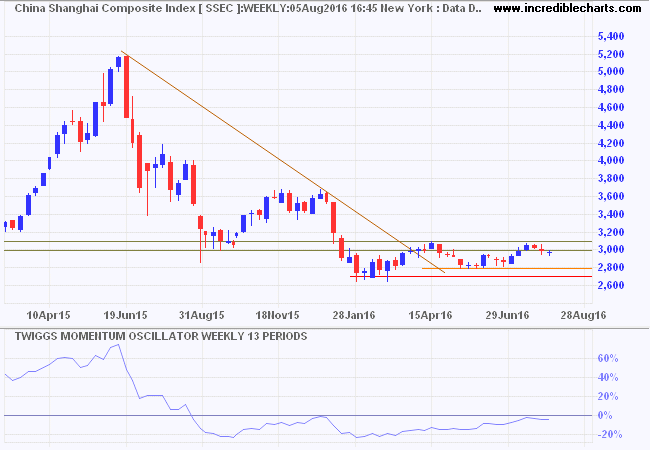 Japan's Nikkei 225 Index is retracing and may resolve into another test of primary support at 15000. Breakout above 17500 is unlikely but would complete a double-bottom reversal.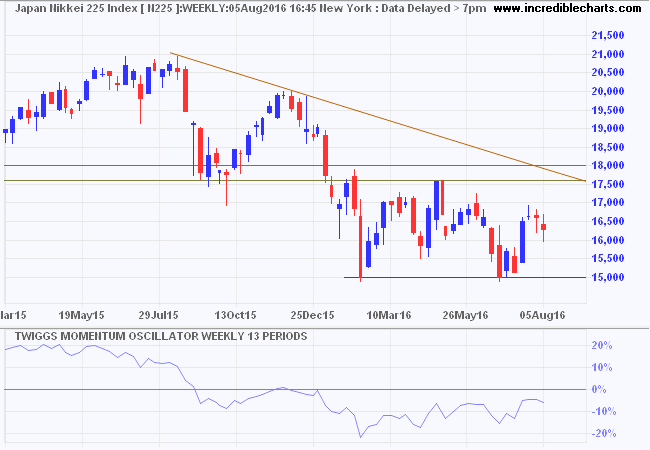 * Target calculation: 15000 - ( 18000 - 15000 ) = 12000
India's Sensex is testing resistance at 28000. Retracement to establish support at 27000 is likely. Penetration of the rising trendline, however, would warn of a correction.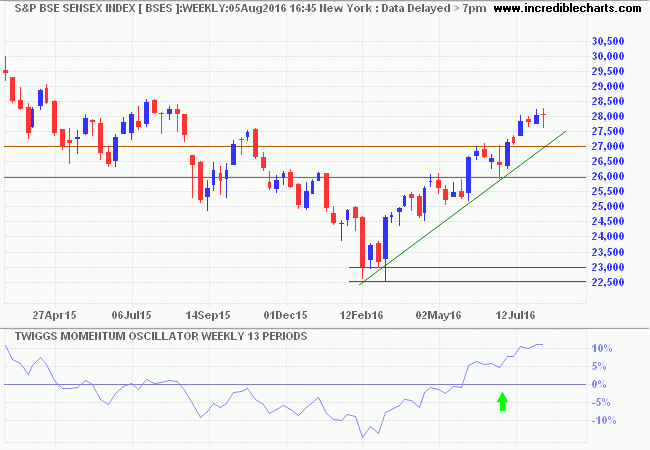 Australia
The ASX 200 is retracing to test the new support level at 5400. Respect would signal a test of the upper trend channel at 5700*. A Momentum trough above zero indicates a healthy up-trend.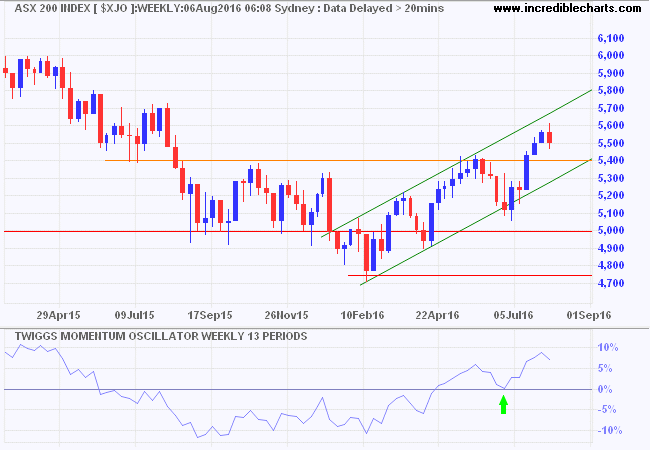 * Target calculation: 5400 + ( 5400 - 5100 ) = 5700
The major banks continue to weigh on the index, with the ASX 300 (not "ASX 30") Banks Index respecting resistance at 8000. Reversal below 7800 suggests another test of primary support at 7200.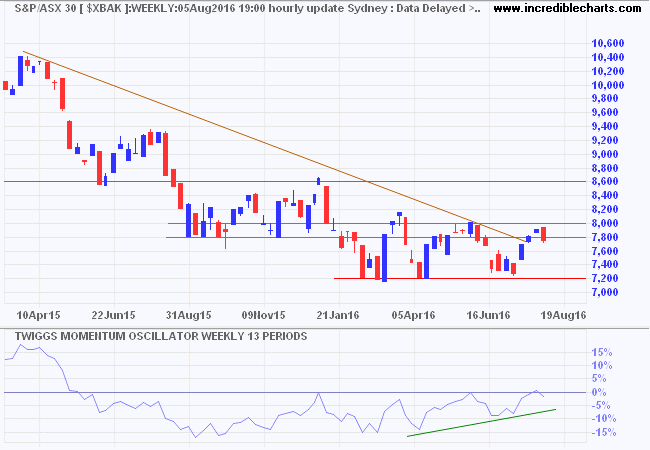 Australian Banks are still low on capital compared to their US counterparts and housing is likely to come under pressure from an over-supply of high-density units.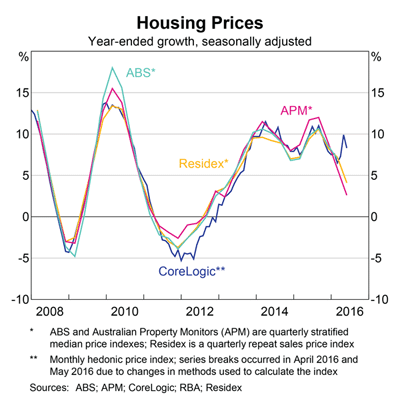 The trouble with the rat race is that even if you win, you're still a rat.

~ Lily Tomlin