---
Weak US retail sales belie strong fundamentals
By Colin Twiggs
October 17th, 2015 11:30 a.m. AEST (8:30 p.m. EDT)
Advice herein is provided for the general information of readers and does not have regard to any particular person's investment objectives, financial situation or needs. Accordingly, no reader should act on the basis of any information contained herein without first having consulted a suitably qualified financial advisor.
Lucia Mutikani at Reuters writes:
U.S. retail sales barely rose in September and producer prices recorded their biggest decline in eight months, raising further doubts about whether the Federal Reserve will raise interest rates this year. The weak reports on Wednesday were the latest suggestion that the economy was losing momentum in the face of slowing global growth, a strong dollar, an inventory correction and lower oil prices that are hampering capital spending in the energy sector. Job growth braked sharply in the past two months.
Readers of the headline Weak U.S. retail sales, inflation data cloud rate hike outlook could be forgiven for believing the US economy is headed for recession. After all, retail sales growth has slowed to a crawl.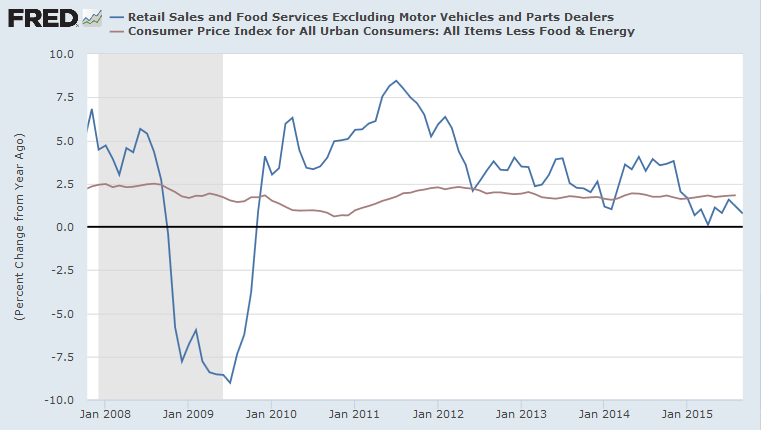 And the producer price index is declining sharply on the back of lower oil prices.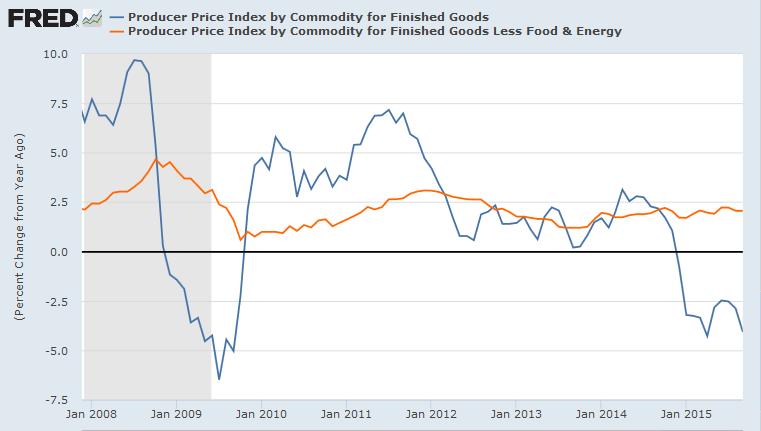 But if we strip out food and energy prices, PPI remains close to the Fed's 2% inflation target. And low energy prices will eventually feed through as a stimulus to the global economy.
Hourly earnings in the manufacturing sector are starting to grow.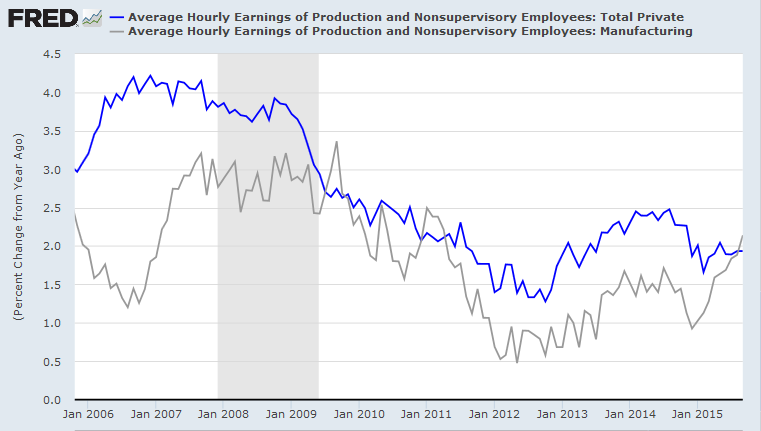 Deeper in the Reuters article, we find a more objective view:
"The overall message is that consumer spending has remained extremely strong. If sentiment had indeed shifted, it would be hard to explain why sales of cars, certainly among the more expensive items, jumped in September to their highest level since July 2005," said Harm Bandholz, chief economist at UniCredit Research in New York.
Light vehicle sales continue their upward trajectory.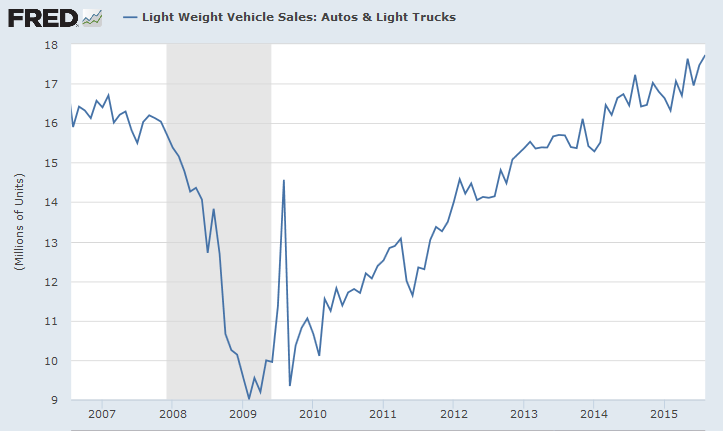 And construction spending is decidedly bullish.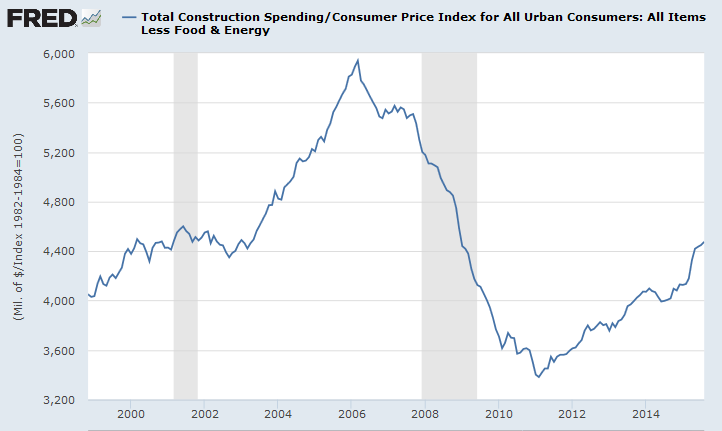 Not much here to keep Janet Yellen up at nights. When it comes to rate rises, the sooner we get the economy back on a sound footing the better, I say. Otherwise we encourage further capital misallocation and dependency on Fed stimulus. There are no free lunches from central bankers. Everything comes at a price.
It is always important in matters of high politics to know what you do not know. Those who think they know, but are mistaken, and act upon their mistakes, are the most dangerous people to have in charge.

~ Margaret Thatcher: Statecraft (2002)
Disclaimer
Research & Investment Pty Ltd is a Corporate Authorized Representative (AR Number 384 397) of Andika Pty Ltd which holds an Australian Financial Services Licence (AFSL 297069).
The information on this web site and in the newsletters is general in nature and does not consider your personal circumstances. Please contact your professional financial adviser for advice tailored to your needs.
Research & Investment Pty Ltd ("R&I") has made every effort to ensure the reliability of the views and recommendations expressed in the reports published on its websites and newsletters. Our research is based upon information known to us or which was obtained from sources which we believe to be reliable and accurate.
No guarantee as to the capital value of investments, nor future returns are made by R&I. Neither R&I nor its employees make any representation, warranty or guarantee that the information provided is complete, accurate, current or reliable.
You are under no obligation to use these services and should always compare financial services/products to find one which best meets your personal objectives, financial situation or needs.
To the extent permitted by law, R&I and its employees, agents and authorised representatives exclude all liability for any loss or damage (including indirect, special or consequential loss or damage) arising from the use of, or reliance on, any information. If the law prohibits the exclusion of such liability, such liability shall be limited, to the extent permitted by law, to the resupply of the said information or the cost of the said resupply.
Important Warning About Simulated Results
Research & Investment (R&I) specialise in developing, testing and researching investment strategies and systems. Within the R&I web site and newsletters, you will find information about investment strategies and their performance. It is important that you understand that results from R&I research are simulated and not actual results.
No representation is made that any investor will or is likely to achieve profits or losses similar to those shown.
Simulated performance results are generally prepared with the benefit of hindsight and do not involve financial risk. No modeling can completely account for the impact of financial risk in actual investment. Account size, brokerage and slippage may also diverge from simulated results. Numerous other factors related to the markets in general or to the implementation of any specific investment system cannot be fully accounted for in the preparation of simulated performance results and may adversely affect actual investment results.
To the extent permitted by law, R&I and its employees, agents and authorised representatives exclude all liability for any loss or damage (including indirect, special or consequential loss or damage) arising from the use of, or reliance on, any information offered by R&I whether or not caused by any negligent act or omission.