---
Not much wrong with the US economy
By Colin Twiggs
September 14th, 2015 6:00 p.m. AEST (4:00 a.m. EDT)
Advice herein is provided for the general information of readers and does not have regard to any particular person's investment objectives, financial situation or needs. Accordingly, no reader should act on the basis of any information contained herein without first having consulted a suitably qualified financial advisor.
Profit margins in the US are contracting, with the second quarter showing a 6.0% decine in profit per unit of real gross value added (Nonfinancial). Contraction of greater than 10% would be cause for concern, but we need to dig a little deeper.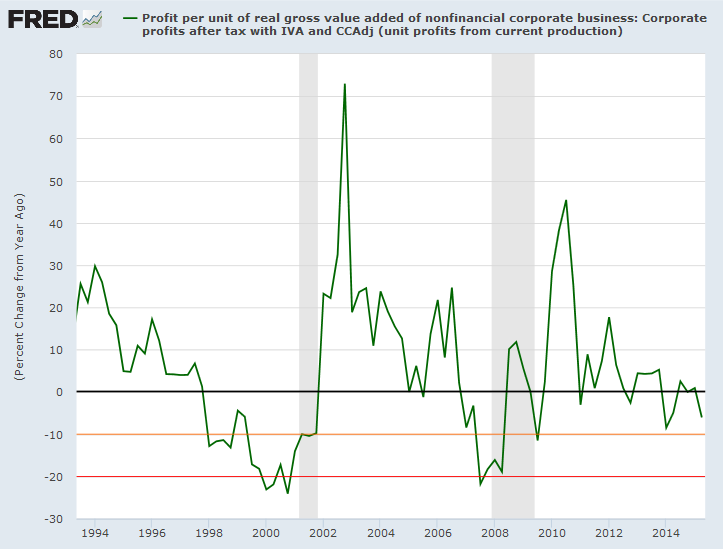 Earnings per share for the S&P 500 Index declined for the last two quarters and is projected to decline for the next two quarters as well (Q2 which is 98.6% complete and Q3 2015).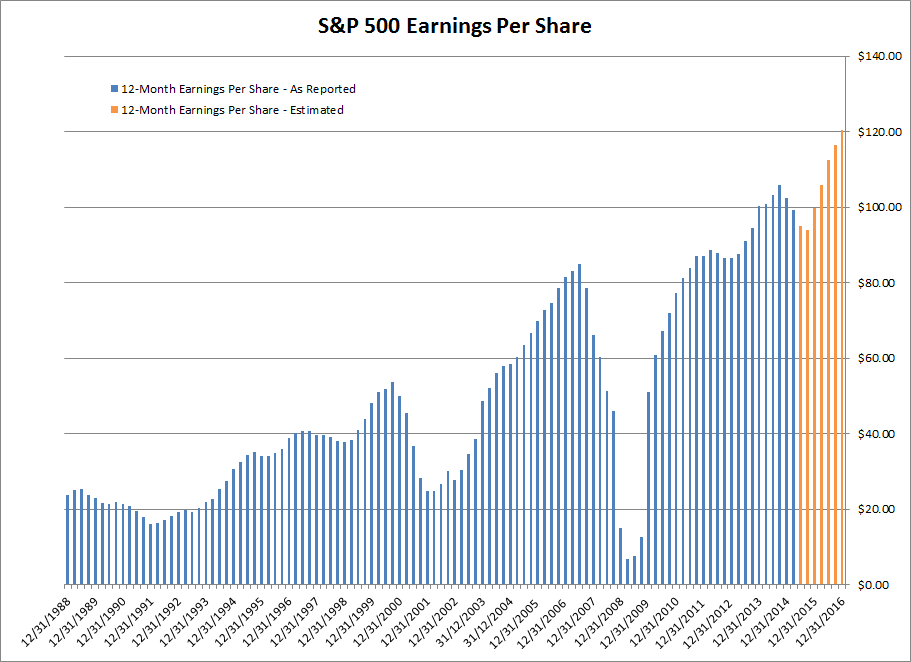 The sharp fall in index earnings is primarily caused by losses in the Energy sector. Other sectors are reasonably healthy.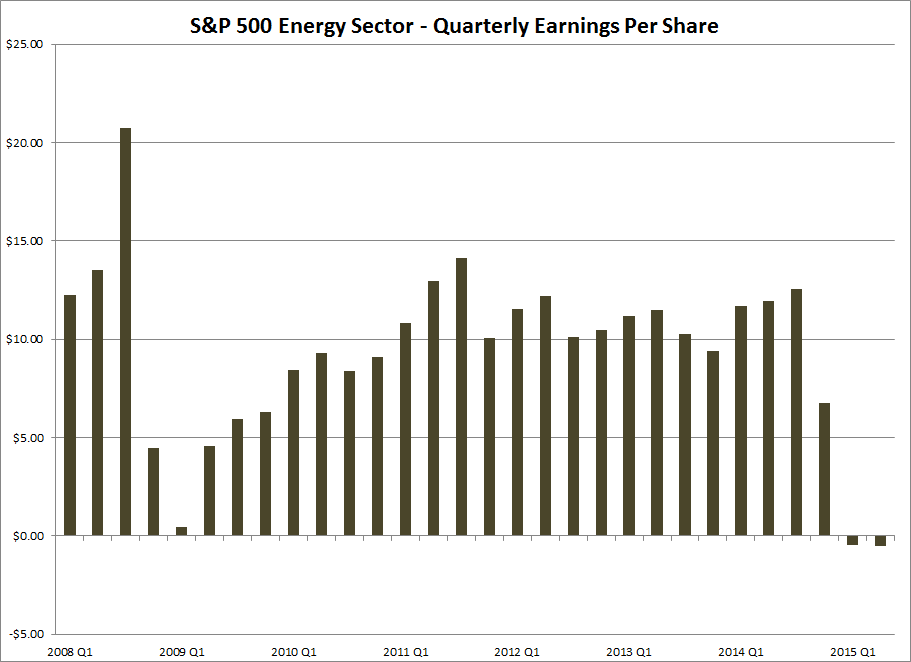 Another cause for concern is bellwether transport stock Fedex. Commencement of a primary down-trend normally warns that economic activity is contracting. Freight revenue for the fiscal fourth quarter increased by only 1%, while ground revenue increased by 19%. Slower earnings growth due to a lag in fuel surcharges and integration challenges with the acquisition of TNT may both be weighing on the stock.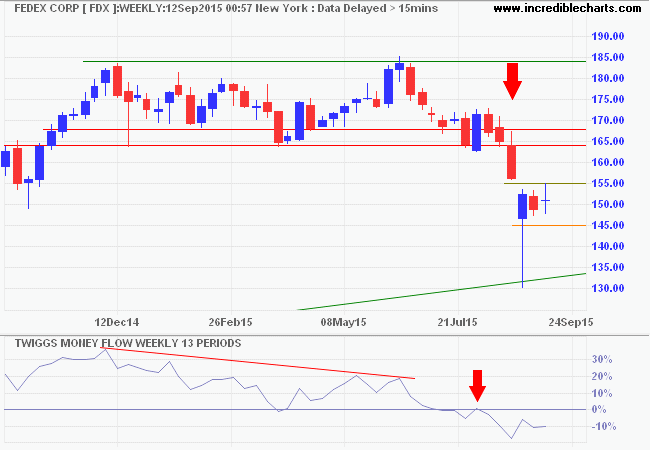 The Freight Transportation Services Index, however, has turned upwards.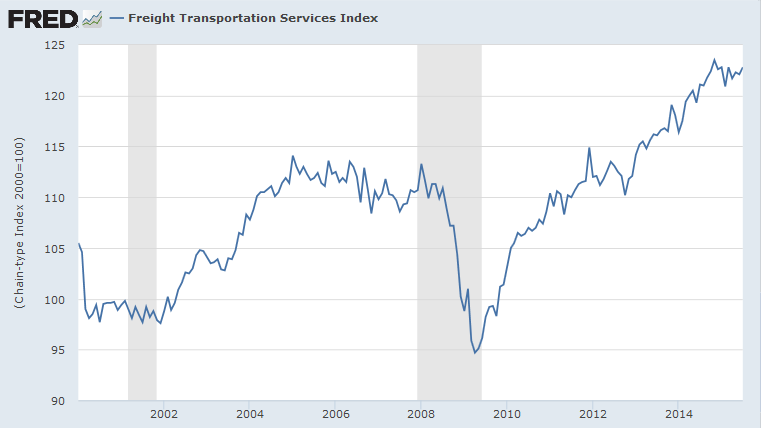 And the LoDI Index continues to climb.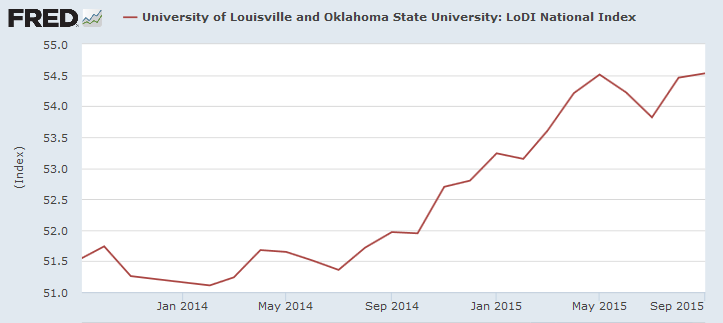 The LoDI Index uses linear regression analysis to combine cargo volume data from rail, barge, air, and truck transit, along with various economic factors. The resulting indicator is designed to predict upcoming changes in the level of logistics and distribution activity in the US and is represented by a value between 1 and 100. An index at or above 50 represents a healthy level of activity in the industry.
Spending on durables remains promising, with light motor vehicle sales rising.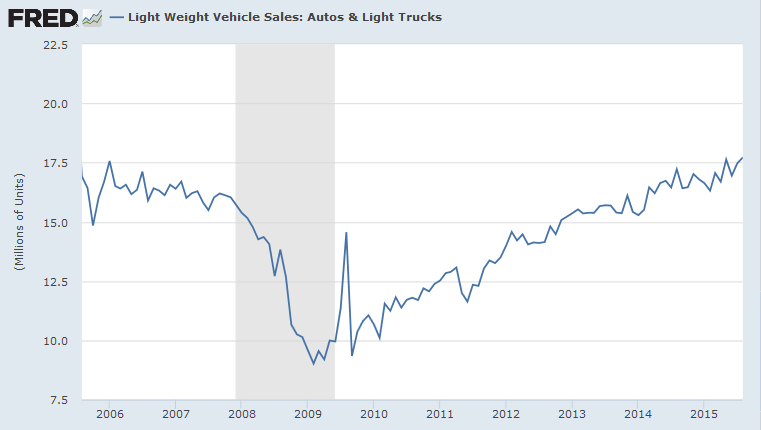 And construction spending (adjusted for core CPI) climbing steeply.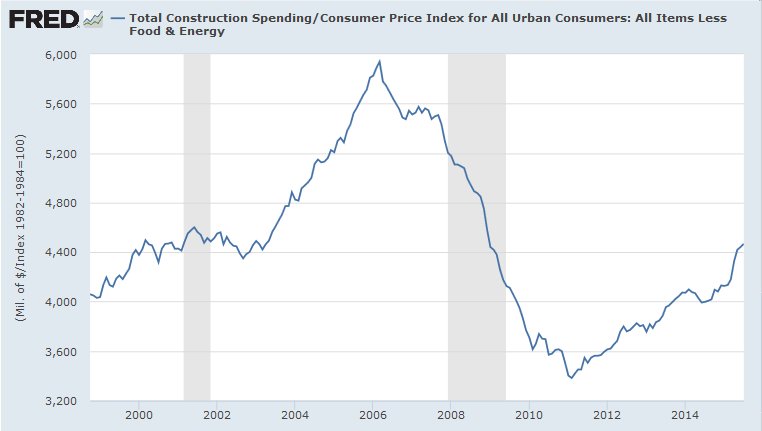 The ISM Manufacturing PMI Composite Index remains above 50, indicating expansion, but is softer than it has been for a while.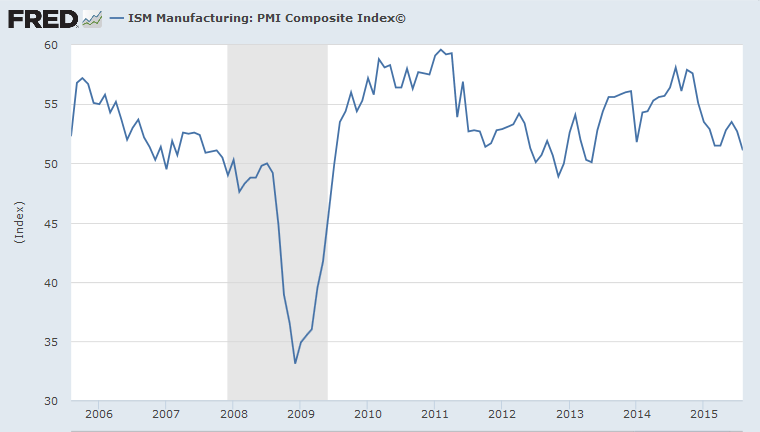 The Leading Index from the Philadelphia Fed, however, at a healthy 1.57%, continues to project a healthy economic outlook.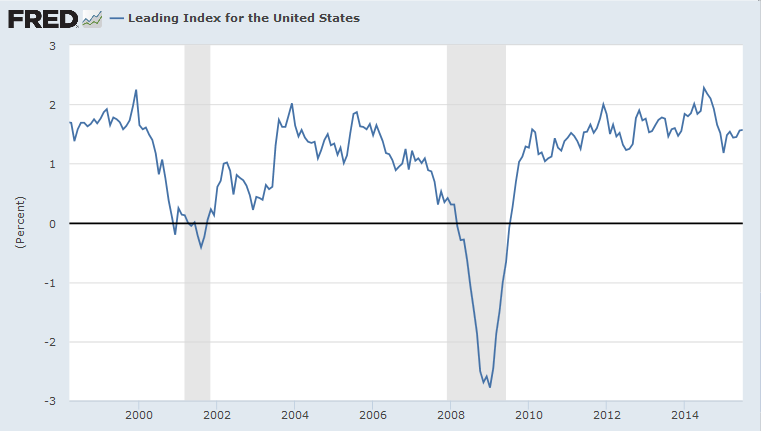 Despite the falling Fedex stock price and softer PMI, there does not appear to be much wrong with the US economy. The positives outweigh the negatives. Analysts' optimism about an fourth quarter upturn may be a little premature, but does not appear far off-track.
Economic theory is devoted to the study of equilibrium positions. The concept of equilibrium is very useful. It allows us to focus on the final outcome rather than the process that leads up to it. But the concept is also very deceptive. It has the aura of something empirical: since the adjustment process is supposed to lead to an equilibrium, an equilibrium position seems somehow implicit in our observations. That is not true. Equilibrium itself has rarely been observed in real life — market prices have a notorious habit of fluctuating.

~ George Soros: The Alchemy of Finance
Disclaimer
Research & Investment Pty Ltd is a Corporate Authorized Representative (AR Number 384 397) of Andika Pty Ltd which holds an Australian Financial Services Licence (AFSL 297069).
The information on this web site and in the newsletters is general in nature and does not consider your personal circumstances. Please contact your professional financial adviser for advice tailored to your needs.
Research & Investment Pty Ltd ("R&I") has made every effort to ensure the reliability of the views and recommendations expressed in the reports published on its websites and newsletters. Our research is based upon information known to us or which was obtained from sources which we believe to be reliable and accurate.
No guarantee as to the capital value of investments, nor future returns are made by R&I. Neither R&I nor its employees make any representation, warranty or guarantee that the information provided is complete, accurate, current or reliable.
You are under no obligation to use these services and should always compare financial services/products to find one which best meets your personal objectives, financial situation or needs.
To the extent permitted by law, R&I and its employees, agents and authorised representatives exclude all liability for any loss or damage (including indirect, special or consequential loss or damage) arising from the use of, or reliance on, any information. If the law prohibits the exclusion of such liability, such liability shall be limited, to the extent permitted by law, to the resupply of the said information or the cost of the said resupply.
Important Warning About Simulated Results
Research & Investment (R&I) specialise in developing, testing and researching investment strategies and systems. Within the R&I web site and newsletters, you will find information about investment strategies and their performance. It is important that you understand that results from R&I research are simulated and not actual results.
No representation is made that any investor will or is likely to achieve profits or losses similar to those shown.
Simulated performance results are generally prepared with the benefit of hindsight and do not involve financial risk. No modeling can completely account for the impact of financial risk in actual investment. Account size, brokerage and slippage may also diverge from simulated results. Numerous other factors related to the markets in general or to the implementation of any specific investment system cannot be fully accounted for in the preparation of simulated performance results and may adversely affect actual investment results.
To the extent permitted by law, R&I and its employees, agents and authorised representatives exclude all liability for any loss or damage (including indirect, special or consequential loss or damage) arising from the use of, or reliance on, any information offered by R&I whether or not caused by any negligent act or omission.