---
Global economy: No surprises
By Colin Twiggs
June 30th, 2015 4:30 p.m. AET (2:30 a.m. EDT)
Advice herein is provided for the general information of readers and does not have regard to any particular person's investment objectives, financial situation or needs. Accordingly, no reader should act on the basis of any information contained herein without first having consulted a suitably qualified financial advisor.
The global economy faces deflationary pressures as the vast credit expansion of the last 4 decades comes to an end.
Commodity prices test their 2009 lows. Breach of support at 100 on the Dow Jones UBS Commodity Index would warn of further price falls.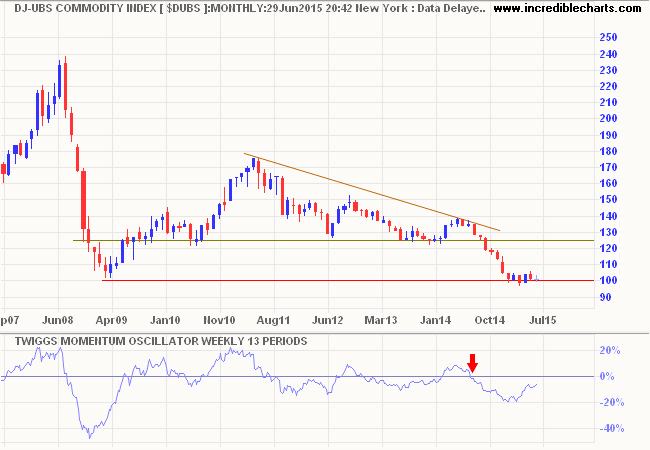 The dramatic fall in bulk commodity prices confirms the end of China's massive infrastructure boom.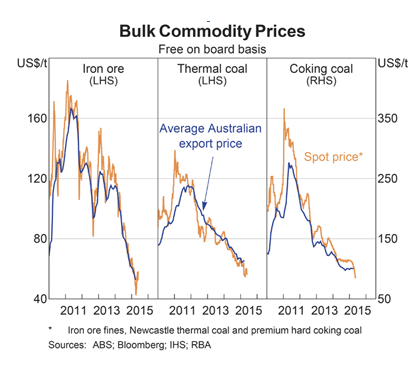 Crude oil, through a combination of increased production and slack demand has fallen to around $60/barrel.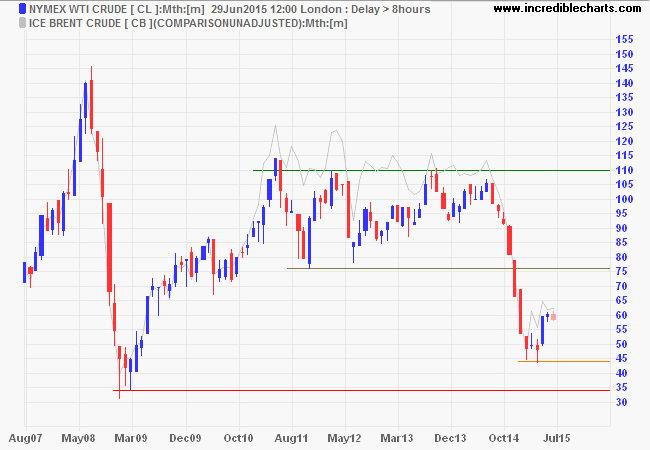 Falling prices have had a sharp impact on global Resources and Energy stocks....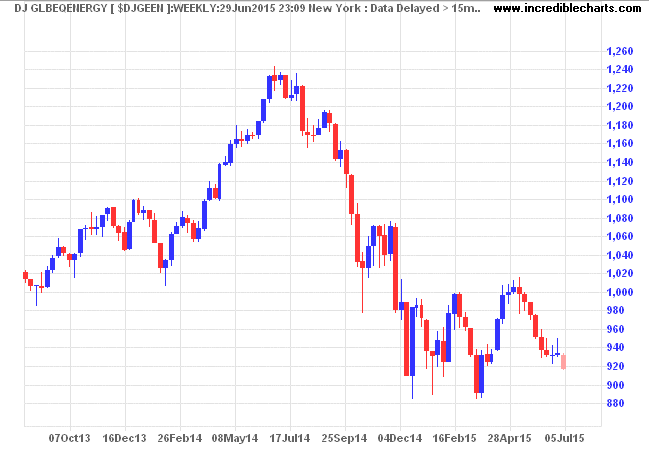 But in the longer term, will act as a stimulus to the global economy. Already we can see an up-turn in the Harpex index of container vessel shipping rates, signaling an increase in international trade in finished goods.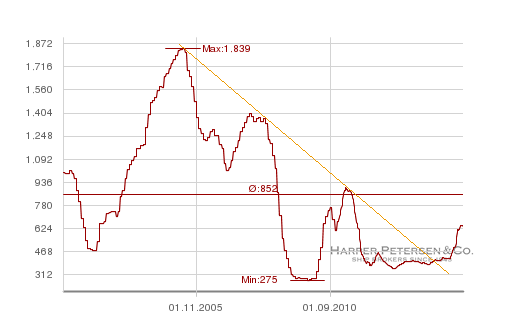 The latest OECD export statistics show who the likely beneficiaries will be. Primary producers like Brazil and Russia have suffered the most, while finished goods manufacturers like China and the European Union display growth in exports. The US experienced a drop in the first quarter of 2015, but should rebound provided the Dollar does not strengthen further.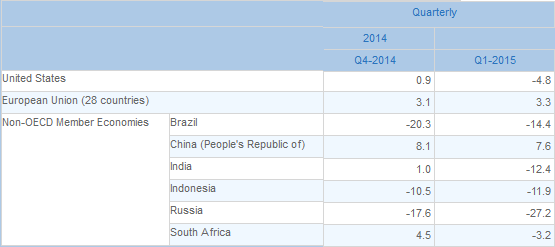 Australia and Japan offer a similar contrast.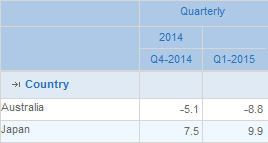 Oil-rich Norway (-5.8%,-13.3%) has also been hard hit. Primary producers are only likely to recover much later in the economic cycle.
The little sentiment of "live and let live" expresses a great truth. It has been thought wise to extend the payment of our debts over a long period of years, with a very low rate of interest, in order to relieve foreign peoples of the burden of economic pressure beyond their capacity to bear...... They have been liquidated on this broad moral and humanitarian basis. We believe that the adjustments which have been made will be mutually beneficial to the trade relations of the countries involved and that out of these economic benefits there will be derived additional guaranties to the stability and peace of the world.

~ Calvin Coolidge, 30th President of the United States: Ways to Peace (1926)
Disclaimer
Research & Investment Pty Ltd is a Corporate Authorized Representative (AR Number 384 397) of Andika Pty Ltd which holds an Australian Financial Services Licence (AFSL 297069).
The information on this web site and in the newsletters is general in nature and does not consider your personal circumstances. Please contact your professional financial adviser for advice tailored to your needs.
Research & Investment Pty Ltd ("R&I") has made every effort to ensure the reliability of the views and recommendations expressed in the reports published on its websites and newsletters. Our research is based upon information known to us or which was obtained from sources which we believe to be reliable and accurate.
No guarantee as to the capital value of investments, nor future returns are made by R&I. Neither R&I nor its employees make any representation, warranty or guarantee that the information provided is complete, accurate, current or reliable.
You are under no obligation to use these services and should always compare financial services/products to find one which best meets your personal objectives, financial situation or needs.
To the extent permitted by law, R&I and its employees, agents and authorised representatives exclude all liability for any loss or damage (including indirect, special or consequential loss or damage) arising from the use of, or reliance on, any information. If the law prohibits the exclusion of such liability, such liability shall be limited, to the extent permitted by law, to the resupply of the said information or the cost of the said resupply.
Important Warning About Simulated Results
Research & Investment (R&I) specialise in developing, testing and researching investment strategies and systems. Within the R&I web site and newsletters, you will find information about investment strategies and their performance. It is important that you understand that results from R&I research are simulated and not actual results.
No representation is made that any investor will or is likely to achieve profits or losses similar to those shown.
Simulated performance results are generally prepared with the benefit of hindsight and do not involve financial risk. No modeling can completely account for the impact of financial risk in actual investment. Account size, brokerage and slippage may also diverge from simulated results. Numerous other factors related to the markets in general or to the implementation of any specific investment system cannot be fully accounted for in the preparation of simulated performance results and may adversely affect actual investment results.
To the extent permitted by law, R&I and its employees, agents and authorised representatives exclude all liability for any loss or damage (including indirect, special or consequential loss or damage) arising from the use of, or reliance on, any information offered by R&I whether or not caused by any negligent act or omission.