---
Why Fixed Investment is Critical to the US Recovery
By Colin Twiggs
June 15th, 2015 5:30 p.m. AET (2:30 a.m. EDT)
Advice herein is provided for the general information of readers and does not have regard to any particular person's investment objectives, financial situation or needs. Accordingly, no reader should act on the basis of any information contained herein without first having consulted a suitably qualified financial advisor.
The financial sector normally acts as a conduit, channeling savings from private investors to the corporate sector. When the conduit works effectively, the injection of demand from corporate Investment is sufficient to offset the 'leakage' from demand caused by Savings. Savings patterns alter during a financial crisis, however, with concerned households cutting back on expenditure and using any surplus to pay down debt, rather than depositing with the bank or buying stocks. Household Savings rise but corporate Investment contracts. The resulting 'leakage' from demand causes GDP to spiral downward.
When Investment contracts, unemployment rises. The relationship is evident on the graph below, but it could also be said that Investment rises when employment grows — businesses invest in anticipation of rising demand. Either way, it is safe to conclude that rising investment and job growth go hand-in-hand.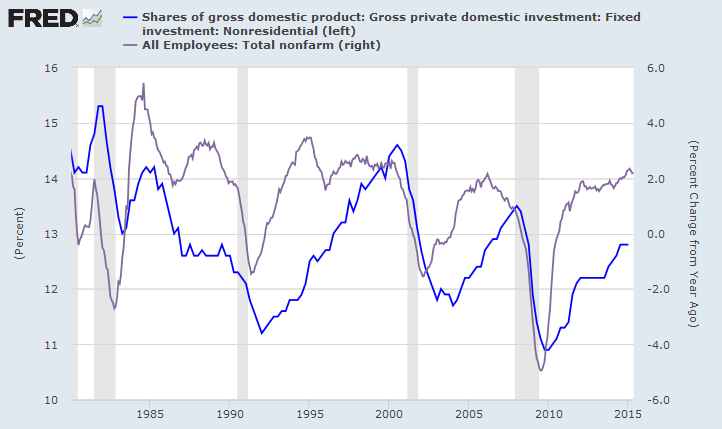 Fixed Investment and Corporate Profits
Rising corporate profits also lead to increased investment. The lag on the graph below — investment growth follows profit growth — clearly illustrates the causative relationship.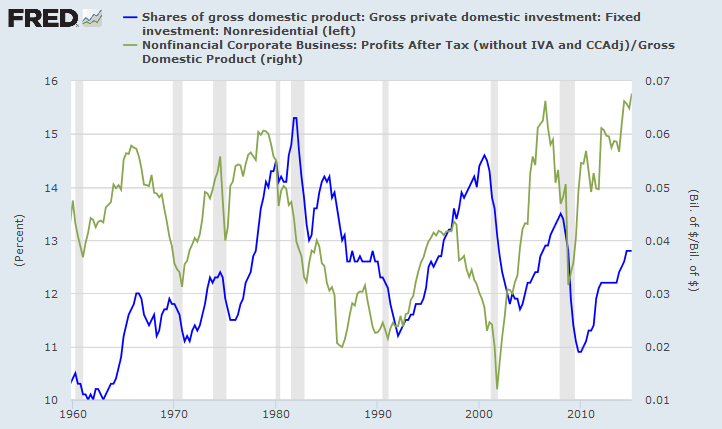 This is an encouraging sign, as the current surge in corporate profits is likely to be followed by rising investment — and further job growth.
Weekly Earnings and GDP
Rising weekly earnings already point to improving aggregate demand and consequent investment growth.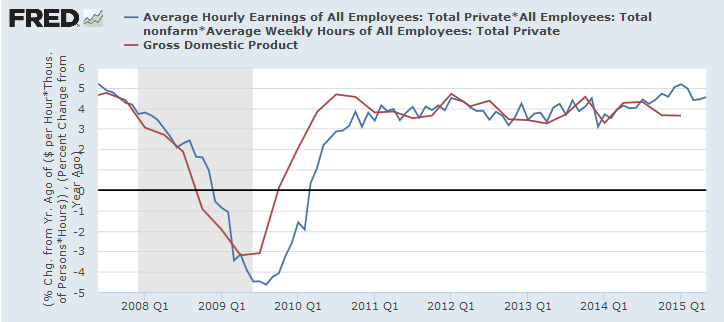 All that is missing is for the federal government to increase investment in productive* infrastructure to further boost job growth.
*Infrastructure investment needs to generate a sufficient return to repay debt incurred to fund the spending. Something many politicians seem to forget when preoccupied with buying votes for the next election.
More....
There are two kinds of discontented in this world, the discontented that works and the discontented that wrings its hands. The first gets what it wants and the second loses what it has. There is no cure for the first but success and there is no cure at all for the second.

~ Og Mandino
Disclaimer
Research & Investment Pty Ltd is a Corporate Authorized Representative (AR Number 384 397) of Andika Pty Ltd which holds an Australian Financial Services Licence (AFSL 297069).
The information on this web site and in the newsletters is general in nature and does not consider your personal circumstances. Please contact your professional financial adviser for advice tailored to your needs.
Research & Investment Pty Ltd ("R&I") has made every effort to ensure the reliability of the views and recommendations expressed in the reports published on its websites and newsletters. Our research is based upon information known to us or which was obtained from sources which we believe to be reliable and accurate.
No guarantee as to the capital value of investments, nor future returns are made by R&I. Neither R&I nor its employees make any representation, warranty or guarantee that the information provided is complete, accurate, current or reliable.
You are under no obligation to use these services and should always compare financial services/products to find one which best meets your personal objectives, financial situation or needs.
To the extent permitted by law, R&I and its employees, agents and authorised representatives exclude all liability for any loss or damage (including indirect, special or consequential loss or damage) arising from the use of, or reliance on, any information. If the law prohibits the exclusion of such liability, such liability shall be limited, to the extent permitted by law, to the resupply of the said information or the cost of the said resupply.
Important Warning About Simulated Results
Research & Investment (R&I) specialise in developing, testing and researching investment strategies and systems. Within the R&I web site and newsletters, you will find information about investment strategies and their performance. It is important that you understand that results from R&I research are simulated and not actual results.
No representation is made that any investor will or is likely to achieve profits or losses similar to those shown.
Simulated performance results are generally prepared with the benefit of hindsight and do not involve financial risk. No modeling can completely account for the impact of financial risk in actual investment. Account size, brokerage and slippage may also diverge from simulated results. Numerous other factors related to the markets in general or to the implementation of any specific investment system cannot be fully accounted for in the preparation of simulated performance results and may adversely affect actual investment results.
To the extent permitted by law, R&I and its employees, agents and authorised representatives exclude all liability for any loss or damage (including indirect, special or consequential loss or damage) arising from the use of, or reliance on, any information offered by R&I whether or not caused by any negligent act or omission.