---
Europe: Out of the ashes
By Colin Twiggs
January 21st, 2015 1:00 a.m. ET (6:00 p.m. AEDT)
These extracts from my trading diary are for educational purposes. Any advice contained therein is provided for the general information of readers and does not have regard to any particular person's investment objectives, financial situation or needs and must not be construed as advice to buy, sell, hold or otherwise deal with any securities or other investments. Accordingly, no reader should act on the basis of any information contained therein without first having consulted a suitably qualified financial advisor. Full terms and conditions can be found at Terms of Use.
Deutsche Post AG (y_DPW.DE) serves as a bellwether for European markets, with subsidiary DHL couriers occupying a similar position to that of Fedex in US markets. DPW is testing resistance at €28.00 after a strong correction. 13-Week Twiggs Momentum recovered above zero and breakout above €28.00 would indicate another primary advance — a bullish sign for economic activity in the Eurozone.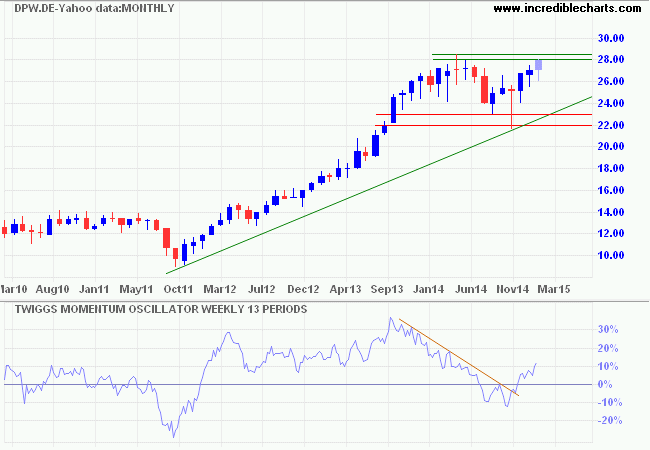 * Target calculation: 28 + ( 28 - 22 ) = 34
Like a phoenix rising from the ashes, the DAX broke through resistance at 10000, signaling a fresh primary advance. A trough above zero on 13-Week Twiggs Momentum indicates continuation of the up-trend. The market is taking a positive view of expected quantitative easing (QE) by the European Central Bank (ECB).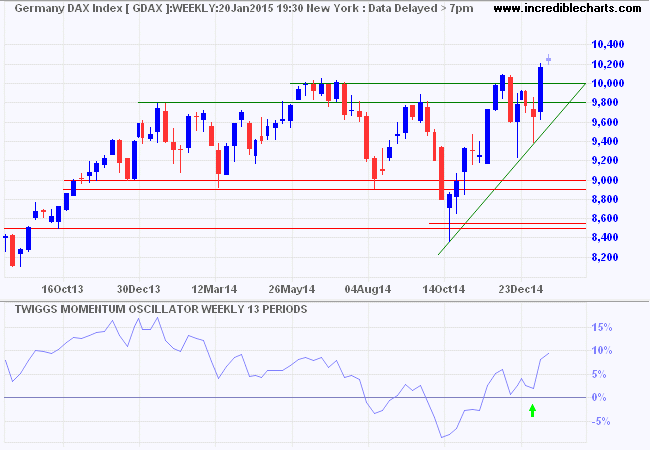 * Target calculation: 10000 + ( 10000 - 9000 ) = 11000
France's CAC-40 shows early signs of recovery, having broken through its descending trendline of recent months. Rising 13-week Twiggs Momentum suggests resumption of the primary up-trend. Recovery above 4500 would strengthen the signal, while breakout above 4600 would confirm.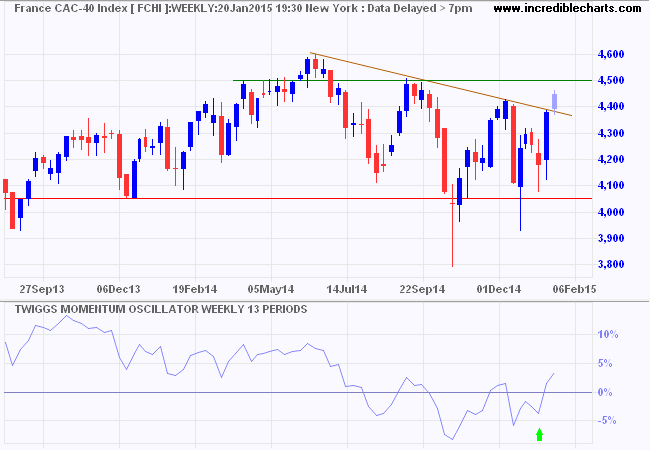 Italy's MIB Index remains weak, with 13-week Twiggs Momentum oscillating below zero. Respect of resistance is more likely, but breakout above 20000 would suggest a recovery.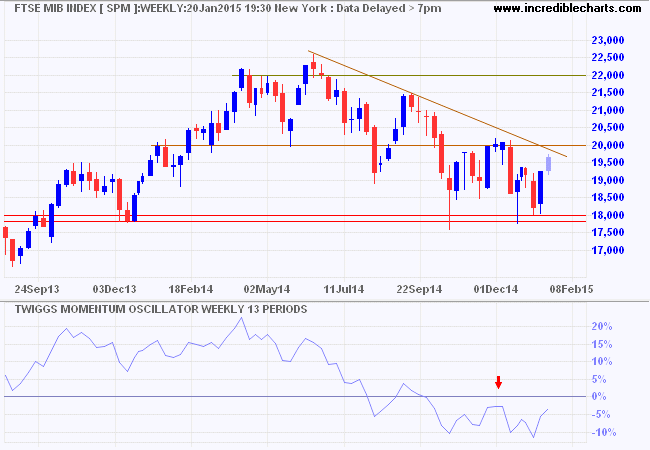 Spain's Madrid General Index also remains in the Doldrums, with declining 13-week Twiggs Momentum below zero. Only recovery above 1100 would provide cause for optimism.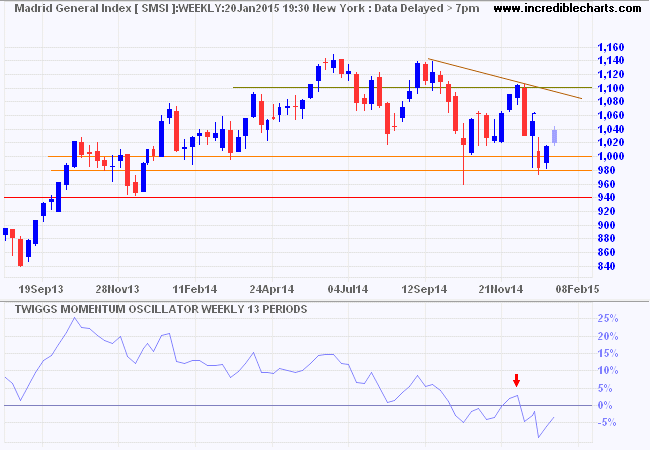 Decline of inflation below zero for the Eurozone has forced the hand of the ECB. Announcement of significant QE is imminent. Expansion of the money supply should help to indirectly support stock prices. Unfortunately the Swiss National Bank, which held vast reserves of Euros because of its informal peg at 1.20 EUR/CHF, faced a difficult choice. Either go "all-in" to support the peg, and place their entire credit standing in question, or cut their losses (rumored to be around $70 billion) and walk away with their reputation a little worse for wear, but intact. Faced with the choice they had, in my opinion they took the correct option.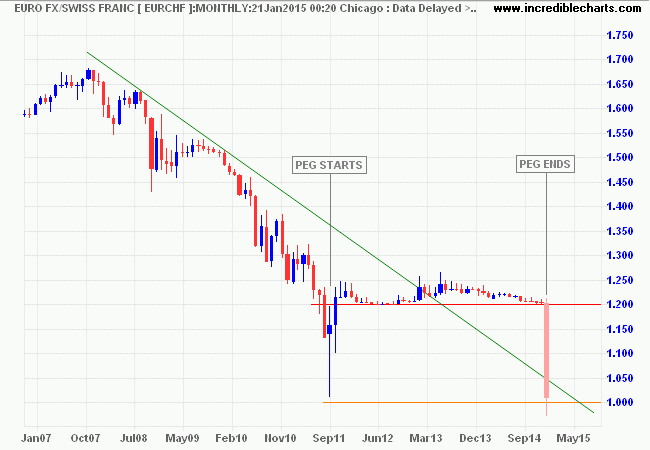 On the other side of the Channel, the Footsie is testing resistance at 6650. Recovery above the descending trendline would suggest the down-trend is over, especially if accompanied by recovery of 13-week Twiggs Momentum above zero. Strong resistance at 6900/7000 remains a major obstacle to a further advance.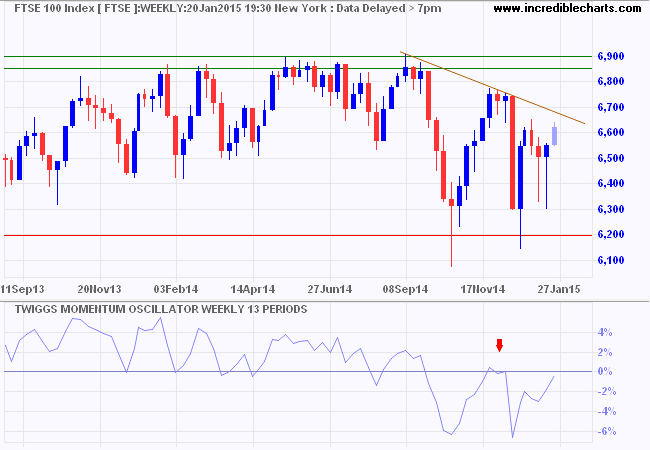 One final paragraph of advice: do not burn yourselves out. Be as I am — a reluctant enthusiast... a part-time crusader, a half-hearted fanatic. Save the other half of yourselves and your lives for pleasure and adventure. It is not enough to fight for the land; it is even more important to enjoy it. While you can. While it's still here. So get out there and hunt and fish and mess around with your friends, ramble out yonder and explore the forests, climb the mountains, bag the peaks, run the rivers, breathe deep of that yet sweet and lucid air, sit quietly for a while and contemplate the precious stillness, the lovely, mysterious, and awesome space. Enjoy yourselves, keep your brain in your head and your head firmly attached to the body, the body active and alive, and I promise you this much; I promise you this one sweet victory over our enemies, over those desk-bound men and women with their hearts in a safe deposit box, and their eyes hypnotized by desk calculators. I promise you this: You will outlive the bastards.

~ Edward Abbey