---
A Quick Update & Seasons Greetings
By Colin Twiggs
December 23rd, 2014 9:00 p.m. AEDT (5:00 a.m. ET)
Advice herein is provided for the general information of readers and does not have regard to any particular person's investment objectives, financial situation or needs. Accordingly, no reader should act on the basis of any information contained herein without first having consulted a suitably qualified financial advisor.
Apologies for my absence. My computer was damaged in a thunderstorm and it has taken weeks to reinstate all my programs on a replacement. Backups proved useless and I would endorse Frank Aquino's recommendation of using Macrium Reflect to take mirror images of your hard disk instead.
This will be my last update until the new year.
Quick Update
Threat of a Russian collapse roiled markets in early December, but the immediate crisis now seems to have passed.
Recovery of the S&P 500 above resistance at 2080 would indicate another advance , with a target of 2150*. Rising 13-week Twiggs Money Flow troughs indicate long-term buying pressure. Reversal below 2000 is most unlikely.
* Target calculation: 2000 + ( 2000 - 1850 ) = 2150
A 10-year view of CBOE Volatility Index (VIX) suggests low to moderate risk typical of a bull market.
My favorite bellwether, transport stock Fedex, also underwent a correction. The long tail suggests buying pressure and breakout above the recent high would confirm a strong bull trend, indicating rising economic activity.
Dow Jones Euro Stoxx 50 found support at 3000 and is likely to test 3300. Rising 13-week Twiggs Money Flow indicates buying pressure, but the index is likely to continue ranging between these two levels until tensions between Russia and Eastern Europe are resolved.
China's Shanghai Composite Index is in a strong bull trend, having broken resistance at 2500, and is likely to test the 2009 high at 3500. Rising 13-week Twiggs Money Flow indicates strong (medium-term) buying pressure.
I continue to question China's ability to sustain this performance, given their poor economic foundation.
RT @TomOrlik Puns are now banned in China so I'll just say that November electricity, cement, & steel output was weak pic.twitter.com/4FY3Uc6s1R

— Patrick Chovanec (@prchovanec) December 12, 2014
Japan's Nikkei 225 Index breakout above its 2007 high of 18000 would signal an advance to 19000*. Rising 13-Week Twiggs Money Flow indicates strong buying pressure. Index gains are largely attributable to rising inflation and a weaker yen.
* Target calculation: 18000 + ( 18000 - 17000 ) = 19000
India's Sensex found support at 27000. Recovery above 28000 would suggest another advance. Breakout above 29000 would confirm a target of 31000*.
* Target calculation: 29000 + ( 29000 - 27000 ) = 31000
ASX 200 performance remains weak. Breach of the recent descending trendline suggests that the correction is over, but only breakout above 5550 would complete a double-bottom formation, suggesting a fresh advance. Rising troughs on 13-week Twiggs Money Flow indicate medium-term buying pressure. Reversal of TMF below zero, or breach of support at 5000/5150, is now less likely, but would warn of a down-trend.
* Target calculation: 5500 + ( 5500 - 5000 ) = 6000
Stille Nacht / Silent Night
Tomorrow is the 100th anniversary of a momentous event that took place on Christmas Eve, during the First World War. By December of 1914 the war had already drawn to a stalemate with huge loss of life on both sides and appalling conditions in the trenches. Many of the dead could not be retrieved and were abandoned in No-Man's land. The war that was supposed to be over by Christmas stretched interminably ahead.
Despite the conditions, German troops decorated the parapets of their trenches with small conifers, resembling Christmas trees. Temperatures fell below zero. On Christmas Eve soldiers of the XIX Corps of the German Army, from Saxony, lit candles and sang carols.
The Germans lit candles and in beautiful harmony sang "Silent night...Holy night." So moved by their cheer, the British soldiers responded with carols of their own. This goodwill inspired many soldiers on both sides to toss gifts of food over into their enemy trenches. The German side applauded the British singing then the Brits cheered and applauded the Germans. One miracle act of goodness led to another, then another.....
On some parts of the front, informal truces were negotiated by officers despite warnings from British High Command that the enemy may be planning an attack.
Captain R J Armes of the 1st North Staffordshire Regiment arranged, with a German officer, for a cease fire in his sector that was to last until midnight on Christmas Day. Some of the more adventurous on both sides left their trenches and exchanged small gifts, swapping chocolate for sauerkraut and sausages.
"What a sight; little groups of Germans and British extending along the length of our front. Out of the darkness we could hear the laughter and see lighted matches. Where they couldn't talk the language, they made themselves understood by signs, and everyone seemed to be getting on nicely. Here we were laughing and chatting to men whom only a few hours before we were trying to kill " ~ Corporal John Ferguson of the Seaforth Highlanders.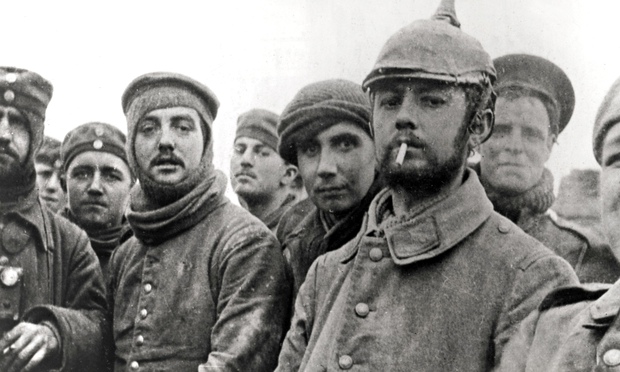 Christmas Day started with unarmed German and British soldiers collecting their dead from No-Man's Land.
Fraternisation continued throughout the day and regimental records of the 133rd Saxon Regiment report a football match which they won 3-2.
Roughly 100,000 British and German troops were involved in the unofficial cessations of hostilities. Similar exchanges of gifts were reported between German and French troops and an unofficial ceasefire was also recorded between Austrian and Russian troops on the Eastern front.
Similar overtures in later years were less successful after Allied Command forbade fraternisation with the enemy and ordered artillery barrages throughout the day to discourage communication. Attempts to negotiate local truces to collect the dead between the lines were severely punished.
Company commander, Sir Iain Colquhoun of the Scots Guards, was court-martialled for defying standing orders to the contrary. While found guilty and reprimanded, the punishment was later annulled by General Haig and Colquhoun remained in his position.
The Christmas truce of 1914 was a triumph of the human spirit over adversity and is a symbol of man's humanity towards his fellow man. When we recognize that the enemy is not some faceless devil, as some leaders would have us believe, but much like us — with mothers, fathers, brothers, sisters, husbands, wives, sons and daughters — we will find it easier to resolve our differences without waging war.
Scène du film "Joyeux Noël" (Version Française)
Wishing you peace and goodwill over the Christmas season and prosperity in the year ahead.
The most dangerous man to any government is the man who is able to think things out for himself, without regard to the prevailing superstitions and taboos.

~ H. L. Mencken
Disclaimer
Research & Investment Pty Ltd is a Corporate Authorized Representative (AR Number 384 397) of Andika Pty Ltd which holds an Australian Financial Services Licence (AFSL 297069).
The information on this web site and in the newsletters is general in nature and does not consider your personal circumstances. Please contact your professional financial adviser for advice tailored to your needs.
Research & Investment Pty Ltd ("R&I") has made every effort to ensure the reliability of the views and recommendations expressed in the reports published on its websites and newsletters. Our research is based upon information known to us or which was obtained from sources which we believe to be reliable and accurate.
No guarantee as to the capital value of investments, nor future returns are made by R&I. Neither R&I nor its employees make any representation, warranty or guarantee that the information provided is complete, accurate, current or reliable.
You are under no obligation to use these services and should always compare financial services/products to find one which best meets your personal objectives, financial situation or needs.
To the extent permitted by law, R&I and its employees, agents and authorised representatives exclude all liability for any loss or damage (including indirect, special or consequential loss or damage) arising from the use of, or reliance on, any information. If the law prohibits the exclusion of such liability, such liability shall be limited, to the extent permitted by law, to the resupply of the said information or the cost of the said resupply.
Important Warning About Simulated Results
Research & Investment (R&I) specialise in developing, testing and researching investment strategies and systems. Within the R&I web site and newsletters, you will find information about investment strategies and their performance. It is important that you understand that results from R&I research are simulated and not actual results.
No representation is made that any investor will or is likely to achieve profits or losses similar to those shown.
Simulated performance results are generally prepared with the benefit of hindsight and do not involve financial risk. No modeling can completely account for the impact of financial risk in actual investment. Account size, brokerage and slippage may also diverge from simulated results. Numerous other factors related to the markets in general or to the implementation of any specific investment system cannot be fully accounted for in the preparation of simulated performance results and may adversely affect actual investment results.
To the extent permitted by law, R&I and its employees, agents and authorised representatives exclude all liability for any loss or damage (including indirect, special or consequential loss or damage) arising from the use of, or reliance on, any information offered by R&I whether or not caused by any negligent act or omission.