---
Will falling commodity prices cause deflation?
By Colin Twiggs
December 3rd, 2014 1:00 a.m. ET (5:00 p:m AEDT)
Advice herein is provided for the general information of readers and does not have regard to any particular person's investment objectives, financial situation or needs. Accordingly, no reader should act on the basis of any information contained herein without first having consulted a suitably qualified financial advisor.
Some readers expressed concern about falling commodity prices, especially crude oil, and whether this will cause global deflation. This confuses the cause with the symptom.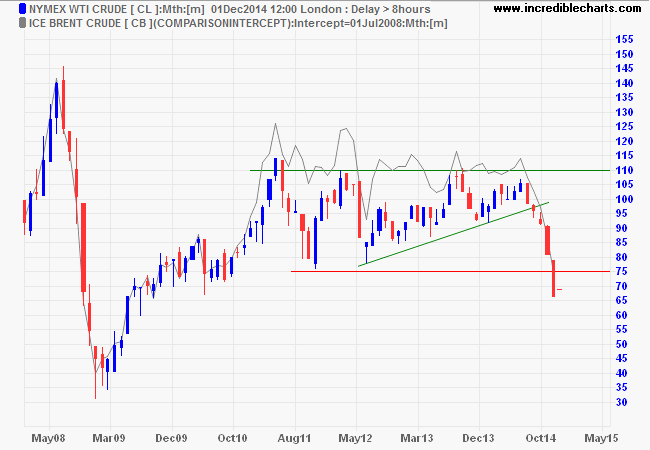 Falling prices are largely benign except where caused by a contraction of the money supply. Commodity prices may fall when there is an excess of supply over demand, but this is soon absorbed by changes in consumer behavior. Discretionary spending will rise in response to the savings, so that aggregate demand is unaffected.
A contraction in the money supply, however, is far more serious. Slow growth in the monetary base (below growth of real GDP) results in less money chasing the same goods, driving down prices. Supply and demand in this case are unchanged, but prices fall because of a contraction in the money supply. Wages, however, are sticky and do not fall in line with prices, leading to falling profits, cuts in production and job layoffs. Falling income from lower profits and fewer jobs leads to a contraction in aggregate demand, causing further cuts to production and income.
Contraction of the money supply also places pressure on banks to reduce lending. This danger was highlighted by Irving Fisher in the 1930s. Contracting credit reduces not only new investment but forces existing borrowers to liquidate some of their assets, mainly stocks and property. The surge of selling, and limited availability of credit, drives down asset prices. A feedback loop results, with falling asset prices prompting banks to further contract lending — in turn causing more price falls. That is the central bankers' equivalent of a perfect storm. The graph below shows how close we came in 2009 to a deflationary spiral.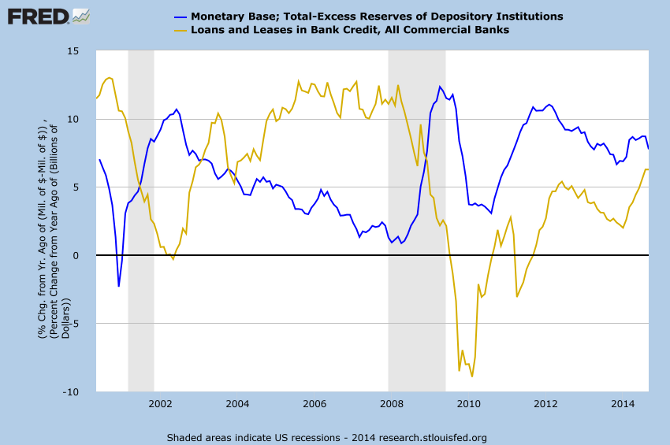 Slow growth in the monetary base caused a sharp contraction in bank lending (below zero) in 2009. Only prompt action by the Fed averted a 1930's-style collapse of the financial system.
The Fed indicated in October that it will curtail QE and no longer expand its balance sheet to support money supply growth. Should we expect another contraction of the money supply as in 2008?
The answer is: NO. When we look at the graph of the Fed balance sheet below, we can see that total asset growth [red] is slowing. But bank deposits at the Fed — excess reserves that earn interest at 0.25% p.a. — are slowing at an even faster rate. That means that the actual amount of money flowing into the banking system is not contracting, but increasing.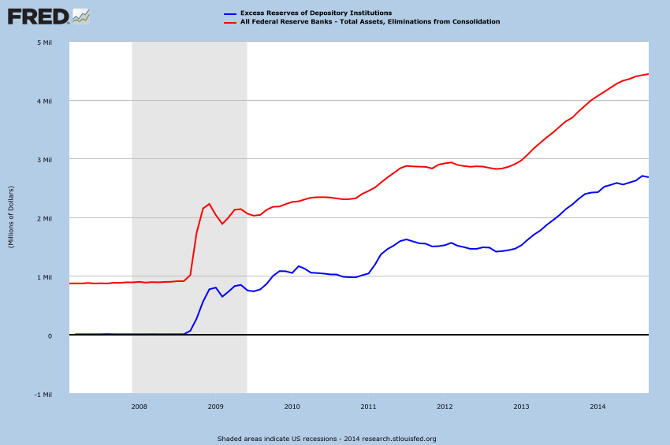 The following graph shows a net growth rate (of Total Assets minus Excess Reserves on Deposit) of more than 20 percent. Expect growth to slow over time, but the Fed can adjust the interest rate payable on excess reserves to ensure that it remains positive.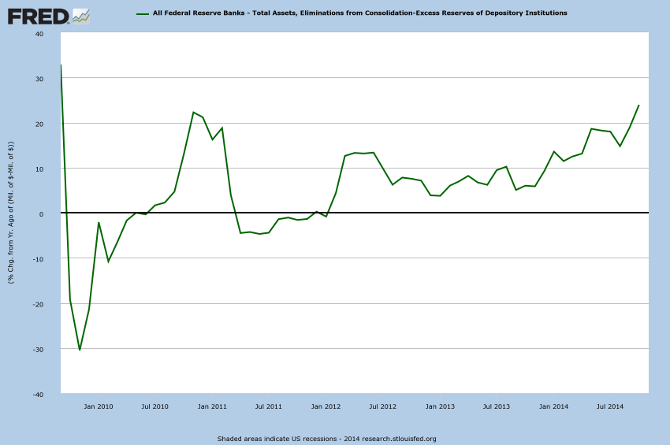 Deflation is a far bigger problem for the Euro. After a "whatever it takes" surge in 2012, the ECB attempted to contract its balance sheet far too soon — withdrawing treatment before the patient had fully recovered. They also do not have excess reserves on deposit, like the Fed, which could soften the impact.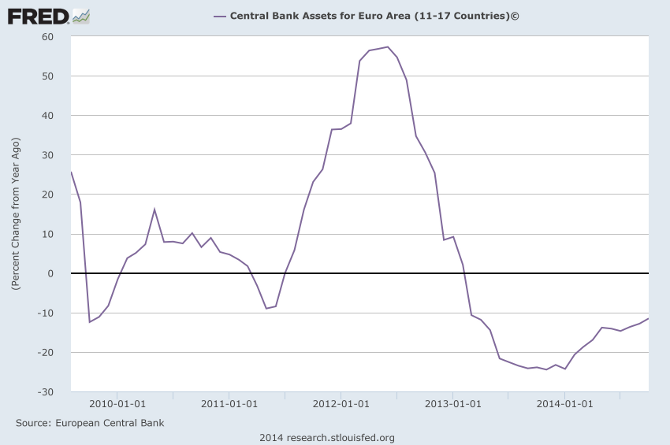 The result has been faltering economic growth and price levels falling dangerously close to deflation.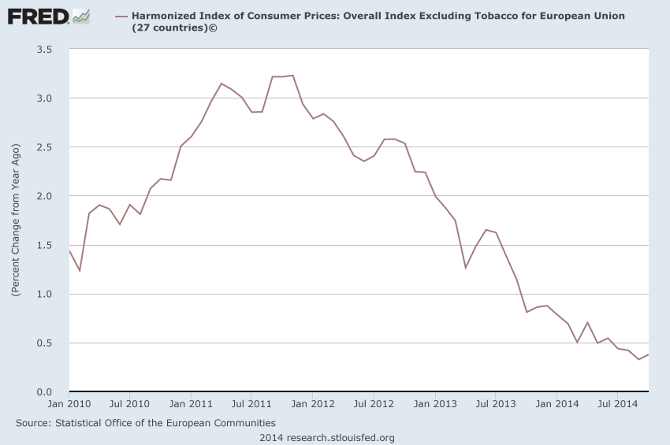 The ECB appears to have recognized its error, indicating that it will expand its balance sheet if necessary to avert a monetary contraction. If they learn from their past mistakes, the ECB should be able to avoid any threat of deflation.
More....
The secret of success is constancy to purpose.

~ Benjamin Disraeli
Disclaimer
Research & Investment Pty Ltd is a Corporate Authorized Representative (AR Number 384 397) of Andika Pty Ltd which holds an Australian Financial Services Licence (AFSL 297069).
The information on this web site and in the newsletters is general in nature and does not consider your personal circumstances. Please contact your professional financial adviser for advice tailored to your needs.
Research & Investment Pty Ltd ("R&I") has made every effort to ensure the reliability of the views and recommendations expressed in the reports published on its websites and newsletters. Our research is based upon information known to us or which was obtained from sources which we believe to be reliable and accurate.
No guarantee as to the capital value of investments, nor future returns are made by R&I. Neither R&I nor its employees make any representation, warranty or guarantee that the information provided is complete, accurate, current or reliable.
You are under no obligation to use these services and should always compare financial services/products to find one which best meets your personal objectives, financial situation or needs.
To the extent permitted by law, R&I and its employees, agents and authorised representatives exclude all liability for any loss or damage (including indirect, special or consequential loss or damage) arising from the use of, or reliance on, any information. If the law prohibits the exclusion of such liability, such liability shall be limited, to the extent permitted by law, to the resupply of the said information or the cost of the said resupply.
Important Warning About Simulated Results
Research & Investment (R&I) specialise in developing, testing and researching investment strategies and systems. Within the R&I web site and newsletters, you will find information about investment strategies and their performance. It is important that you understand that results from R&I research are simulated and not actual results.
No representation is made that any investor will or is likely to achieve profits or losses similar to those shown.
Simulated performance results are generally prepared with the benefit of hindsight and do not involve financial risk. No modeling can completely account for the impact of financial risk in actual investment. Account size, brokerage and slippage may also diverge from simulated results. Numerous other factors related to the markets in general or to the implementation of any specific investment system cannot be fully accounted for in the preparation of simulated performance results and may adversely affect actual investment results.
To the extent permitted by law, R&I and its employees, agents and authorised representatives exclude all liability for any loss or damage (including indirect, special or consequential loss or damage) arising from the use of, or reliance on, any information offered by R&I whether or not caused by any negligent act or omission.