---
Rising interest rates: Good or bad for stocks?
By Colin Twiggs
September 30th, 2014 3:00 am EDT (5:00 pm AEST)
Advice herein is provided for the general information of readers and does not have regard to any particular person's investment objectives, financial situation or needs. Accordingly, no reader should act on the basis of any information contained herein without first having consulted a suitably qualified financial advisor.
We are now at the September quarter-end, normally a volatile time for stocks. Expect selling pressure to increase over the next few weeks as investment managers sell off poor-performing stocks. Increased cash balances then enable them to take advantage of new opportunities as they present themselves. If the fundamental under-pinning of the market is sound, the market is likely to undergo a minor dip before resuming its advance. If not, and there are serious flaws, the sell-off could turn into a rout — as in 1987 and 2007.
At present the market appears sound, with none of our market indicators flagging elevated risk, and the bull market is likely to continue.
Bears cite the potential for an increase in US interest rates as a major threat to the US economy. The track record for the last 15 years suggests otherwise. The graph below compares percentage change in 10-year Treasury yields to the Wilshire 5000 Total Market Index (divided by 20 for purposes of comparison). The two tend to rise and fall in sync, with a 20% to 40% rise in the index accompanying a 1% increase in yields.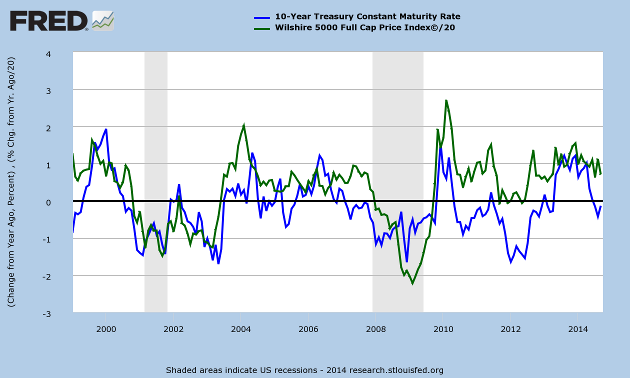 The Fed tends to be conservative about raising interest rates ("doves" outnumber "hawks") and is unlikely to raise rates until there is solid evidence of a recovery. So a rise in interest rates is more likely to be followed by a surge in stocks than a fall.
US stocks
The S&P 500 found significant support at 1965, the lower border of the broadening wedge. Monday's long tail flags (short-term) buying pressure. Follow-through above 1990 would suggest a rally to test the upper border. Breach of 1965, however would indicate another correction. Decline of 21-day Twiggs Money Flow below zero would confirm, while recovery above its September high would suggest that buyers are back in control.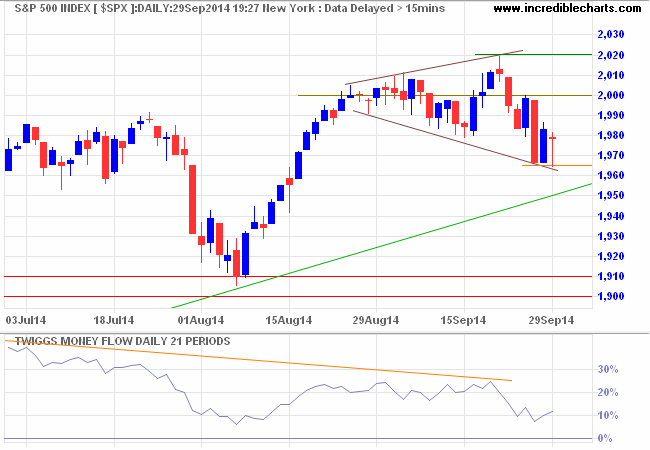 * Target calculation: 2000 + ( 2000 - 1900 ) = 2100
CBOE Volatility Index (VIX) is rising, but the low level continues to suggest a bull market.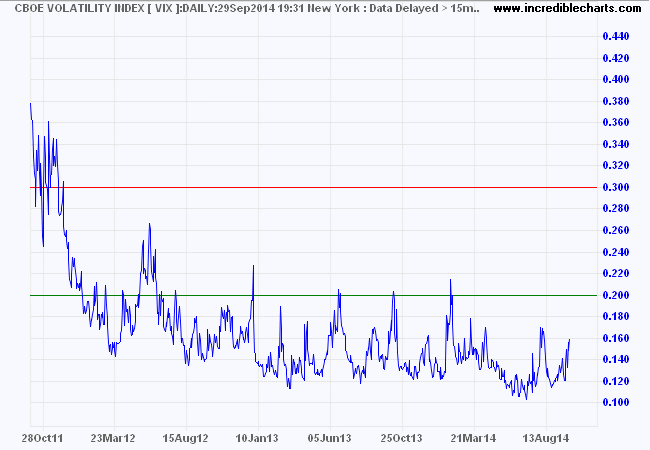 Dow Jones Industrial Average found support at 16950 on the weekly chart. Long tails again flag buying pressure. Recovery above 17150 would suggest another advance, while follow-through above 17350 would confirm. Breach of support at 16950 is unlikely, but would warn of a correction. 13-Week Twiggs Money Flow reflects some hesitancy, but the long-term picture is bullish.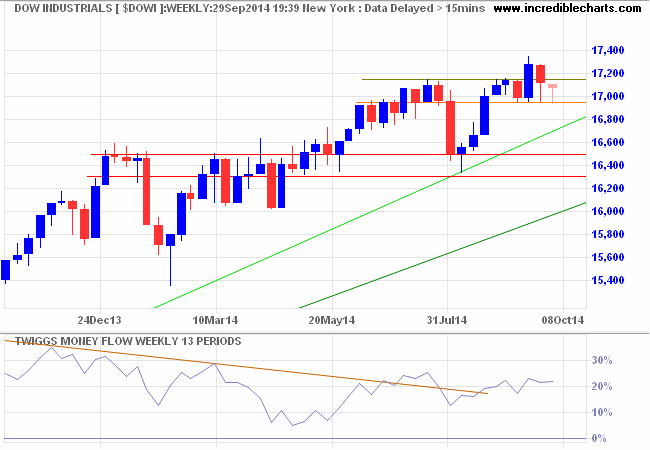 * Target calculation: 16500 + ( 16500 - 15500 ) = 17500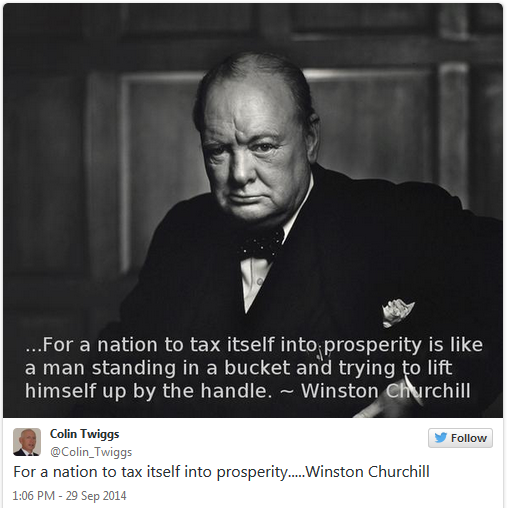 Disclaimer
Research & Investment Pty Ltd is a Corporate Authorized Representative (AR Number 384 397) of Andika Pty Ltd which holds an Australian Financial Services Licence (AFSL 297069).
The information on this web site and in the newsletters is general in nature and does not consider your personal circumstances. Please contact your professional financial adviser for advice tailored to your needs.
Research & Investment Pty Ltd ("R&I") has made every effort to ensure the reliability of the views and recommendations expressed in the reports published on its websites and newsletters. Our research is based upon information known to us or which was obtained from sources which we believe to be reliable and accurate.
No guarantee as to the capital value of investments, nor future returns are made by R&I. Neither R&I nor its employees make any representation, warranty or guarantee that the information provided is complete, accurate, current or reliable.
You are under no obligation to use these services and should always compare financial services/products to find one which best meets your personal objectives, financial situation or needs.
To the extent permitted by law, R&I and its employees, agents and authorised representatives exclude all liability for any loss or damage (including indirect, special or consequential loss or damage) arising from the use of, or reliance on, any information. If the law prohibits the exclusion of such liability, such liability shall be limited, to the extent permitted by law, to the resupply of the said information or the cost of the said resupply.
Important Warning About Simulated Results
Research & Investment (R&I) specialise in developing, testing and researching investment strategies and systems. Within the R&I web site and newsletters, you will find information about investment strategies and their performance. It is important that you understand that results from R&I research are simulated and not actual results.
No representation is made that any investor will or is likely to achieve profits or losses similar to those shown.
Simulated performance results are generally prepared with the benefit of hindsight and do not involve financial risk. No modeling can completely account for the impact of financial risk in actual investment. Account size, brokerage and slippage may also diverge from simulated results. Numerous other factors related to the markets in general or to the implementation of any specific investment system cannot be fully accounted for in the preparation of simulated performance results and may adversely affect actual investment results.
To the extent permitted by law, R&I and its employees, agents and authorised representatives exclude all liability for any loss or damage (including indirect, special or consequential loss or damage) arising from the use of, or reliance on, any information offered by R&I whether or not caused by any negligent act or omission.