---
Trouble in the East but S&P bullish
By Colin Twiggs
September 20th, 2014 11:00 a.m. AEST (9:00 p:m EDT)
Advice herein is provided for the general information of readers and does not have regard to any particular person's investment objectives, financial situation or needs. Accordingly, no reader should act on the basis of any information contained herein without first having consulted a suitably qualified financial advisor.
Performance
ASX200 Prime Momentum strategy returned +22.64%* for the 12 months ended 31st August 2014 compared to +14.41% for the benchmark ASX200 Accumulation Index.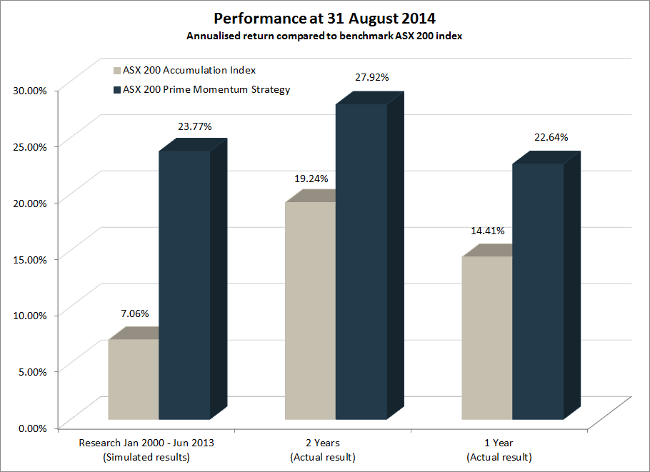 The S&P 500 Prime Momentum strategy had a good month, gaining 5.98% in August. The strategy has been running live for ten months, since November 2013, and returned 15.46%* for the period, compared to 15.96% for the S&P 500 Total Return Index. A sell-off of momentum stocks affected performance since April, but macroeconomic and volatility filters indicate low risk typical of a bull market and we maintain full exposure to equities.
* Results are unaudited and subject to revision.
Weekly highlights:
Scotland votes "No" and the Pound rallies
Treasury yields (long-term) are rising and the Dollar strengthens
Gold and crude oil fall
European stocks remain bearish
Asian stocks also remain bearish despite Hong Kong/Shanghai breakout
US stocks still reflect a bull market
Stock markets
Dow Jones Europe Index is retracing after a weak rally that reached 335. Failure of support at 320 would signal a primary down-trend. Follow-through below 315 would confirm. A 13-week Twiggs Momentum peak below zero strengthens the bear signal.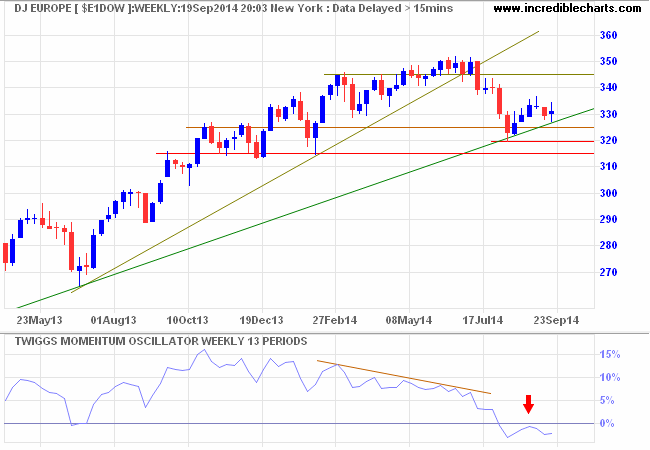 * Target calculation: 320 - ( 340 - 320 ) = 300
Dow Jones Asia Index is testing primary support at 3200 despite bullishness on the Hang Seng and Shanghai Composite. Bearish divergence on 13-week Twiggs Momentum warns of a test of 3100. Breach of 3200 would signal a primary down-trend, while follow-through below 3100 would confirm.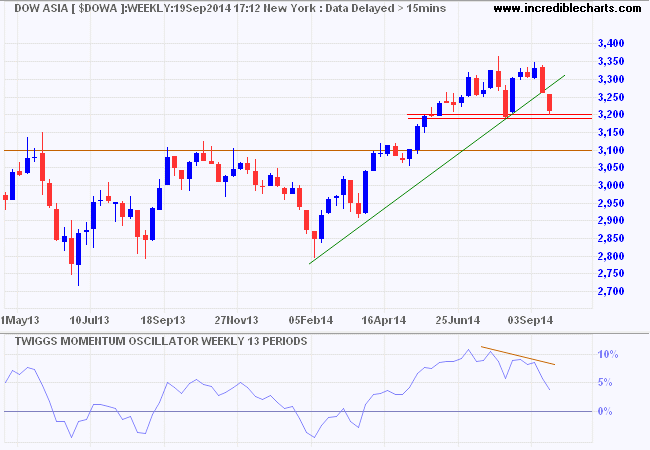 * Target calculation: 3100 + ( 3100 - 2800 ) = 3400
The S&P 500 recovered above 2000 to signal a fresh advance. Follow-through above 2010 confirms a target of 2100*. Reversal below 1980 is unlikely. Rising 13-week Twiggs Money Flow indicates medium-term buying pressure.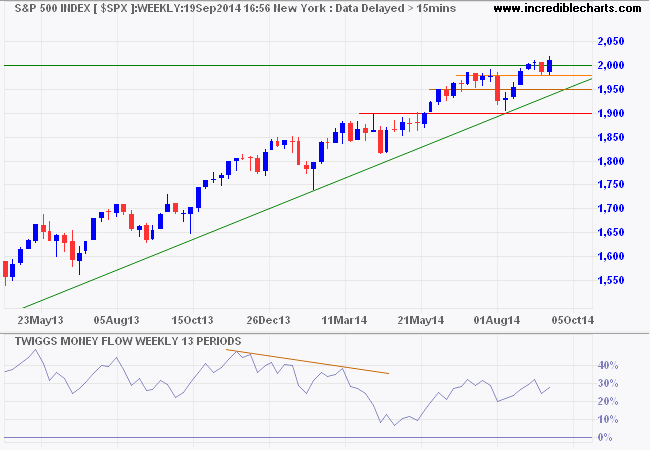 * Target calculation: 2000 + ( 2000 - 1900 ) = 2100
CBOE Volatility Index (VIX) remains low, typical of a bull market.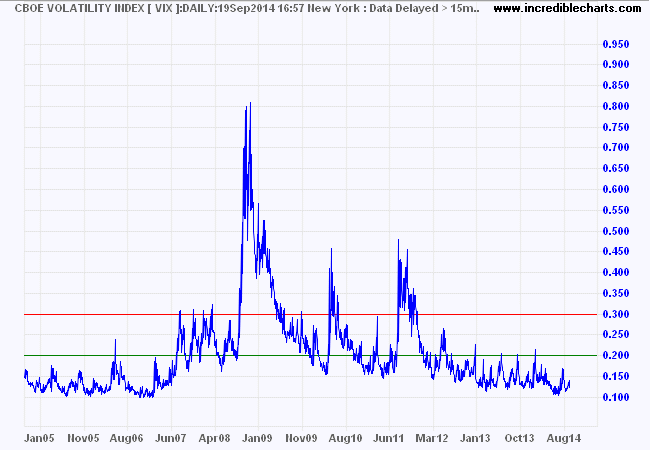 The ASX 200 correction found support at 5300/5350. But 13-week Twiggs Money Flow below zero, after a long-term bearish divergence, warns of further weakness. Breach of 5300 would indicate a test of 5000. Recovery above 5550 is unlikely, but would suggest a fresh advance.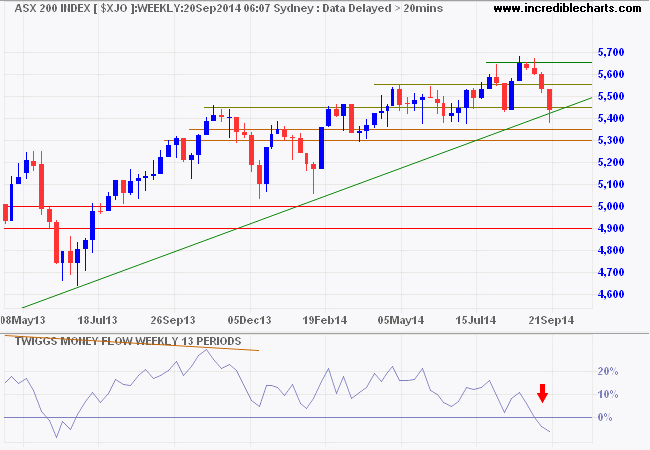 * Target calculation: 5650 + ( 5650 - 5350 ) = 5950
Scotland's "No" vote
Scots voted "No" to independence, with a clear 55% to 45% majority. Alex Salmond has announced he will resign as First Minister and SNP leader, with the words: "For me as leader my time is nearly over, but for Scotland the campaign continues and the dream shall never die." Like Bruce's spider of legend, I doubt he will give up after failing at the first attempt.
Trouble in the East
Poland, Ukraine and Lithuania plan to form a common brigade:
Agreement on a joint Ukraine-Poland-Lithuania military brigade signed in Warsaw - v @DefenceU https://t.co/12beNEuXrU pic.twitter.com/20f1x2z800

— Olga Tokariuk (@olgatokariuk) September 19, 2014
Ben Judah, author of Fragile Empire: How Russia Fell In And Out Of Love With Vladimir Putin observes:
"This emerging military alliance between Ukraine and Poland/Lithuania is a sign that the US/EU ability to control it allies decreasing fast."
Lack of leadership from their Western allies is forcing Eastern NATO states to form their own alliances, which could drag NATO into a conflict with Russia. Garry Kasparov in an interview with Maria Bartiromo sums up the situation:
"If you try to lead from behind no one will follow you....Obama shows unwillingness to engage the challenges that are there."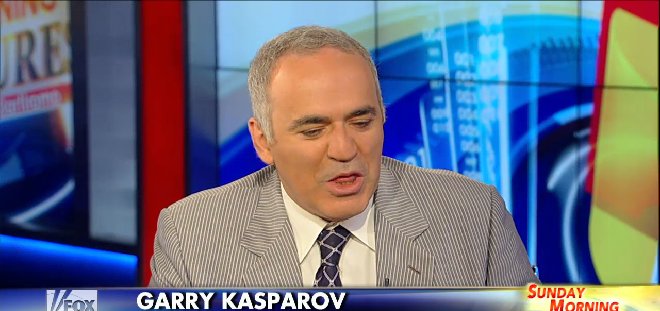 Click on image to play video
Obama is no Ronald Reagan and his reluctance to confront Putin is encouraging further risk-taking. As Petro Poroshenko told the House:
We appreciate the blankets and night-vision goggles that you sent us....but we cannot fight a war with blankets."
The ceasefire in the East is tenuous and likely to collapse at any time.
Picture and video from artillery fire tonight in #Mariupol http://t.co/MZ1NMmSibR @InfoResist |EMPR #Ukraine pic.twitter.com/DyPONpCb5N

— Euromaidan PR (@EuromaidanPR) September 19, 2014
If the ceasefire does collapse, Putin will continue to escalate, destroying Obama's and NATO credibility with their allies in the East. Sanctions have not worked as a deterrent. Brent crude is falling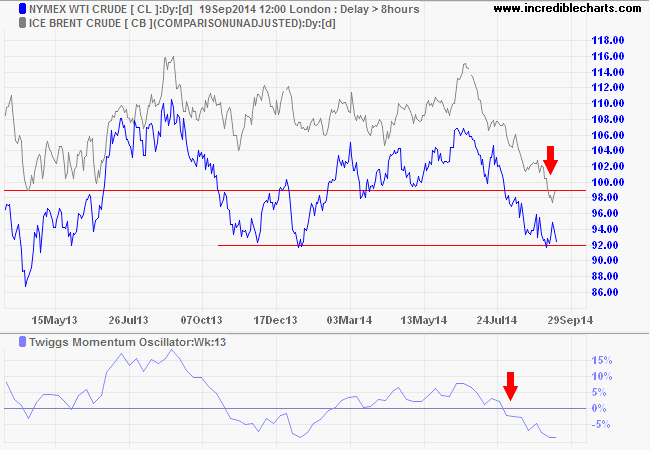 But the impact on Russia is cushioned by the falling Rouble.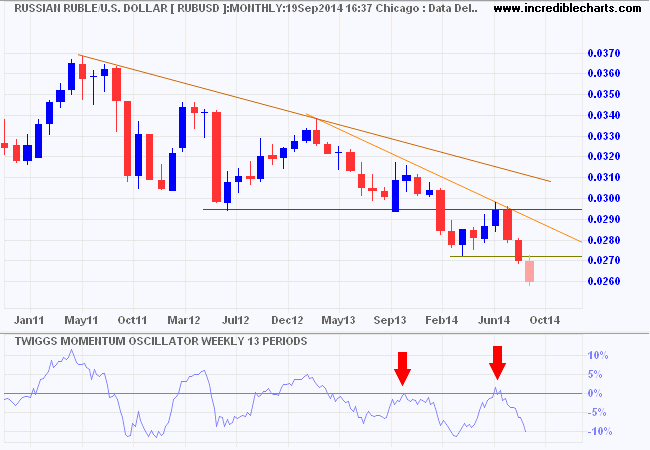 In the long-term this will cause inflation. But the immediate deterrent effect is negligible.
That's all from me for today. Take care.
...Those days are passed now
And in the past they must remain
But we can still rise now
And be the nation again
That stood against him
Proud Edward's army
And sent him homeward
Tae think again.

~ Flower of Scotland, written by Roy Williamson
Disclaimer
Research & Investment Pty Ltd is a Corporate Authorized Representative (AR Number 384 397) of Andika Pty Ltd which holds an Australian Financial Services Licence (AFSL 297069).
The information on this web site and in the newsletters is general in nature and does not consider your personal circumstances. Please contact your professional financial adviser for advice tailored to your needs.
Research & Investment Pty Ltd ("R&I") has made every effort to ensure the reliability of the views and recommendations expressed in the reports published on its websites and newsletters. Our research is based upon information known to us or which was obtained from sources which we believe to be reliable and accurate.
No guarantee as to the capital value of investments, nor future returns are made by R&I. Neither R&I nor its employees make any representation, warranty or guarantee that the information provided is complete, accurate, current or reliable.
You are under no obligation to use these services and should always compare financial services/products to find one which best meets your personal objectives, financial situation or needs.
To the extent permitted by law, R&I and its employees, agents and authorised representatives exclude all liability for any loss or damage (including indirect, special or consequential loss or damage) arising from the use of, or reliance on, any information. If the law prohibits the exclusion of such liability, such liability shall be limited, to the extent permitted by law, to the resupply of the said information or the cost of the said resupply.
Important Warning About Simulated Results
Research & Investment (R&I) specialise in developing, testing and researching investment strategies and systems. Within the R&I web site and newsletters, you will find information about investment strategies and their performance. It is important that you understand that results from R&I research are simulated and not actual results.
No representation is made that any investor will or is likely to achieve profits or losses similar to those shown.
Simulated performance results are generally prepared with the benefit of hindsight and do not involve financial risk. No modeling can completely account for the impact of financial risk in actual investment. Account size, brokerage and slippage may also diverge from simulated results. Numerous other factors related to the markets in general or to the implementation of any specific investment system cannot be fully accounted for in the preparation of simulated performance results and may adversely affect actual investment results.
To the extent permitted by law, R&I and its employees, agents and authorised representatives exclude all liability for any loss or damage (including indirect, special or consequential loss or damage) arising from the use of, or reliance on, any information offered by R&I whether or not caused by any negligent act or omission.