---
Euro, Yen plunge against Dollar
By Colin Twiggs
August 25th, 2014 3:00 a.m. EDT (5:00 p:m AEST)
These extracts from my trading diary are for educational purposes. Any advice contained therein is provided for the general information of readers and does not have regard to any particular person's investment objectives, financial situation or needs and must not be construed as advice to buy, sell, hold or otherwise deal with any securities or other investments. Accordingly, no reader should act on the basis of any information contained therein without first having consulted a suitably qualified financial advisor. Full terms and conditions can be found at Terms of Use.
The Euro broke support at $1.33, signaling a further decline against the Dollar with a target of $1.30*. Falling 13-week Twiggs Momentum, below zero, warns of a strong down-trend. Recovery above $1.35 is most unlikely, but would suggest that the down-trend is slowing.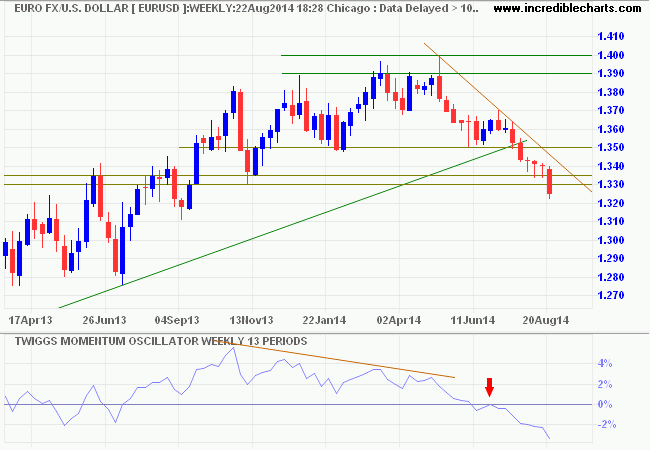 * Target calculation: 1.35 - ( 1.40 - 1.35 ) = 1.30
The recent rally of the Euro against the Russian ruble has faltered. An economic contraction and rising tensions over Eastern Ukraine both contributed. The Euro remains in an up-trend and recovery above RUB 49 would suggest another attempt at the previous high of RUB 51. But failure of support at RUB 46 would signal a primary down-trend. 13-Week Twiggs Momentum oscillating close to zero reflects current uncertainty.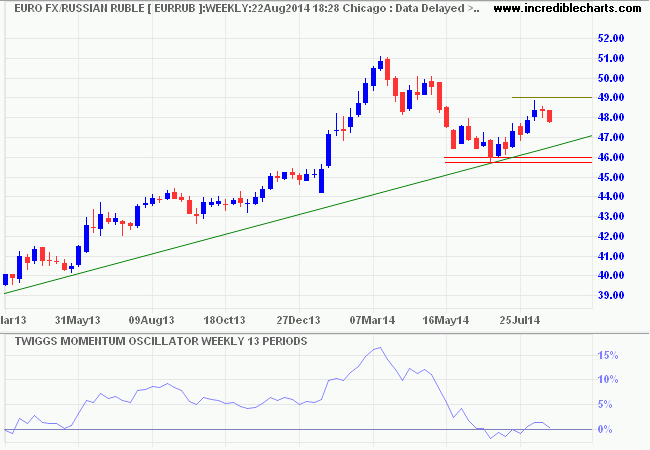 Vladimir Putin is attempting to exploit fault lines in the US/European alliance, targeting the powerful European farming and motor industry lobbies. Unauthorized incursions into Ukrainian territory by his white-painted "aid convoy" are another example, where the infringement is so apparently inoffensive that Angela Merkel will find it difficult to convince her European allies to escalate sanctions further. Failure to react will merely embolden Putin to conduct further minor infringements in defiance of the EU, confident in their response, until the Ukraine suffers "death by a thousand cuts".
Only if the US/EU adopt an aggressive escalation, as suggested here on Defence & Freedom, are they likely to contain Russian aggression.
"...a defensive and reactionary game plan makes one predictable. The very existence of a crisis should be understood as a hint that someone used this predictability to predict the outcome of a produced crisis — and arrived at the conclusion that it's a good idea. Aka failure of deterrence."
Japan
As with the Euro, the Japanese Yen is also weakening against the Dollar. The Greenback broke resistance at ¥103.50, signaling a rally to test the 2013 high. Follow-through above ¥104 would confirm. Rising 13-week Twiggs Momentum above zero strengthens the signal. Reversal below ¥103 is unlikely, but would warn of another test of primary support at ¥101.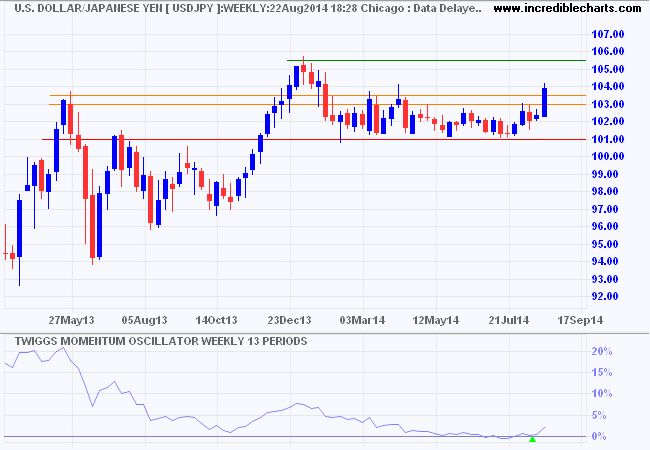 Australia
The Aussie Dollar, however, is holding its own — ranging between $0.92 and $0.95 against the US Dollar. The narrow band and 13-week Twiggs Momentum holding above zero both suggest continuation of the up-trend. Breakout above $0.95 would suggest a target of $0.97. Reversal below $0.92 is unlikely at present, but would warn of a decline to the band of support between $0.87 and $0.89.
The ASX 200, retracing slightly from resistance at 5650, is also influenced by strong foreign investment flows. Indications are predominantly bullish, including 21-day Twiggs Money Flow forming troughs above zero. Follow-through above 5660 would signal another advance, with a medium-term target of 5850. Reversal above 5550 is unlikely, but would warn of another test of primary support.
* Target calculation: 5650 + ( 5650 - 5450 ) = 5850
My hatred of Bolshevism and Bolsheviks is not founded on their silly system of economics, or their absurd doctrine of an impossible equality. It arises from the bloody and devastating terrorism which they practice in every land into which they have broken, and by which alone their criminal regime can be maintained.

~ Winston Churchill (1920)