---
Putin antics fail to impress markets
By Colin Twiggs
August 23rd, 2014 12:30 p.m. AEST (10:30 p:m EDT)
Advice herein is provided for the general information of readers and does not have regard to any particular person's investment objectives, financial situation or needs. Accordingly, no reader should act on the basis of any information contained herein without first having consulted a suitably qualified financial advisor.
For all his macho posturing, Vladimir Putin has demonstrated his inability to move financial markets with his antics in Eastern Ukraine. His latest incursion towards Luhansk, with white-painted military trucks bearing aid to the rebel-held city, unchecked by the Red Cross, passed barely noticed. Instead markets are intently focused on nuances from a 68-year old Jewish mum at Jackson Hole, who also happens to chair the Federal Reserve.
I would have loved to use the word "grandmother", but son Robert Akerlof — himself a PhD in Economics who teaches at the University of Warwick in the UK — does not claim any offspring on his CV. The apple doesn't fall far from the tree. Father, George Akerlof, is a Nobel prize-winning economist and professor emeritus at University of California, Berkeley.
The image below highlights the differences between the Fed and the ECB:
European unemployment is nearly twice the rate in the U.S.: http://t.co/ELXH1YcCcw pic.twitter.com/i5FQ1YvXBk

— Bloomberg News (@BloombergNews) August 22, 2014
The Fed's more stimulatory approach has paid dividends in terms of economic growth and employment while inflation expectations remain muted. The inflation breakeven rate — 10-year Treasury yield minus the yield on equivalent inflation-indexed securities — continues to range between 2.0% and 2.50%.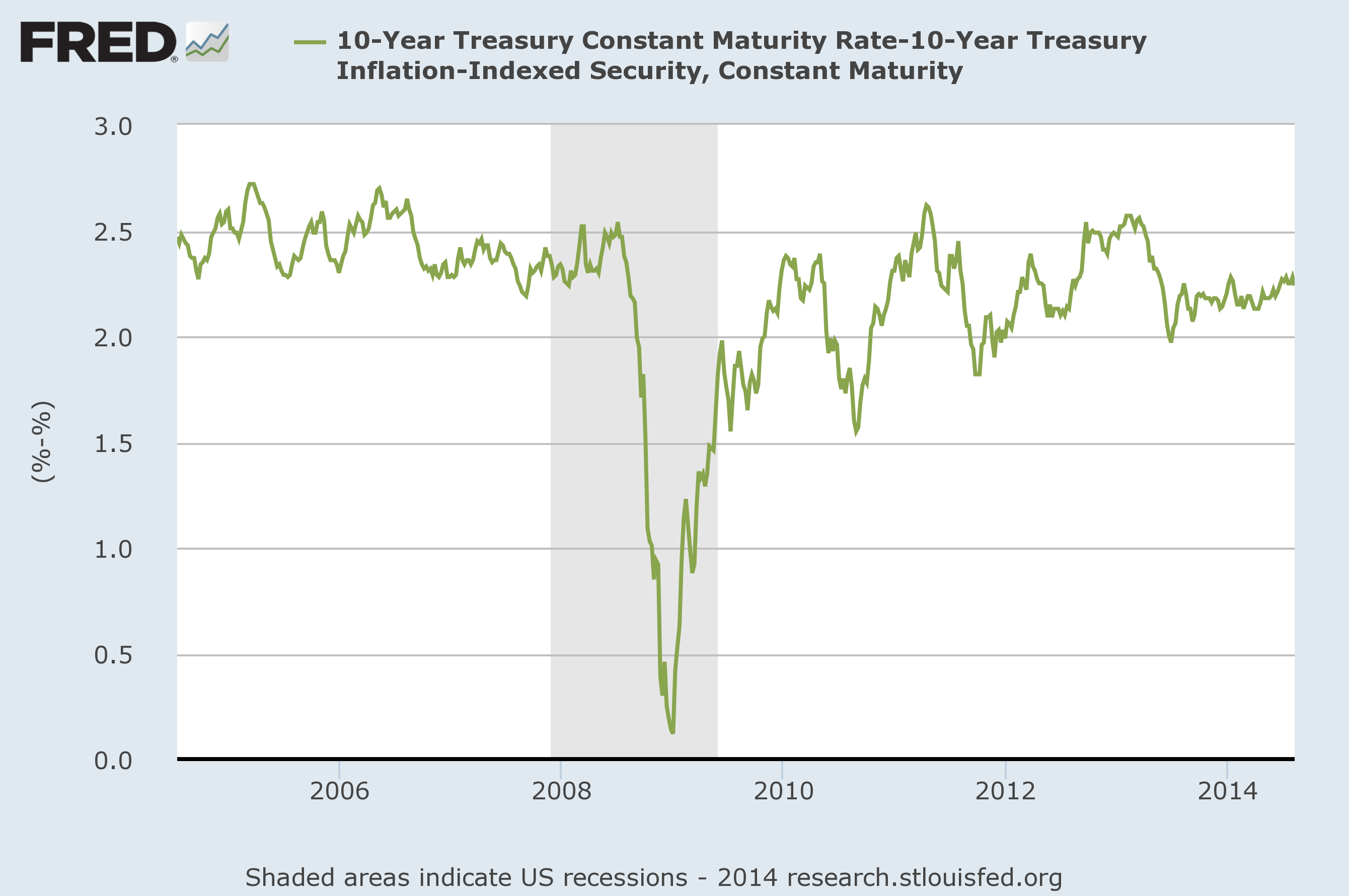 ECB policies more closely aligned with austerity, on the other hand, have caused a world of pain.
Market update
S&P 500 tests 2000.
VIX continues to indicate a bull market.
DAX hesitant rally.
China bullish.
ASX 200 faces strong resistance.
The S&P 500 hesitated after making a new high on Thursday, but there was no dramatic fall in response to news from Eastern Ukraine. Expect retracement towards 1950, followed by another test of 2000. 21-Day Twiggs Money Flow is likely to re-test the zero line, but respect would indicate strong buying pressure. Breach of support at 1900, warning of a reversal, remains unlikely.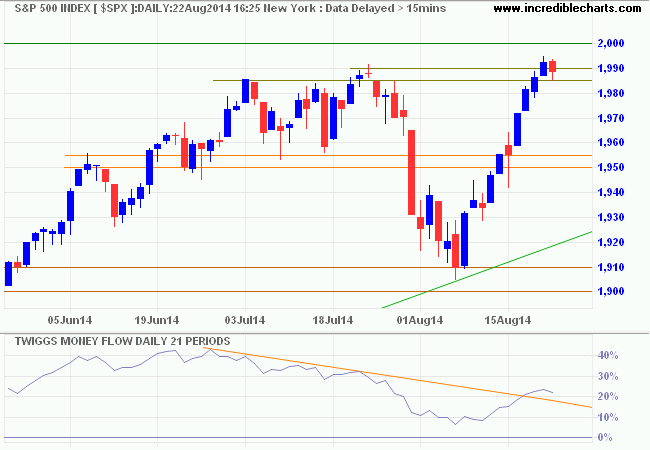 * Target calculation: 1500 + ( 1500 - 750 ) = 2250
Declining CBOE Volatility Index (VIX) indicates low risk, typical of a bull market.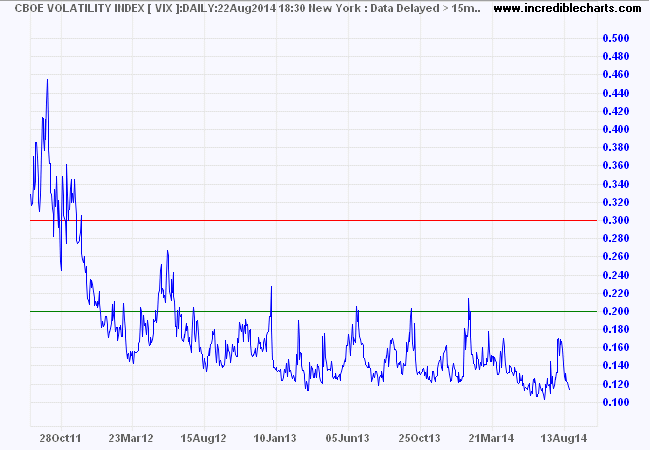 Germany's DAX rallied above 9300 on the weekly chart, but 13-week Twiggs Money Flow warns of continued selling pressure. Reversal below support at 8900/9000 would warn of a primary down-trend.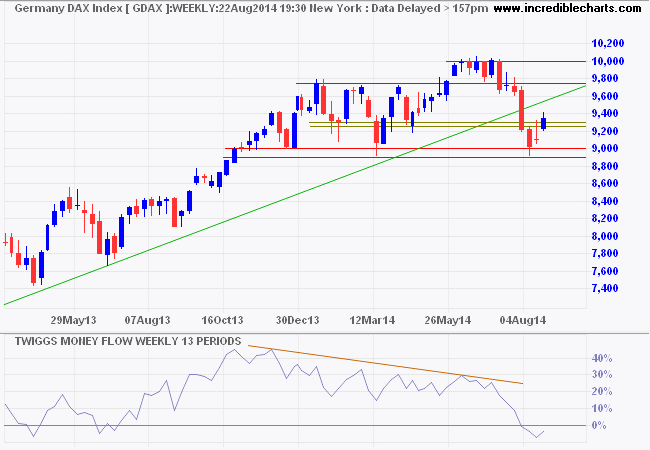 * Target calculation: 9000 - ( 10000 - 9000 ) = 8000
Shanghai Composite Index is testing resistance at 2250. Breakout would confirm a primary up-trend, signaling an advance to 2500*. Rising 13-week Twiggs Money Flow indicates medium-term buying pressure. Respect of resistance, however, would suggest further consolidation.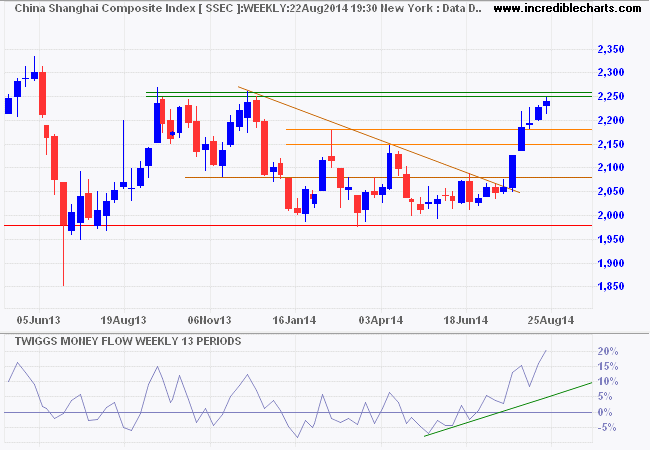 * Target calculation: 2250 + ( 2250 - 2000 ) = 2500
Tall wicks on ASX 200 daily candles indicate strong resistance at 5650. Respect would suggest retracement to 5550, while follow-through would be a strong bull signal, suggesting an advance to 5850*. Another 21-day Twiggs Money Flow trough above zero would indicate long-term buying pressure. Reversal below 5450 is unlikely, but would warn of a test of primary support.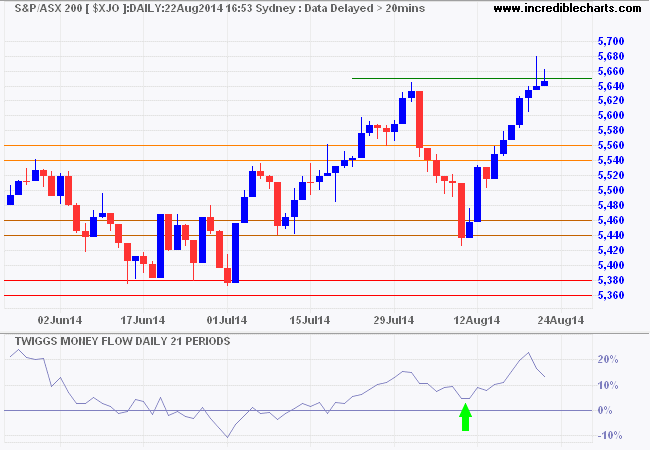 * Target calculation: 5650 + ( 5650 - 5450 ) = 5850
Share purchase offers
Followers of our ASX 200 Momentum strategy should have recently received a share purchase offer from Ardent Leisure Group [AAD] and may receive another from Challenger Limited [CGF] in the next few weeks. These offers are often at an attractive discount to the current share price and warrant serious consideration.
To avoid any confusion, the share purchase offer from AAD dated 14th August 2014 is officially titled "Security Purchase Plan" (or "SPP" for short). The SPP is open to all shareholders registered on the securities register at 7.00pm (Sydney time) on 5th August 2014 and who reside in Australia or New Zealand. Now, even if you sold AAD shares on 5th of August, settlement is T+3, so you should still be the registered holder on that day — and entitled to take up the offer.
We will bring the ASX 200 Momentum rebalancing forward to the 27th of August in order to allow subscribers sufficient time to take portfolio changes into account in their decision whether to subscribe for shares. Our recommendations will be provided in a separate email to subscribers. Acceptances and payment must be received by the AAD registrar before 5:00 p.m. AEST on 9th September 2014.
Rebalancing for the S&P 500 Momentum strategy will take place, as usual, in the first week of the new month.
That's all from me for today. Take care.
I cannot forecast to you the action of Russia. It is a riddle, wrapped in a mystery, inside an enigma; but perhaps there is a key. That key is Russian national interest.

~ Winston Churchill, in a radio broadcast in October 1939.
Disclaimer
Research & Investment Pty Ltd is a Corporate Authorized Representative (AR Number 384 397) of Andika Pty Ltd which holds an Australian Financial Services Licence (AFSL 297069).
The information on this web site and in the newsletters is general in nature and does not consider your personal circumstances. Please contact your professional financial adviser for advice tailored to your needs.
Research & Investment Pty Ltd ("R&I") has made every effort to ensure the reliability of the views and recommendations expressed in the reports published on its websites and newsletters. Our research is based upon information known to us or which was obtained from sources which we believe to be reliable and accurate.
No guarantee as to the capital value of investments, nor future returns are made by R&I. Neither R&I nor its employees make any representation, warranty or guarantee that the information provided is complete, accurate, current or reliable.
You are under no obligation to use these services and should always compare financial services/products to find one which best meets your personal objectives, financial situation or needs.
To the extent permitted by law, R&I and its employees, agents and authorised representatives exclude all liability for any loss or damage (including indirect, special or consequential loss or damage) arising from the use of, or reliance on, any information. If the law prohibits the exclusion of such liability, such liability shall be limited, to the extent permitted by law, to the resupply of the said information or the cost of the said resupply.
Important Warning About Simulated Results
Research & Investment (R&I) specialise in developing, testing and researching investment strategies and systems. Within the R&I web site and newsletters, you will find information about investment strategies and their performance. It is important that you understand that results from R&I research are simulated and not actual results.
No representation is made that any investor will or is likely to achieve profits or losses similar to those shown.
Simulated performance results are generally prepared with the benefit of hindsight and do not involve financial risk. No modeling can completely account for the impact of financial risk in actual investment. Account size, brokerage and slippage may also diverge from simulated results. Numerous other factors related to the markets in general or to the implementation of any specific investment system cannot be fully accounted for in the preparation of simulated performance results and may adversely affect actual investment results.
To the extent permitted by law, R&I and its employees, agents and authorised representatives exclude all liability for any loss or damage (including indirect, special or consequential loss or damage) arising from the use of, or reliance on, any information offered by R&I whether or not caused by any negligent act or omission.