---
What's New: Changes to UK & Singapore Data/Incredible Charts 7.0
By Colin Twiggs
August 4th, 2014 3:00 a.m. EDT (5:00 p.m. AEDT)
Changes to UK & Singapore Data
We are consolidating our intra-day (delayed) data feeds with one existing data supplier. This necessitates some changes to the feeds currently offered. Most subscribers will not be affected by the changes, but if the changes do affect you, please contact Support to amend your subscription.
LSE prices will only be updated end-of-day (after 7:30 p.m.) from 1st September 2014, while Singapore and free BATS data will no longer be offered.
The following stock exchange feeds are unaffected:
ASX
NYSE
NASDAQ
OTCBB
OTC Markets
TSX and TSX Venture
Forex & Precious Metals
Dow Jones Indices
CBOE (S&P) Indices
CSI end-of-day World Indices
Incredible Charts 7.0
Your existing Incredible Charts application will update to Incredible Charts 7.0 in the next 24 hours. This has been in beta since June and been tested thoroughly by a number of subscribers. If you have any problems with the update or new features, please contact Support.
New Premium Indicators
Heikin-Ashi Candlesticks
MACD Histogram with Direction Color
Pivot Points
New Indicators
Indicators Improvements
Multiple Moving Averages and Rainbow 3D Moving Averages now offer a choice of Moving Averages: Exponential, Simple, and Weighted.
Indicator Smoothing now allows for up to three Moving Averages to be applied to an indicator.
Also for up to four Overbought/Oversold lines to be applied to an indicator.
Invert Vertical Axes
Invert the price axis using View >> Invert Vertical Axis. Shortcut key is CTRL+I.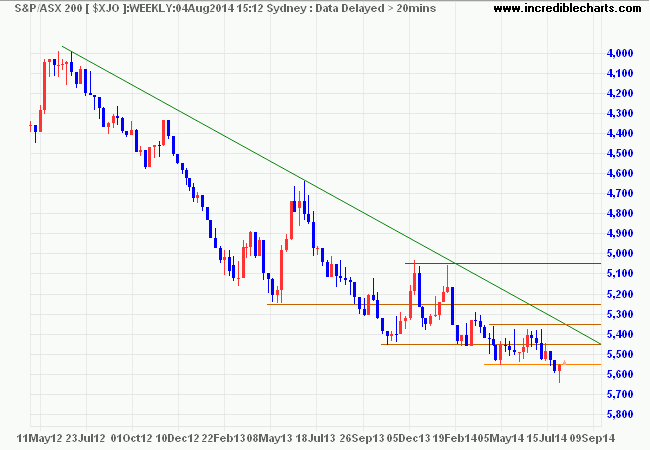 Inverting the price axis on the ASX 200 provides a very different perspective of the current trend.
Indicator and Candlestick Values
Indicator and candle values are now displayed in a hint on mouse-over.
Activate or de-activate using the [i] button next to the Crosshair Cursor on the toolbar.
Trendlines – Percentage Change
Percent Change is now displayed in a hint when you mouse-over the ends of a trendline. Percentage is calculated from start to end (left to right) of the trendline.
Loading Data from Disk
Handles data formats more robustly when loading data from disk.
Supports additional date formats YYYYMMDD and YYMMDD.
Periodic disk data, for example weekly, monthly, quarterly and annual data, can now be loaded from disk.
Code Improvements
Various changes based on feedback and error reports, mainly to accommodate Windows 8 issues.
Thank you for your patience and support.
Life is simpler when you plow around the stump.

~ old farmers proverb