---
Gold strengthens on Dollar weakness
By Colin Twiggs
July 10th, 2014 12:30 a.m. EDT (2:30 p.m. AEST)
These extracts from my trading diary are for educational purposes. Any advice contained therein is provided for the general information of readers and does not have regard to any particular person's investment objectives, financial situation or needs and must not be construed as advice to buy, sell, hold or otherwise deal with any securities or other investments. Accordingly, no reader should act on the basis of any information contained therein without first having consulted a suitably qualified financial advisor. Full terms and conditions can be found at Terms of Use.
Treasury yields weaken
The Dollar continues to test long-term support
Gold is strengthening
Interest Rates and the Dollar
The yield on ten-year Treasury Notes is again testing support at 2.50 percent. Failure would indicate a decline to 2.00 percent. Follow-through below 2.40 would confirm. Market expectations favor low interest rates and 13-Week Twiggs Momentum below zero continues to warn of a primary down-trend. Recovery above 2.65 is less likely, but would suggest the correction is over, offering a medium-term target of 2.80 and long-term of 3.00 percent.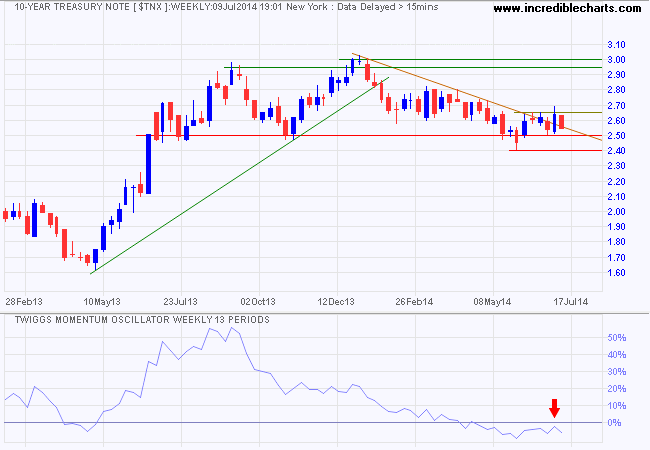 * Target calculation: 2.50 - ( 3.00 - 2.50 ) = 2.00
The Dollar Index tests short-term support at 80.00. Respect of zero by 13-week Twiggs Momentum warns of continuation of the primary down-trend. Breach of 80.00 would indicate a test of primary support at 79.00. Recovery above 80.50 is unlikely at present, but would suggest an advance to 81.50.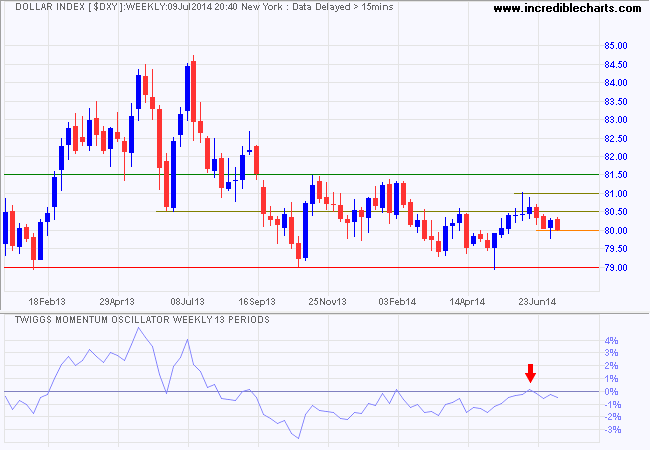 Gold
Low interest rates and higher inflation expectations favor a stronger gold price and a weaker Dollar. Gold is consolidating in a narrow band below medium-term resistance at $1325/$1330, suggesting continuation of the rally. Breakout would signal a test of $1400. Recovery of 13-week Twiggs Momentum above zero hints at a primary up-trend; breakout above $1400 would confirm. Retreat below $1300 is unlikely, but would test support at $1240.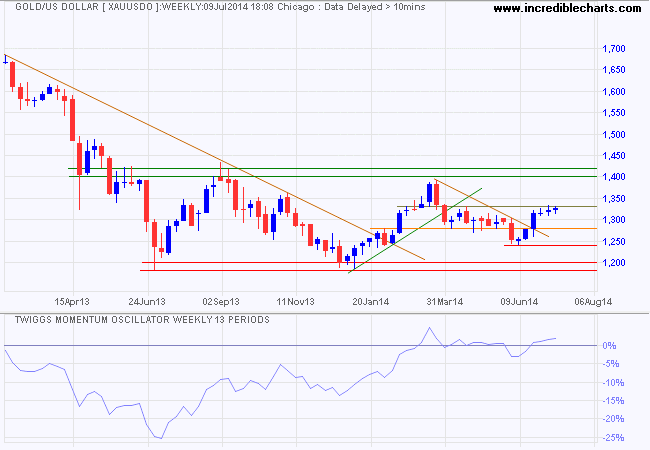 Men think that acting unjustly is in their power and therefore that being just is easy. But to act justly a certain state of character, which is not in our power, is necessary and not always easy to find.

~ Aristotle