---
Gold tumbles as Treasury yields fall
By Colin Twiggs
May 29th, 2013 3:00 a.m. EDT (5:00 p.m. AEST)
These extracts from my trading diary are for educational purposes. Any advice contained therein is provided for the general information of readers and does not have regard to any particular person's investment objectives, financial situation or needs and must not be construed as advice to buy, sell, hold or otherwise deal with any securities or other investments. Accordingly, no reader should act on the basis of any information contained therein without first having consulted a suitably qualified financial advisor. Full terms and conditions can be found at Terms of Use.
Overview:
Treasury yields fall
The Dollar strengthens slightly
Stocks are rising
Gold breaks support
Interest Rates and the Dollar
The yield on ten-year Treasury Notes broke primary support at 2.50 percent, warning of a decline to 2.00 percent*. Reversal of 13-week Twiggs Momentum below zero confirms weakness. Recovery above 2.80 is most unlikely at present, but would indicate another advance.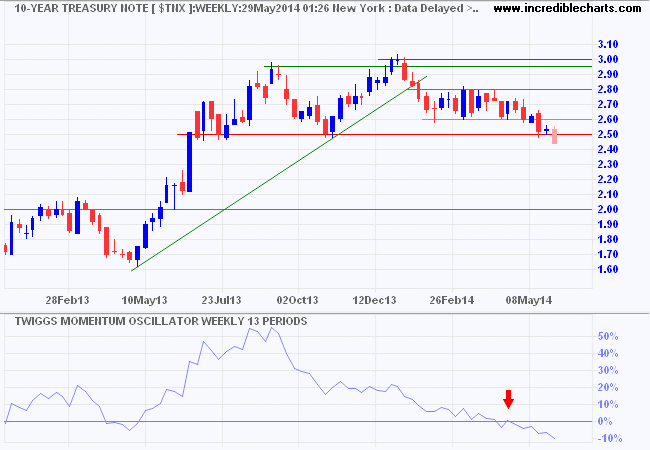 * Target calculation: 2.50 - ( 3.00 - 2.50 ) = 2.00
The Dollar Index is testing resistance at 80.50. Recovery of 13-week Twiggs Momentum above zero would increase the chances of a double-bottom reversal (to a primary up-trend), but respect of resistance remains as likely and would test primary support at 79.00. Another 13-week Twiggs Momentum peak below the zero line would signal continuation of the primary down-trend.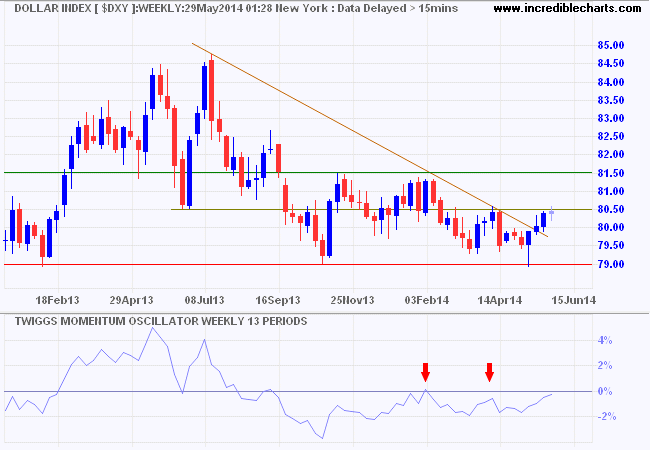 * Target calculation: 79.0 - ( 81.5 - 79.0 ) = 76.5
Stocks and Housing
Falling long-term interest rates are likely to boost the housing sector and the broader stock market. The Dow Jones Industrial Average is heading for a test of the recent high at 16750. Rising 21-day Twiggs Money Flow signals medium-term buying pressure. Retracement that respects support at 16500 would confirm an advance to 17000*.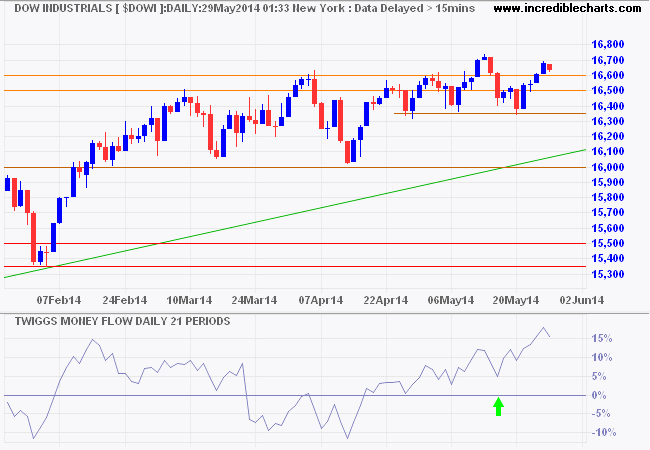 * Target calculation: 16.5 - ( 16.5 - 16 ) = 17
Gold and Silver
Gold faces conflicting forces: low inflation reduces demand for precious metals, but low interest rates and a weaker Dollar increase demand. At present low inflation seems to have the upper hand, driving gold through support at $1300/$1280 per ounce. Expect a test of primary support at $1200. Reversal of 13-week Twiggs Momentum below zero reinforces the bear signal. Recovery above $1300 is most unlikely, but would warn of a bear trap and rally to $1400.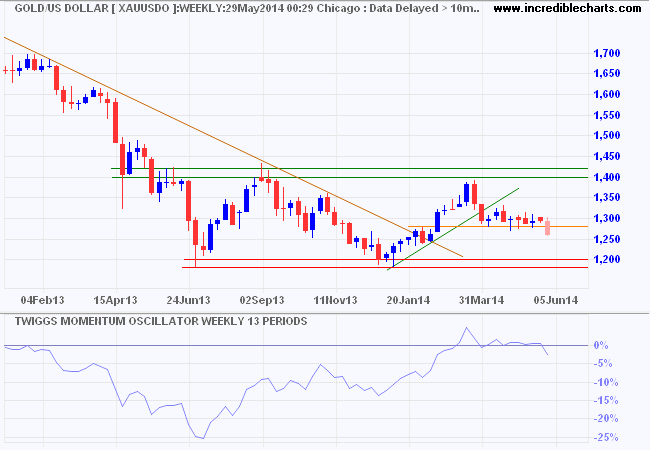 The only thing is, people have to develop courage. It is most important of all the virtues. Because without courage, you can't practice any other virtues consistently.

~ Maya Angelou, author and poet, died yesterday at age 86.