---
Who is buying Australian stocks?
By Colin Twiggs
April 8th, 2014 3:00 a.m. EDT (6:00 p.m. AET)
These extracts from my trading diary are for educational purposes. Any advice contained therein is provided for the general information of readers and does not have regard to any particular person's investment objectives, financial situation or needs and must not be construed as advice to buy, sell, hold or otherwise deal with any securities or other investments. Accordingly, no reader should act on the basis of any information contained therein without first having consulted a suitably qualified financial advisor. Full terms and conditions can be found at Terms of Use.
Despite a broad sell-off across global markets, the ASX 200 has stood firm, rallying into the close for the last two days. Low volumes indicate an absence of sellers, but expect strong resistance at 5450/5460. Breach of the rising trendline would warn of another test of support at 5300 and possibly a stronger correction. Breakout above 5450/5460 remains as likely and would signal an advance to 5600*. Primary support at 5050 does not at this stage appear threatened and the index remains in an up-trend.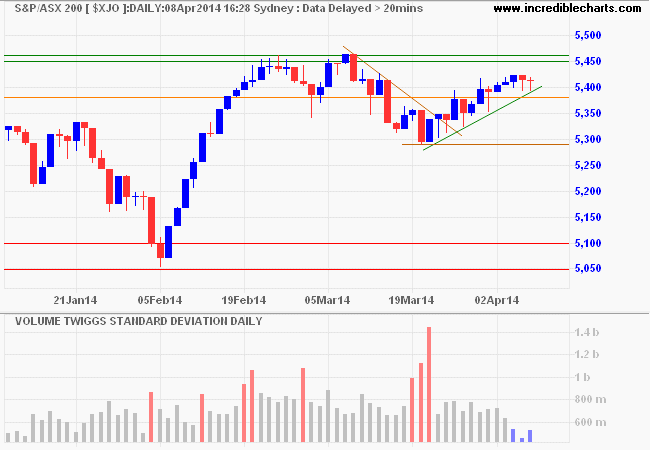 * Target calculation: 5450 + ( 5450 - 5300 ) = 5600
A rising Aussie Dollar may be contributing to ASX resilience. Performance over the last quarter looks a lot stronger if measured in US Dollars or Japanese Yen. Breakout of the Aussie Dollar above $0.93 suggests a rally to $0.95*.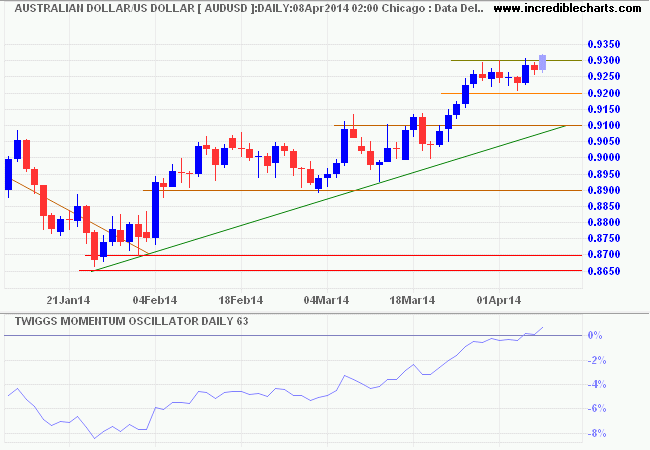 * Target calculation: 0.93 + ( 0.93 - 0.91 ) = 0.95
The weekly chart presents a more complete picture. Breach of the descending trendline and recovery of 13-week Twiggs Momentum above zero (after a strong bullish divergence) both suggest that a bottom is forming, but we are a long way from commencing an up-trend.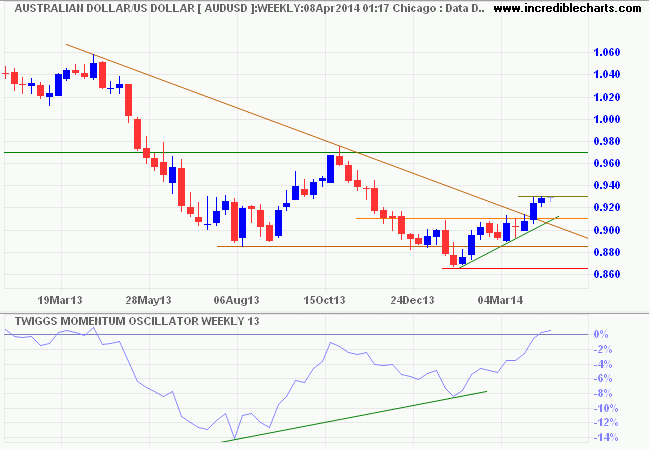 Dow Jones Shanghai index also exerts a positive influence, with a strong breakout above medium-term resistance at 271. Breakout above 284 is some way off, but would complete a double bottom reversal.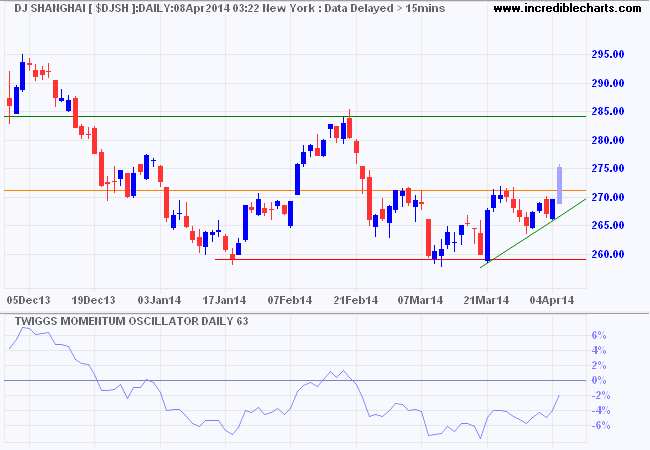 Old man Partridge's insistence on the vital importance of being continuously bullish in a bull market doubtless made my mind dwell on the need above all other things of determining the kind of market a man is trading in. I began to realize that the big money must necessarily be in the big swing. Whatever might seem to give a big swing, initial impulse, the fact is that its continuance is not the result of manipulation by pools or artifice by financiers, but depends upon basic conditions. And no matter who opposes it, the swing must inevitably run as far and as fast and as long as the impelling forces determine.

~ Jesse Livermore