---
Aussie Dollar resilient despite ASX correction
By Colin Twiggs
March 21st, 2014 12:30 a.m. EDT (3:30 p.m. AEDT)
These extracts from my trading diary are for educational purposes. Any advice contained therein is provided for the general information of readers and does not have regard to any particular person's investment objectives, financial situation or needs and must not be construed as advice to buy, sell, hold or otherwise deal with any securities or other investments. Accordingly, no reader should act on the basis of any information contained therein without first having consulted a suitably qualified financial advisor. Full terms and conditions can be found at Terms of Use.
China's Shanghai Composite Index is again testing primary support at 1990/2000. A triangle formation on 21-day Twiggs Money Flow indicates uncertainty. Breach of 1990 would warn of a primary decline to 1850. Respect is less likely, but would suggest a (bear) rally to 2080.
* Target calculation: 2000 - ( 2150 - 2000 ) = 1850
China is dragging the ASX lower despite a resilient US market. Breach of medium-term support at 5340 warns of a correction. Declining 21-day Twiggs Money Flow indicates selling pressure and reversal below zero would strengthen the signal. The primary trend remains upward, however, and only breach of support at 5050 would signal a reversal.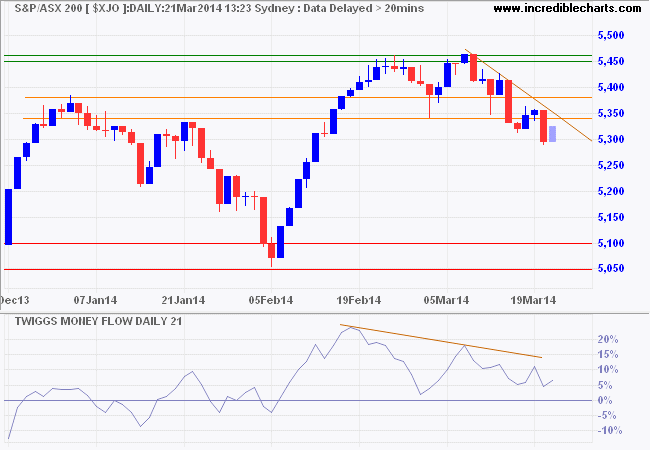 * Target calculation: 5400 + ( 5400 - 5000 ) = 5800
ASX 200 VIX retreated to 13, indicating low risk typical of a bull market.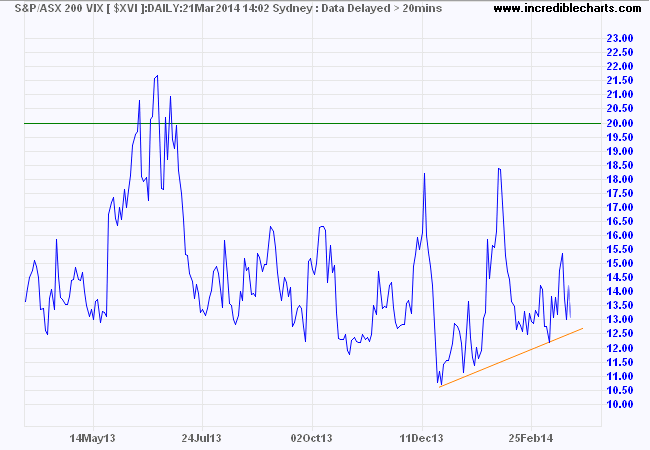 The Aussie Dollar is also proving resilient, testing resistance at $0.91 and the descending trendline despite weakness on the ASX. Upward breakout would suggest the down-trend is weakening. Recovery of 13-week Twiggs Momentum above zero would go further, signaling a primary up-trend, though only breakout above $0.97 would confirm. Reversal below medium-term support at $0.89 remains more likely, however, and would warn of another decline. Breach of primary support at $0.87 would offer a target of $0.83*.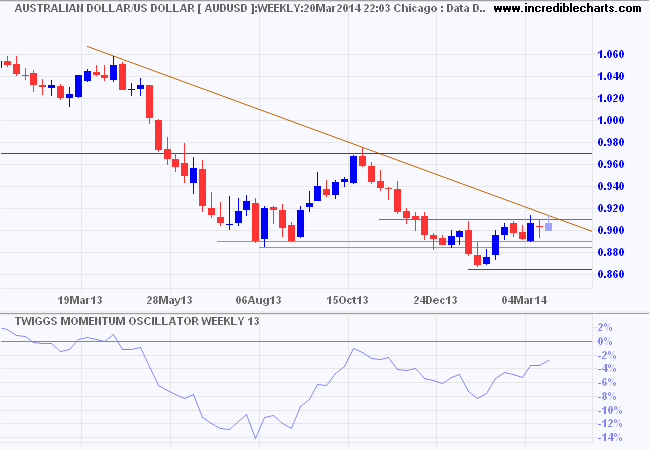 * Target calculation: 0.87 - ( 0.91 - 0.87 ) = 0.83
It was the change in my own attitude that was of supreme importance to me. It taught me little by little, the essential difference between betting on fluctuations and anticipating inevitable advances and declines, between gambling and speculating.

~ Jesse Livermore