---
Gold: The Putin factor
By Colin Twiggs
March 18th, 2013 2:30 a.m. EDT (5:30 p:m AEDT)
These extracts from my trading diary are for educational purposes. Any advice contained therein is provided for the general information of readers and does not have regard to any particular person's investment objectives, financial situation or needs and must not be construed as advice to buy, sell, hold or otherwise deal with any securities or other investments. Accordingly, no reader should act on the basis of any information contained therein without first having consulted a suitably qualified financial advisor. Full terms and conditions can be found at Terms of Use.
Spot gold is normally a reliable indicator of inflation expectations, but rising tensions over Ukraine and Crimea are likely to increase demand for gold as a safe haven. The yellow metal broke through resistance at $1350/ounce but is retracing to test the new support level. Respect of the rising trendline would confirm an advance to $1420. Crossover of 13-week Twiggs Momentum above zero (and earlier bullish divergence) signals a primary up-trend. Breakout above $1420 still appears some way off, but would offer a target of $1600/ounce*.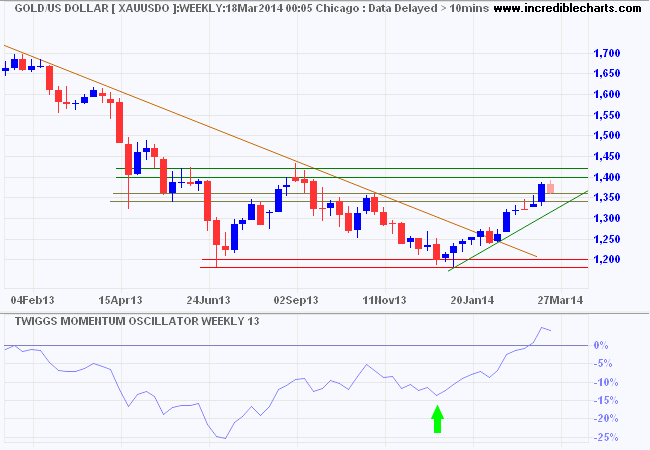 * Target calculation: 1400 + ( 1400 - 1200 ) = 1600
Interest Rates and the Dollar
Treasury yields are easing, with the yield on ten-year Treasury Notes again testing support at 2.60 percent. Consolidation between 2.60 and 2.80 percent would be a bearish formation. Breakout above 2.80 would indicate an advance to 3.50 percent*; confirmed if there is follow-through above 3.00 percent. But bearish divergence on 13-week Twiggs Momentum continues to warn of weakness and breach of primary support at 2.50 percent would signal a primary down-trend.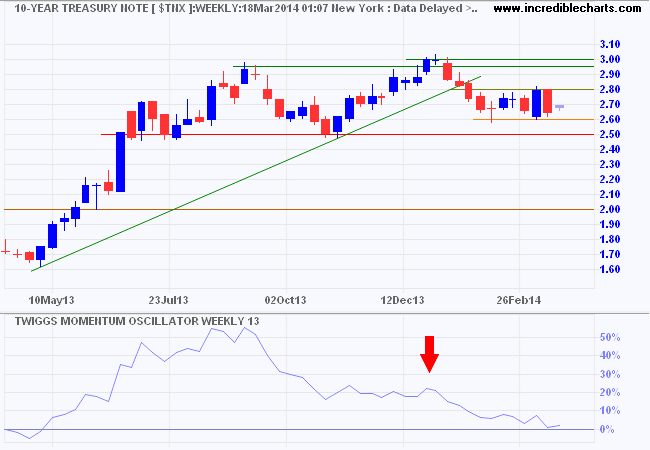 * Target calculation: 3.00 + ( 3.00 - 2.50 ) = 3.50
The Dollar Index is falling, in line with softer Treasury yields. Breach of support at 79.00 would confirm a primary down-trend. A 13-week Twiggs Momentum peak below zero also suggests weakness.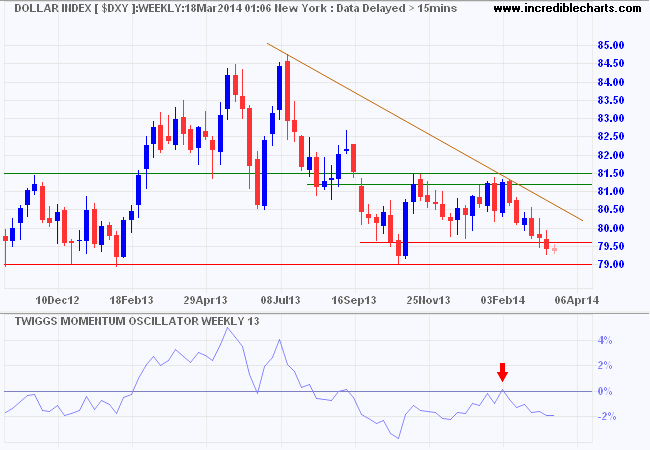 * Target calculation: 79.0 - ( 81.5 - 79.0 ) = 76.5
Change To Privacy Policy
Please note that we are changing our Privacy Policy to allow sending of third-party emails to subscribers.

No personal details or email addresses will be supplied to advertisers. Advertisers will also be vetted for their suitability and no more than one third party email will be sent in any calendar month. The change is necessitated by absence of demand, from third party advertisers, for traditional banner advertising and is needed to ensure the sustainability of our free newsletter service.
Thank you for your understanding.


Colin Twiggs
In historical events great men — so-called — are but labels serving to give a name to the event, and like labels they have the least possible connection with the event itself. Every action of theirs, that seems to them an act of their own free will, is in an historical sense not free at all, but in bondage to the whole course of previous history, and predestined from all eternity.

~ Leo Tolstoy