---
Euro strong but European stocks retreat
By Colin Twiggs
March 11th, 2014 3:30 a.m. EDT (6:30 p.m. AEDT)
These extracts from my trading diary are for educational purposes. Any advice contained therein is provided for the general information of readers and does not have regard to any particular person's investment objectives, financial situation or needs and must not be construed as advice to buy, sell, hold or otherwise deal with any securities or other investments. Accordingly, no reader should act on the basis of any information contained therein without first having consulted a suitably qualified financial advisor. Full terms and conditions can be found at Terms of Use.
Research & Investment: Performance update
Our ASX200 Prime Momentum strategy returned +39.20%* for the 12 months ended 28th February 2014, outperforming the benchmark ASX200 Accumulation Index by +28.56%.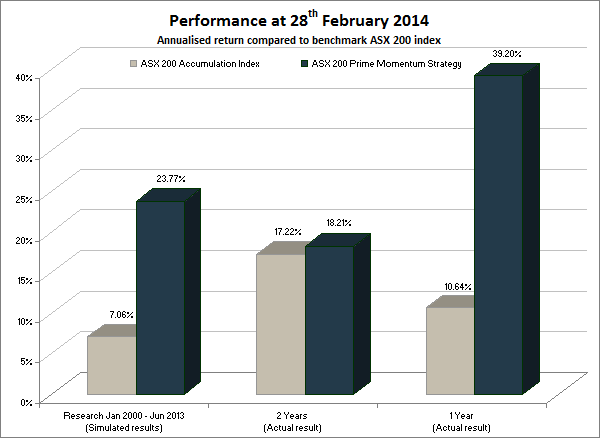 The S&P 500 strategy has only been running since November 2013, but returned 9.35%* for the four months, outperforming the S&P 500 Total Return Index by 2.68%.
* Results are unaudited and subject to revision.
Europe
The Euro broke through resistance at $1.38, signaling an advance to $1.43*. Retracement that respects the new support level would strengthen the signal. Bearish divergence on 13-week Twiggs Momentum continues to warn of medium-term weakness, however, and reversal below $1.38 would suggest another correction.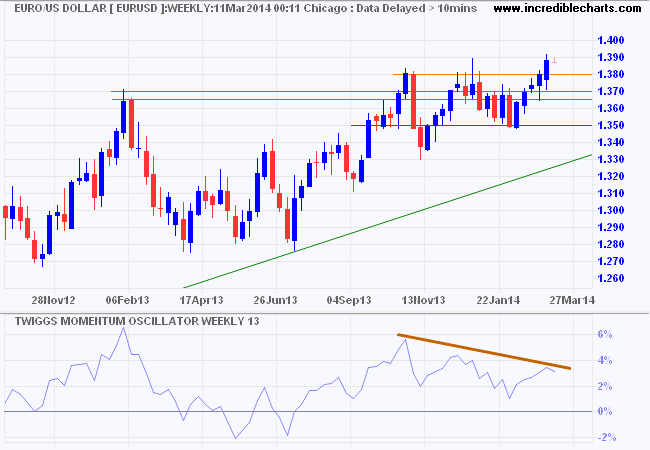 * Target calculation: 1.38 + ( 1.38 - 1.33 ) = 1.43
Germany's DAX retreated below 9500 to warn of another correction. Bearish divergence on 13-week Twiggs Money Flow indicates medium-term selling pressure. Respect of primary support at 9000 — and the rising trendline — would confirm a healthy up-trend. Breach of support is unlikely, but would signal reversal to a down-trend.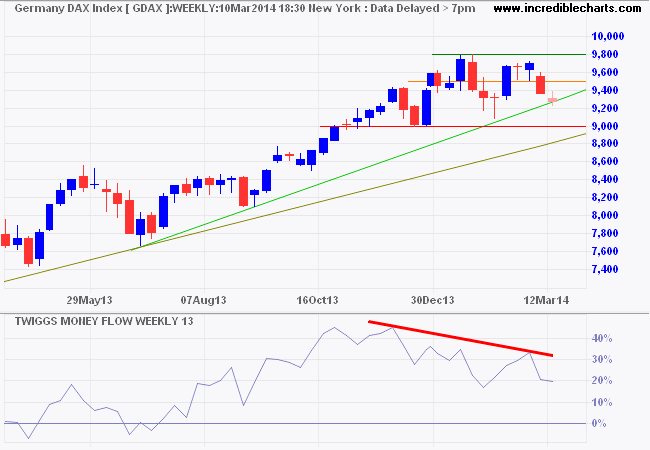 DAX Volatility at 20 reflects moderate risk.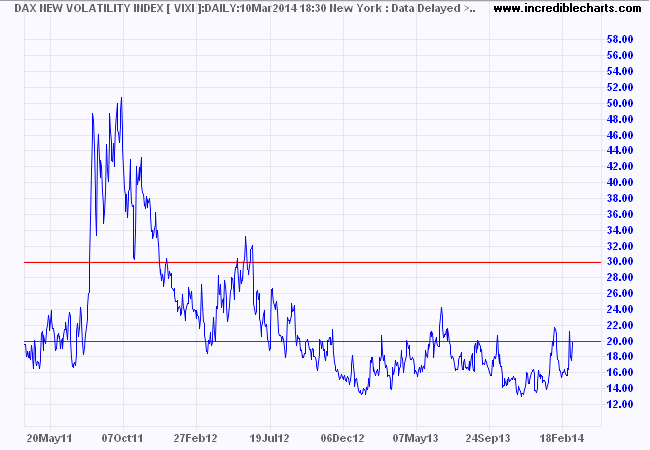 The Footsie retreated to support at 6690/6700 on the daily chart. Breach would indicate another test of primary support at 6400. The primary trend is upward and a 21-day Twiggs Money Flow trough above zero would reflect medium-term buying pressure.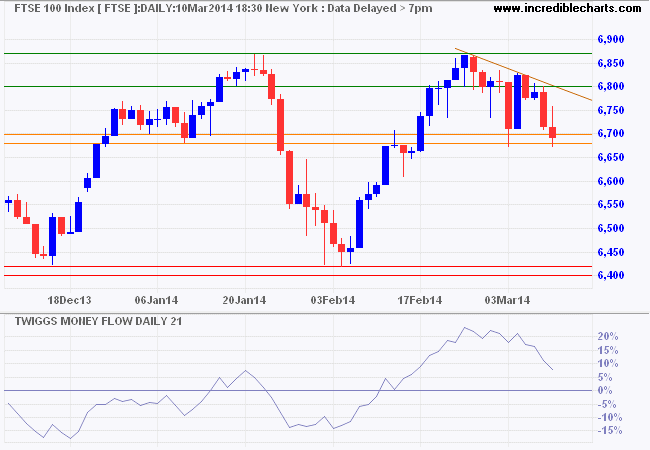 * Target calculation: 6800 + ( 6800 - 6400 ) = 7200
....I had been bullish from the very start of a bull market, and I had backed my opinion by buying stocks. An advance followed, as I had clearly foreseen. So far, all very well. But what else did I do? Why, I listened to the elder statesmen and curbed my youthful impetuousness. I made up my mind to be wise carefully, conservatively. Everybody knew that the way to do that was to take profits and buy back your stocks on reactions. And that is precisely what I did, or rather what I tried to do; for I often took profits and waited for a reaction that never came. And I saw my stock go kiting up ten points more and I sitting there with my four-point profit safe in my conservative pocket. They say you never go broke taking profits. No, you don't. But neither do you grow rich taking a four-point profit in a bull market.

~ Jesse Livermore