---
What's New: Youtube, Videos and Facebook
By Colin Twiggs
February 21st, 2014 11:00 p.m. EDT (3:00 p.m. AEDT)
These extracts from my trading diary are for educational purposes. Any advice contained therein is provided for the general information of readers and does not have regard to any particular person's investment objectives, financial situation or needs and must not be construed as advice to buy, sell, hold or otherwise deal with any securities or other investments. Accordingly, no reader should act on the basis of any information contained therein without first having consulted a suitably qualified financial advisor. Full terms and conditions can be found at Terms of Use.
Youtube: Educational Videos
We started a Youtube page offering a selection of the best trading education videos found on the web. From beginner level to more advanced classes for experienced traders and investors, there is something for everyone. Please give us your feedback on the videos and any suggestions for additional video links.
Visit us on:

Videos are organized into a number of playlists:
Visit us on Facebook
Readers can also follow us on Facebook as an alternative to email updates.
Visit us on:

London Calling.....
The strong advance for Sterling, over the last 8 months, is likely to encounter substantial resistance at the 2011 and 2009 highs of $1.68 and $1.70 respectively. Resistance also coincides with the target of $1.68* from the double bottom completed in September 2013. Breakout above $1.70 would offer a long-term target of $1.90, but reversal below $1.66 would test support at $1.62 in the short-term.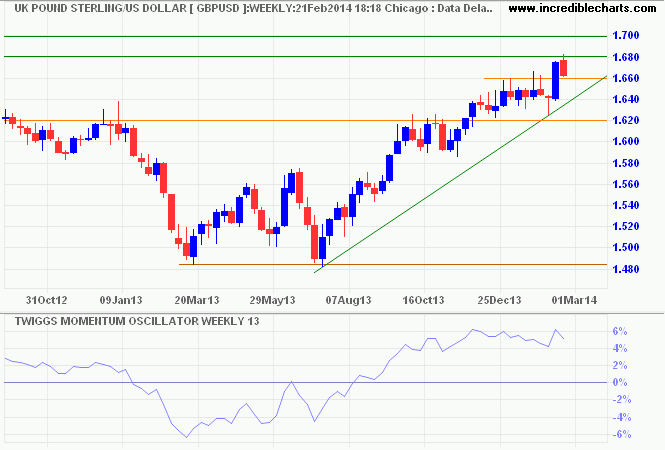 * Target calculation: 1.58 + ( 1.58 - 1.48 ) = 1.68
The FTSE 100 is likely to break out above resistance at 6850 after a higher trough on 13-week Twiggs Money Flow flagged a surge in buying pressure. Target for an advance is 7200* but expect committed sellers at the 1999 high of 7000. Retreat below primary support at 6400 is most unlikely, but would warn of a primary down-trend.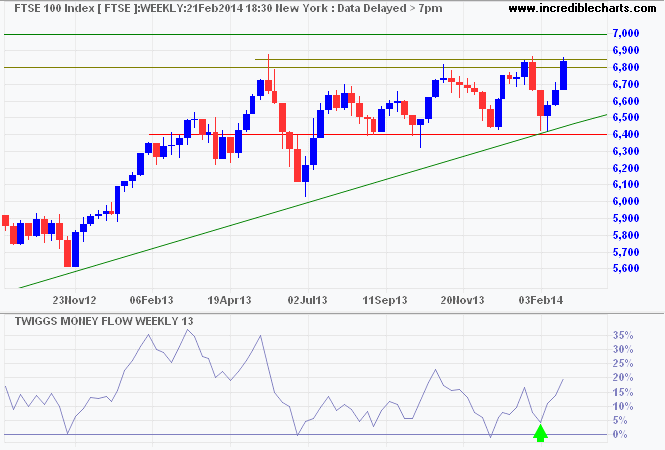 * Target calculation: 6800 + ( 6800 - 6400 ) = 7200
Broken links
Apologies for the broken links at the end of my last email. I forgot to update some links from the previous week.
Everyone thinks of changing the world, but no one thinks of changing himself.

~ Leo Tolstoy